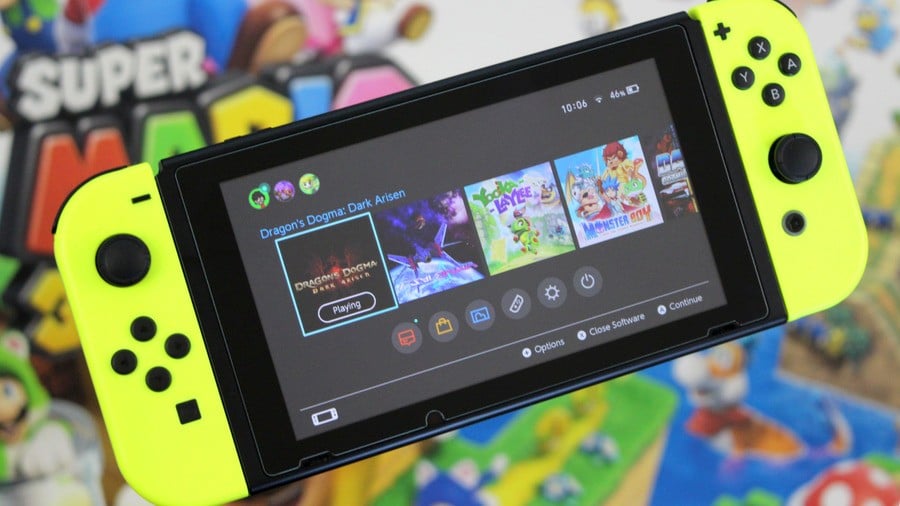 A new firmware update for Switch has dropped and we've spent a good amount of time today examining the minutiae of Version 9.0.0. The jump from v8.1.0 has brought a few minor enhancements along with it, including the ability to search for specific articles in the News Channel, use a QR Code to interface with your Nintendo Account, set alarm notifications in supported software and change the sensitivity of the touch screen to better function with a stylus (handy if you're playing Super Mario Maker 2). There's also a Switch Lite-specific feature enabling you to turn on/off button input while you're playing with a wireless pad.
A sexy blue notification LED that had us reminiscing about the old days of Wii and Wii U has also apparently been activated with this update, although an inter-office, cross continent effort to activate the blighter by sending a litany of invites and requests failed to result in a cool blue glow emitting from any of our pads. Quite why Nintendo would wait until thirty months after launch to activate this neat feature is a mystery, but we get the feeling that these 'alarms' and 'play invites' for 'supported software' probably refer to the upcoming Animal Crossing: New Horizons. After all, you don't want to miss the opportunity to flog your turnips because you slept in on Sunday, so a little alarm function on your Switch with lights and vibrations will come in handy. In the meantime we'll continue trying to make the Home button light up (or just cheat and connect it to Steam) because we find these tiny bells and whistles inordinately exciting. Just look at that blue!
Still, there remains a host of features or alterations we'd love to see in future updates. We love Switch's laser focus on games, but there's plenty of room for the inevitable firmware v10.0.0 to provide some of the features we've enjoyed on past Nintendo consoles and have come to expect on a modern console. They're familiar features and reasonable requests - it's about time they turned up.
So, here is a short and sweet list of the top 5 things we'd most like to see in the next significant firmware update...
Folders
After launching with no organisation options whatsoever, we now have some rudimentary control over the order of the games displayed on our home screen, but thanks to the wealth of software on the console, not to mention the huge number of games on sale every week on the eShop, our digital collection of icons is becoming quite a chore to scroll through. A simply folder system would be a life-saver and offer a modicum of customisation and convenience.
Okay, we're being dramatic with 'life-saver', but it's an overdue feature that would be welcomed with open arms. We eventually got them on 3DS and they should be on Switch.
Themes
Another feature we got used to on the 3DS family of systems, the Switch's settings menu seems to taunt us with its measly option of just two colours. The addition of 'Basic' also implies that there are other more enticing variants. 'Wonderful White', for example, or 'Brilliant Black'...
How lovely it would be to expand beyond those binaries! How beautiful it would be to customise our menu screens! We're not necessarily talking about animated characters or badges or the sort of themes we enjoyed on 3DS (although they'd be very welcome) – we'd be happy with a simply colour wheel to change the hue of the menu screen.
If that sounds too simple a solution, why not try a more 'Nintendo' approach and tap an amiibo to unlock a character-appropriate two-tone colour scheme? Kirby pink with red highlights, Yoshi green and white, Captain Falcon purple and red…
You get the drift. Bouncing animations and bespoke transitions would be lovely, but more options than 'Basic White' (boring) and 'Basic Black' (better) would be a godsend.
Netflix / Amazon Prime Video / Apple TV+ / Disney+ Streaming Apps
US Switch owners have Hulu, so the idea that Nintendo doesn't want these handy streaming apps on the system doesn't seem to hold water. No, we're not exactly at a loss for devices to stream our favourite series to, but Switch has a bigger screen than our phone and a handy kickstand which makes it ideal for viewing video content, especially if there's more than one person watching the same thing. Nope, they're not essential but the number of these subscription services and corresponding apps is growing exponentially and there appears to be no logical reason why they're not available on Nintendo's console.
Speaking of logic…
The quiet retirement of the Nintendo Switch Online app
Wait - you hear that? That is the sound of a broken record, my friends. Our apologies, but we're forever hoping Nintendo might come to its senses and improve its voice chat situation and general approach to online play but, unfortunately, it's clear that making the Nintendo Switch Online app, you know, useful or pleasant in any way isn't a priority. While there are aspects of the app that, in theory, could be quite cool (we like the idea of separate areas with side-information for games like Smash Bros. and Splatoon 2), the voice chat 'solution' it provides is awkward at best and the app generally confuses an already needlessly obtuse online set-up. The frustration is a little hard to describe – much like the Matrix, to understand you really have to experience it for yourself. If only there were an easier way…
We fired up the app earlier for the first time in months. It made us sad. If a great service like Miiverse ended its days like Old Yeller, it's high time this app was either made useful or had its functionality (and maybe a Direct Messaging system?) shifted to the console before being put out of its misery.
Mute channels on a per region/account basis
This might not affect everybody, but there will be a fair amount of Switch users who have accounts in different regions in order to access different games or offers. Here at Nintendo Life Towers it's a necessity for downloading review codes for overseas eShops and the moment you activate your account, you'll find your News Channel feed clogged with notifications which you can't mute – many of which are near-duplicates between the North American and European stores. It would be lovely to be able to deactivate these on a per account basis and not have reams of announcements to scroll through or ignore.
---
Of course, there are many other things we could wish for. It goes without saying that we've failed to mention 'more stability' on this list, but Nintendo hasn't ever let us down on this front, with every update providing a footing more rock solid than the last. What things would you most like to see arrive in the next big firmware update for Switch? Let us know what you're desperate for below.