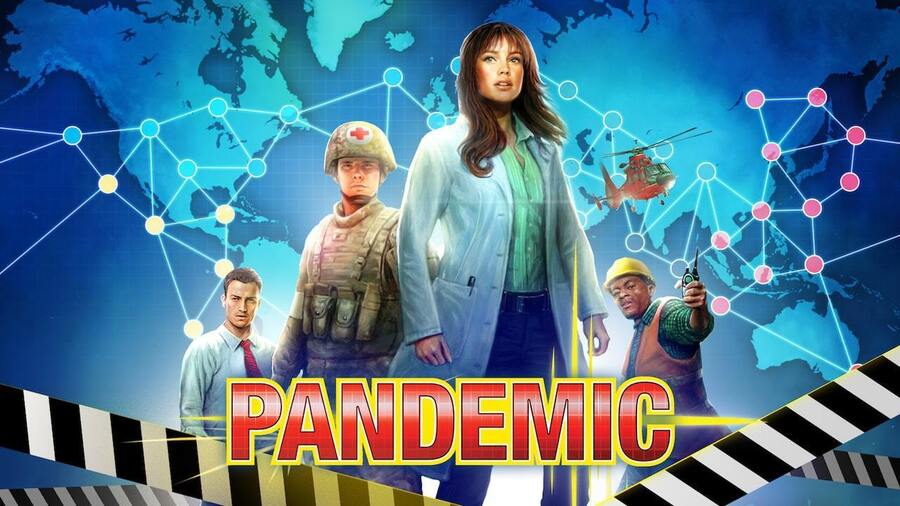 The latest Nintendo Download update for North America has arrived, and it's bringing new games galore to the eShop in your region. As always, be sure to drop a vote in our poll and comment down below with your potential picks for the week. Enjoy!
Nintendo Switch
Omega Labyrinth Life (D3 Publisher, Today, Today, $59.99) Take it easy in the latest addition to the series where you buff your bust with every foe you defeat, Omega Labyrinth! Now, in addition to adventuring through dungeons, you can enjoy the finer things in life. Taking care of flowers, rebuilding the academy, having a little fun on the side.
Switch eShop
Pandemic (Asmodee Digital, 2019, $19.99) Humanity is on the brink of extinction. As members of an elite disease control team, you're the only thing standing in the way of the four deadly diseases spreading across the world. You must travel the globe protecting cities, containing infections from spreading, and discovering the cure for each disease.
Doom (1993) (Zenimax Media, Fri 26th July, $4.99) Celebrate DOOM's 25th anniversary with the re-release of the original DOOM (1993). First released in 1993, DOOM introduced millions of gamers to the fast-paced, white-knuckle, demon-slaying action the franchise is known for. Read our Doom review.
DOOM II (Classic) (Zenimax Media, Fri 26th July, $4.99) Celebrate DOOM's 25th anniversary with the re-release of DOOM II. This beloved sequel to the groundbreaking DOOM (1993) gave players the brutal Super Shotgun to bear against deadlier demons, and the infamous boss, the Icon of Sin.
Doom 3 (Zenimax Media, Fri 26th July, $9.99) Celebrate DOOM's 25th anniversary with the release of DOOM 3, available for the first time on Nintendo consoles. In this critically acclaimed action-horror re-telling of the original DOOM, players must battle their way through a demon-infested facility before entering the abyss to battle Hell's mightiest warrior - and put an end to the invasion. DOOM 3 includes the Resurrection of Evil and The Lost Missions expansion packs.
Animal Fight Club (Corvostudio di Amadei Marco, Fri 26th July, $3.99) Invent new creatures by mixing real or legendary animals in thousands of possible combinations, create an army and get ready to fight!
Arcade Archives Road Fighter (HAMSTER, Thu 25th July, $7.99) "ROAD FIGHTER" is a racing game released by KONAMI in 1984. Control your monster machine at speeds of up to 400 km/h, avoiding enemy cars and oil spills to finish all 6 stages faster than anyone else. If you start to swerve off-course, countersteer and use your driving techniques to power through it!
Bear With Me: The Lost Robots (Modus Games, Wed 31st July, $4.99) The noir episodic point and click adventure series Bear With Me is back! Introducing Bear With Me: The Lost Robots – an all new prequel chapter featuring Amber's brother Flint and the callous detective Ted E. Bear.
Burger Chef Tycoon (Baltoro Games, Fri 2nd August, $4.99) Like going out to town for a snack? Everybody does! But perhaps you'd like to see that from the other side? Not everyone can, so don't waste the opportunity! Manage the preparation of burgers, fries, crispy chicken and a multitude of other treats!
Catch a Duck (Ultimate Games, Mon 29th July, $4.99) Face the challenge of catching ducks in a funny hand drawn forest. Outsmart hunters, cause a brawl between a wolf and a bear, use hideouts, move through underground tunnels, avoid traps but make enemies fall into them ! Be a sly fox !
Chroma Squad (Plug In Digital, Today, $14.99) Cast actors, purchase equipment and upgrades for your studio, craft weapons and giant Mechas out of cardboard and duct tape. Once the cameras are rolling, you will control your cast of five colored-jumpsuit-clad warriors in dramatic, turn-based battles!
Classic Games Collection Vol.1 (Baltoro Games, Fri 26th July, $4.99) Welcome to the "Classic Games Collection Vol. 1"! We have chosen the five most beloved logical games and bundled them together! You can play them either against the AI or against a friend (on the same console).
Damsel (Screwtape Studios, Wed 7th August, $16.99) Cause distress in this fast-paced, challenging action platformer! Speed through dozens of missions as Special Agent Damsel, the first and last line of defense against the seedy world of corporate vampires. Rescue hostages, disarm bombs, hack servers and dispatch the undead with precision, speed, and style.
Divine Ascent (Timothee Paez, Thu 25th July, $4.99) Ages ago, the gods contacted several civilizations all around the world. But since then, they remained silent. Now they need to hear our calls. Divine Ascent is a single and local-multiplayer strategy-puzzle game.
Dungeon Warfare (Singlecore Games, Today, $9.99) Dungeon Warfare is a challenging tower defense game where you become a dungeon lord to defend your dungeon against greedy adventurers. As you successfully purify your dungeons throughout the world from the pesky invaders, you will gain access to more powerful traps and devious utilities.
Fobia (Eugene Lazebny, Today, $9.99) A little girl tries to escape from her fears overcoming various obstacles in her path. Fobia is a hard puzzle-platformer adventure game, where you will have an adventure in a mysterious world full of dangerous situations, enemies and challenging puzzles.
Hamsterdam (Muse Games, Today, $9.99) Play as the hamster hero Pimm and harness the mightiest martial arts powers. Kick tail through district after district on a heart-pounding journey to take down the Vermin Gang, save Grandpa, and restore peace to Hamsterdam.
Illusion of L'Phalcia (KEMCO, Today, $12.99) The Sword of Amal, a legendary treasure said to grant any wish. Ryser is traveling around the world as a seeker with his buddy, Cougar, from the Leopard clan, in search of this artifact of legend.
Kiai Resonance (Timothee Paez, Thu 25th July, $4.99) You take part in online or offline combats, as well as several challenges and mini games to perfect your abilities.
Raiders of the North Sea (Dire Wolf Digital, Tue 30th July, $19.99) Assemble a crew and outfit a longboat to raid settlements for gold and fame! Impress your Chieftain in glorious battle and win your place among the legends of the North Sea in this digital adaptation of the award-winning board game!
Robbie Swifthand and the Orb of Mysteries (KISS Publishing, Today, $17.99) Robbie Swifthand and the Orb of Mysteries is a 2D platformer consisted of mind intriguing psychology based level design, epically unique boss fights accompanied by groovy and mystifying music.
Saboteur II: Avenging Angel (SimFabric, Fri 2nd August, $8.00) Saboteur II: Avenging Angel is the second part of the classic retro game hit made by Clive Townsend in 1985 for the ZX Spectrum 8-bit computer.
Shinobi Spirits S: Legend of Heroes (TOMCREATE, Today, $8.99) The flames of war run rampant. Ieyasu Tokugawa has been made general of the Edo Shoganate. However, General Yukimura Sanada and his Beast Brigade head the resistance against Ieyasu!
Solo: Islands of the Heart (Merge Games, Today, $19.99) Love is a universal feeling, but each of us experiences it in a different way. Solo – Islands of the Heart explores the theme of love in an introspective way, allowing players to identify and reflect on their own experiences.
STANDBY (HYPETRAIN DIGITAL, Today, $4.99) STANDBY is an 'easy to learn, hard to master' adrenaline rush precision platformer, with devious levels that will challenge your reactions and concentration.
Sudoku Relax 2 Summer Waves (G-mode, Today, $5.00) Let your mind take a break and refresh itself to the mind-soothing effects of Sudoku Relax 2.
Super Wiloo Demake (Ratalaika Games, Fri 2nd August, $4.99) Wiloo and Agatha need to rescue their dog from the clutches of Dr. ETvaldo! Roll, fly, jump, and shoot your way across a variety of different platforming levels using unique power ups to reach the end of the level.
Swaps and Traps (Drageus Games, Fri 2nd August, $8.99) Mike is a decent man. An ordinary one, you might say. But he is no pushover when it comes to capturing the enchanted hat from his nemesis, Divider. You see, Divider's hat changes everything, including the position and direction of the screen.
The Church in the Darkness (Fellow Traveller, Fri 2nd August, $19.99) In the late 1970s, the charismatic Isaac and Rebecca Walker lead the Collective Justice Mission. Labeled radicals and feeling persecuted by the US government, they relocate their followers to the one place they believe they can create a socialist utopia: the jungles of South America.
The Forbidden Arts (Stingbot Games, Wed 7th August, $14.99) The Forbidden Arts is an action adventure platformer with a focus on discovery and exploration. When the hero of the game, Phoenix, seeks the counsel of a druid to make sense of his visions, she awakens the latent pyromancy within him.
The House Of Da Vinci (Blue Brain Games, Fri 26th July, $9.99) Enter The House of Da Vinci, a new must-try 3D puzzle adventure game. Solve mechanical puzzles, discover hidden objects, escape from rooms and dive into the authentic atmosphere of the Renaissance. Use all your wits to find out what's behind your master's disappearance.
Nintendo eShop Sales

Check out the full list of deals available this week here.
So that's your lot for this week's North American Nintendo Download. Go on, be a sport and drop a vote in the poll above, and comment below with your hot picks!