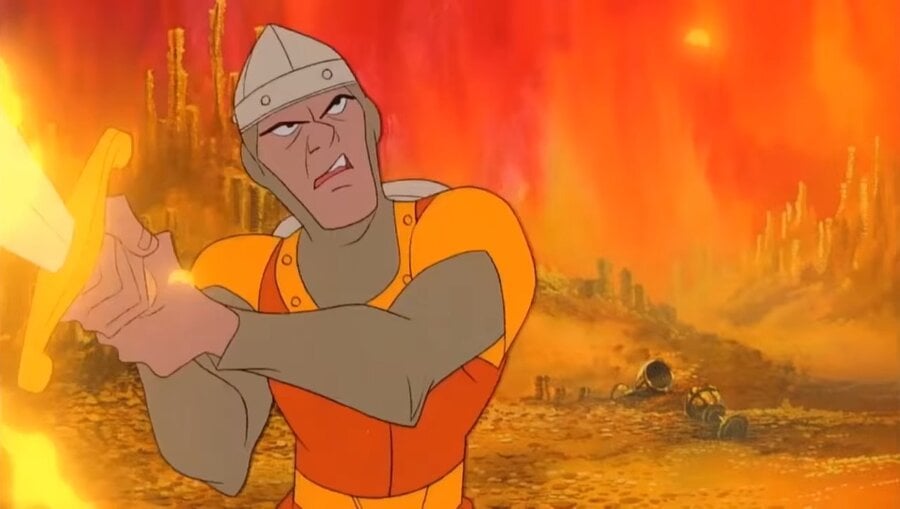 At the start of the year, a Switch box art for Dragon's Lair Trilogy was spotted on Nintendo's official website. At the time, it was enough to convince fans a physical release on the way. It even revealed Limited Run Games would be handling the hard copy publishing rights.
Fast forward to the month of May and LRG is now offering a limited collector's edition for hardcore Dragon's Lair fan. This $79.99 version includes a poster, enamel pin and themed papercraft, with pre-orders opening this Friday. Below is a look at what you'll get, along with the official announcement:
For the die-hard Dragon's Lair fan, there will be a Collector's Edition available in limited quantity this Friday, 5/24 at 10am & 6pm EDT. This CE includes a poster, enamel pin, and arcade cabinet papercraft... perfect for recreating @Stranger_Things
The owner of Limited Run Games, Josh Fairhurst, even chimed in to reveal some more information about what to expect:
"This is a premium box that has light-activated sound which plays when the drawer is pulled out (it plays the "Lead on adventurer - your quest awaits!" line from the game's attract mode)."
Of course, there'll also be a standard edition made available on the same day (24th May), if you would prefer this.
As we've previously noted, the trilogy contains Dragon's Lair, Dragon's Lair II: Time Warp and Space Ace - where you take control of Ace instead of Dirk. These games are comprised of cinematic quick-time events with animation from Don Bluth. The first game was released in arcades in 1983, Space Ace came out in 1984 and Dragon's Lair II arrived in 1991.

Do you have room in your physical Switch collection for this trilogy? Tell us down in the comments.
[source twitter.com]