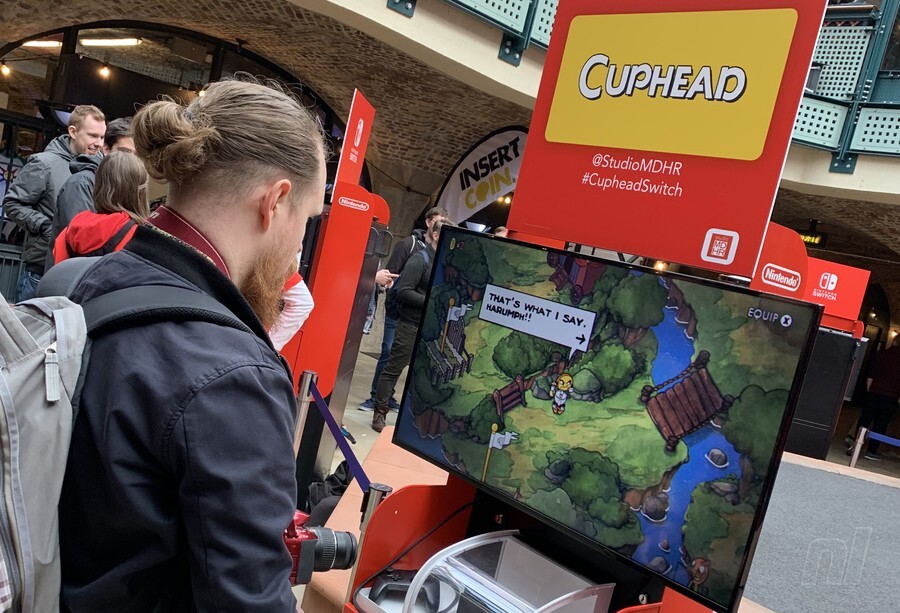 Last week, EGX Rezzed – an indie-flavoured off-shoot of Gamer Network's EGX show – took place in London. The event's aim has always been to celebrate small-scale games and give indie developers a chance to get their titles in front of a receptive audience, and this year's show certainly did that. Established names such as Cuphead, The Messenger, Inmost and Untitled Goose Game rubbed shoulders with more left-field releases, a great many of which are coming to Switch in the fullness of time.
We know this because, during our time at the show, we feel we may have annoyed a few of the developers present by starting each chat with "Is it coming to Switch?" The difference this year is that the answer was mostly positive, which shows just how effectively Nintendo has charmed the indie sector with its latest console.
If you've not attended one of the recent EGX Rezzed shows, it's probably worth explaining the venue. Unlike most shows of this type, which traditionally take place in massive, featureless exhibition halls, Rezzed's home is a Grade I listed warehouse in Wapping, East London known as Tobacco Dock. Constructed in 1811 to store – you guessed it – tobacco, it's a totally unique setting for a games show. Set across two floors and crammed into cosy brick-vaulted rooms, EGX Rezzed is a lot more intimate than your typical game show.
The fact that Tobacco Dock is sub-divided into so many different rooms allows the organisers to create focused areas for each platform holder or developer. For example, Microsoft's successful [email protected] indie brand had a sizeable room boasting titles such as Game Freak's Giga Wrecker Alt., Dead Mage's Children of Morta and Pathea Games' My Time at Portia, all of which are also (haha!) Switch-bound. Sony had a smaller room, but devoted the majority of the space to Dreams, Media Molecule's upcoming spiritual successor to LittleBigPlanet. While it's not an indie title, this game-building tool was almost terrifying in its scope and potential; we imagine it will create a whole new generation of indie game makers, so we'll let it slide.
But we weren't at EGX Rezzed to look at things that aren't coming to Switch – we were there to pester developers about games that are. Bloodstained was playable, and the massive indie room was packed with titles that proudly had Switch listed as one of their target platforms. The mech-based strategy title Warborn caught our eye, as did the utterly adorable Cat Quest II. In Devolver Digital's room, Katana Zero certainly impressed, as did the delightfully silly My Friend Pedro. However, it was Nintendo's stand which predictably drew us in for the longest amount of time.
Rather than taking up one of the snug rooms, Nintendo had opted for a courtyard in the middle of Tobacco Dock, and had arranged a series of Switch demo pods around this central structure. We got some hands-on time with Cuphead, which we're happy to report runs absolutely beautifully on the console; it really does feel like a match made in heaven. The long-awaited Untitled Goose Game was present too, and looks better every time we see it in motion. We also got to sample SteamWorld Quest, which looks incredibly polished and very interesting indeed. Given the amount of interest in Nintendo's stand, it's fair to say that its policy of snapping up the finest indie offerings is working.
As a Nintendo-related footnote, we were fortunate enough to have a quick go on the Octopad, a unique creation by Patrick LeMieux. Billed as an 'alternative interface' for the NES, the Octopad is effectively an eight-player controller where each pad has only one option – A, B, Up, Down, and so on. We had a go on Tetris with some complete strangers, and it's fascinating to see how a frantic dialogue is fostered when there are falling blocks at stake. Located in Rezzed's Sega-sponsored Leftfield Room, Octopad is an intriguing social experiment which we hope we have a life beyond this single demo unit.
During the event, a series of talks took place covering a wide range of topics, including individual games ('Nutshots & Nazis: The Sniper Elite Story' wins the award for best title), pop culture (Nintendo Life contributor Mike Diver's 'Video Games Journalists vs The Transformers Movie was a highlight) and more pressing matters in game development (Designing Sex in Games). Many of these sessions overlapped with one another so it wasn't physically possible to attend them all, but there was certainly plenty of stuff happening, even if you don't include the actual games you could play.
EGX Rezzed certainly presents a much different atmosphere to the 'normal' EGX event, which is due to take place in London this October. It's less about glitz, glamour and free energy drinks, and more about interacting with the people who actually make these games; the venue is also perfect, offering its own unique character which somehow feels perfectly attuned to the often wacky indie titles on display. There were some odd inclusions (Borderlands and Forza 7 aren't really indie, are they?) but what really struck us this year is how good a job Nintendo is doing when it comes to winning the hearts and minds of the independent gaming scene; a far cry from the rather tempestuous relationship the company has had with indies in the past.