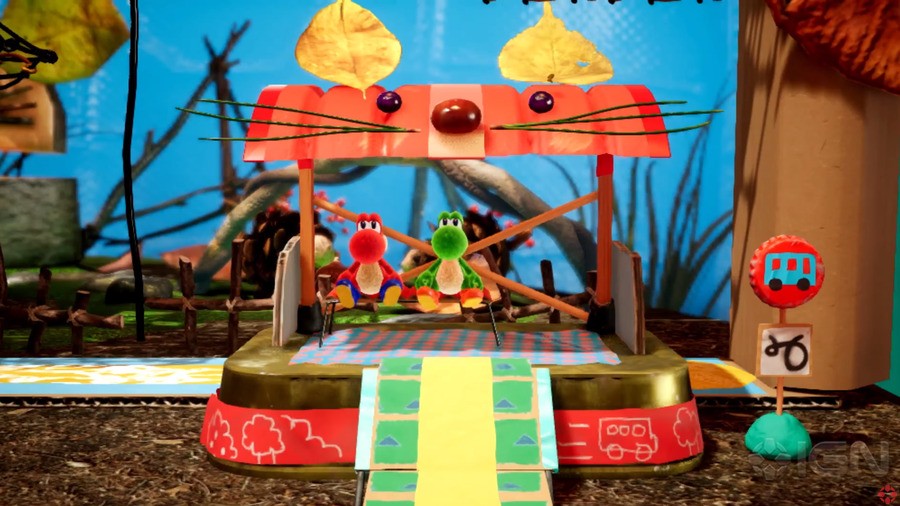 Yoshi's Crafted World is just around the corner, launching on Switch towards the end of this month, and we're sure there will be lots of adorable little moments to discover when it finally does arrive. Some fans have picked up on one particularly interesting scene in the game already, though, thanks to an early preview video.
Just a few days ago, IGN shared a new stage from Nintendo's upcoming platformer called 'Weighing Acorns', giving us a look at both the regular and flip sides of the level. Towards the end of this level, Yoshi can be seen constructing a little bus stop before waiting for a bus to appear in a lovely little cutscene.
Now, while it might not be obvious at first, the bus stop seems to bear a pretty striking resemblance to the hugely famous bus stop scene in Studio Ghibli's animated film, My Neighbor Totoro. You can see the still shot of Yoshi's Crafted World above, and we've included an image of the Totoro scene below; as spotted by Reddit user, Bread_Truck, notice how it's not just Totoro's facial features which seem to have been recreated for the stand, but also his triangular markings going all the way up the ramp. Even the stop sign is made up of the exact same shapes.
Couple all of that with the fact that this is an actual, working bus stop, rather than just a missable bit of scenery in the background, and we're almost convinced that this is a little nod to the film.
If you're interested in seeing the scene for yourself, you can catch it at around the 8-minute mark in the video below.
What do you think? A nice little reference to one of Japan's most popular animated icons? Or just an awfully big coincidence? Feel free to argue your case in the comments below.
[source reddit.com, via youtu.be]