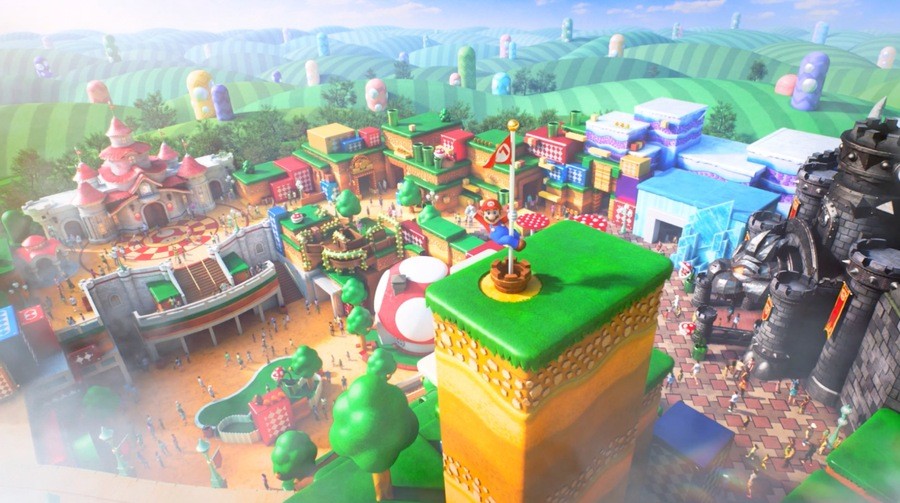 Since its initial reveal way back in 2015, not a whole lot has been said about Nintendo and Universal's joint Super Nintendo World project. At the end of 2017, we learnt that the Orlando park would be bigger than originally expected, but things have been rather quiet as we build up to the main, Japanese park's 2020 opening.
Shedding a little more light on its progress, Nintendo's very own Shigeru Miyamoto has provided a statement telling us exactly where the theme park's development is currently at, as well as confirming that a launch for the Tokyo Olympics in 2020 is still the main aim. Teasingly, he says that both the Japanese park, and the ones planned for the US, "will be really worth the wait".
"Because the theme park is operated by Universal Parks & Resorts, we cannot talk about anything they have not yet announced. But ever effort is being made to advance preparations, and Unviersal Studios Japan is our top priorities, as is making sure we will be ready by the start of the Tokyo Olympics in 2020. After the opening in Japan, "SUPER NINTENDO WORLD" areas will also be built in the parks in Hollywood and Orlando in the US for the enjoyment of everyone."
Of course, "everyone" doesn't include us poor souls in Europe, though, does it? Boo, hiss, etc.

"We are in frequent contact with Universal Parks & Resorts, working closely together to develop the theme park fro a creative standpoint. Building work on our area at Universal Studios Japan is progressing, and the construction of interiors will be starting on a full-scale operation. Osaka is close to Kyoto, so we check on the progress of the work frequently. I think it will be really worth the wait."
Just to tease you a little more, we'll leave you with the official trailer for Super Nintendo World which was shared just over a year ago now.
Can we just go there, already? Who's up for a Nintendo Life community field trip next year?
[source nintendo.co.jp]