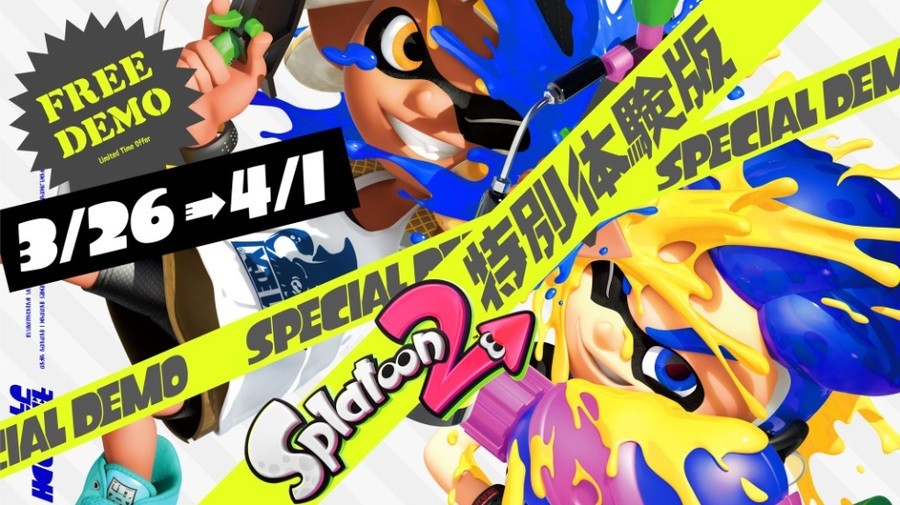 Splatoon 2 is easily one of the best games available on the Switch. Since it launched, there's been more weapons, customisation options and levels added to the game. Nintendo even went as far as releasing a DLC expansion. Although major development on the title is now complete, Splatoon 2's time in the spotlight isn't over yet.
To keep growing the game's playerbase, Nintendo has revealed Switch owners in Japan who don't yet own the game will be able to download a free demo on 26th March and play it until 1st April. This will include access to a free Nintendo Switch Online trial and there'll even be the ability to transfer save data across to the full game. Turf War, Ranked Battles and Salmon Run will all be playable.
In addition to this, several new weapons from the original Splatoon game on Wii U will be added as a free update at some point in the near future. "Sheldon's Picks" include the Aerospray PG, N-ZAP '83, Grim Range Blaster, Cherry H-3 Nozzlenose, Soda Slosher, Heavy Splatling Remix, Sploosh-o-matic 7, Fresh Squiffer, Permanent Inkbrush, and Bamboozler 14 Mk III.
Apart from this, there's a bit more content planned in the future, but no further information has been provided. Update 4.4.0 is also expected to make a splat soon, after being spotted at Nintendo's most recent 'Off the Hook' concert.
Nintendo previously announced it would cease new content support last December. Splatfests are also scheduled until July this year.
Are you still enjoying Splatoon 2 on the Switch? Tell us below.
[source twitter.com, via nintendowire.com, siliconera.com]