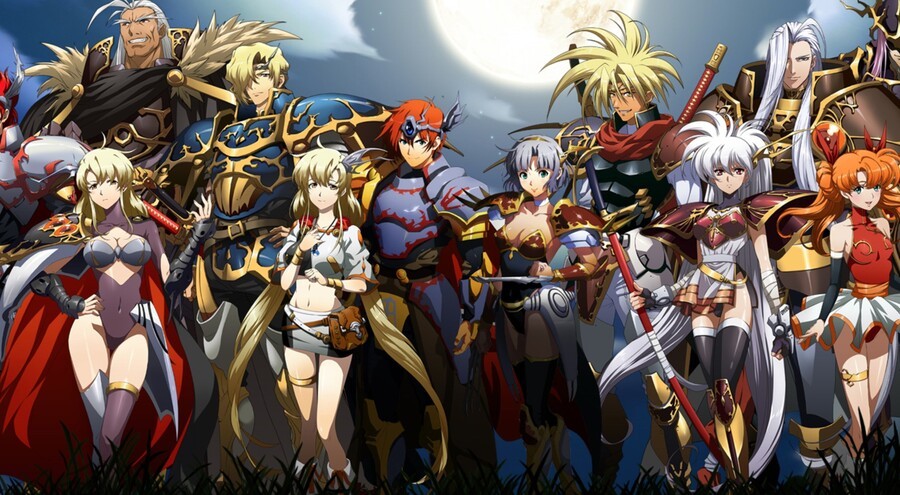 While Nintendo's Fire Emblem series is world famous, Masaya's Langrisser franchise (you might know it better as Warsong, the western name given to the original Mega Drive / Genesis game) is less well known; its origins line in a series of turn-based strategy titles on the PC Engine, and during the early '90s it became a solid rival for Fire Emblem, with instalments on the Mega Drive, Super Famicom, PlayStation, Saturn, Wonderswan and even the ill-fated PC-FX.
However, when Career Soft – the team within Masaya responsible for the series – was spun off as an independent studio, it marked the beginning of the end for the 'classic' era of the franchise, during which Career Soft would provide the finely-honed gameplay, Noriyuki Iwadare would compose the epic tunes and Satoshi Urushihara would supply a cast of impeccably-detailed characters – including more than a few doe-eyed female protagonists. 1999's Langrisser V: The End of Legend really lived up to its name; Career Soft parted ways with Masaya and started the Growlancer series at Atlus, and would later work on the Shin Megami Tensei sub-series Devil Survivor before being totally absorbed into the company in 2012.
Starting with 1999's Langrisser Resurrection on the Dreamcast, the franchise has been handled by other teams, and in 2015 an attempt was made to revive it on consoles with the lacklustre Langrisser Re:Incarnation Tensei, an entry so dismal that many fans feared it would kill off the brand forever. Thankfully, that hasn't been the case and this year we were greeted with the news that Langrisser was not only coming to mobile devices, but would also be getting a special remaster based on the first two games, which has been confirmed for Switch. These two projects are handled by different teams, but both are contributing to an increased awareness around the series, and that's definitely a good thing.
Keen to know a bit more about the mobile revival – which has already been an amazing success in China and is coming to the west next year – we spoke to developer ZLONGAME.
---
Nintendo Life: Can you give us a short summary of ZLONGAME's history, and any other projects you've been involved with?
ZLONGAME: We are a game company based in China, focusing on PC and mobile games. We have published a large number of games in China. However, Langrisser is our debut game in the west. We have a second game – a sci-fi themed title – that we will be bringing west after the launch of Langrisser.
What inspired to you create a new entry in the Langrisser series?
In the '90s, during the golden age of turn-based strategy games, the Langrisser and Fire Emblem series were the two titans of the genre. However, in the last 20 years, these two great franchises have faded from the public. After some research, we thought that turn-based strategy games would be a good fit on mobile devices. Based on this knowledge, we decided that Langrisser, as a formerly very successful IP, might interest this current generation of gamers, so we started discussing the IP licensing with the current owners.
Langrisser doesn't seem to get enough credit in the west and is often overlooked in favour of Nintendo's Fire Emblem series. Do you think your game can change that?
In the Japanese market, both games are famous, but in the Western market, Fire Emblem is more famous due to Nintendo's recent success bringing the title to 3DS and mobile.
Langrisser Mobile was published in August 2018 in China, and if you go to the Chinese App Store, you will see there are over 78,000 reviews and an average 4.8 score for the game. Even now, the game is still ranked among the top three best-selling games. We think that gamers appreciate great gaming experiences and high quality no matter where they're from, so a game like Langrisser should succeed in every part of the world.
Langrisser 1 & 2 are also getting remade for consoles by another studio; have you had any contact with the team behind this release, and has any collaboration been discussed?
So far, we haven't had any collaboration with them.
Why did you decide to create a game that pulls in previous characters rather than produce an all-new Langrisser outing?
The last generation of Langrisser series (Langrisser V) was published in 1998. When we made this mobile game, we hoped to revive the 'classic' popular heroes in the story so that the new gamers can understand the history of this series and also to let veteran players know we're very familiar with this entire series. Fire Emblem Heroes took a similar approach, I believe.
Did any of the original Langrisser team have any input into the creation of the game?
The original Langrisser team is supervising and has approval over every single part of this game.
The character art does a good job of mimicking the style of Satoshi Urushihara, whose name is synonymous with the series. Was any effort made to get Urushihara involved?
Actually, we have reached out to him to get him involved, but haven't been able to work anything out yet.
Noriyuki Iwadare's music is iconic and a major part of Langrisser's appeal. How important was it to get him involved with this project, and what has it been like to work with him?
He's involved in all the music production for the entire series, so from a sound aspect, Langrisser series really is Noriyuki Iwadare. Luckily, he agreed to work with us and produced the music for the game. It was a good experience working with him and we hope to have another chance to work together in the future.
Are there any plans to bring the game to the Nintendo Switch? Given the machine's touchscreen capabilities, it would be a good fit.
Not at the moment, but if this version of the game succeeds in the west, we would love to reconsider and bring it to the Nintendo Switch.
---
Langrisser Mobile is currently in a closed beta phase and will be released worldwide in 2019.