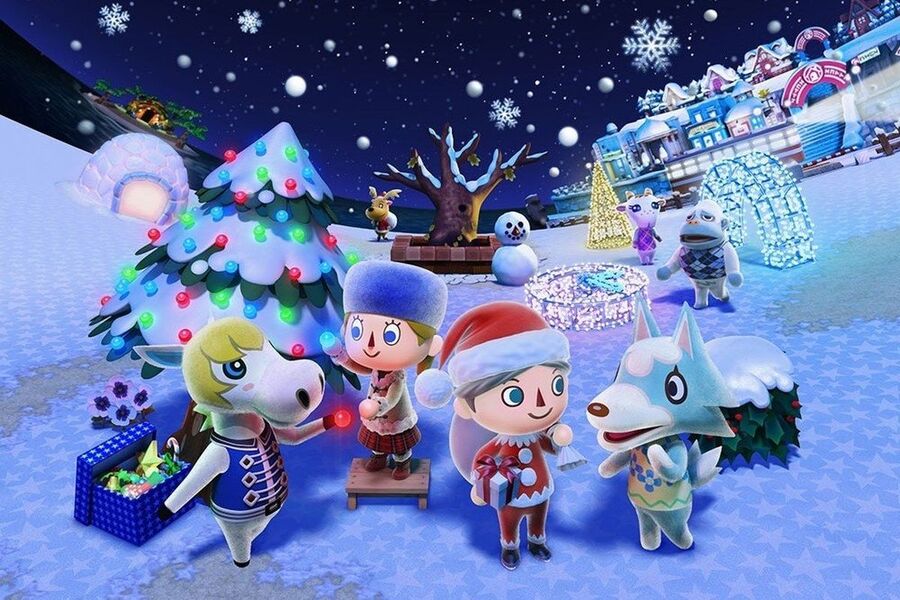 It's Christmas, which might mean snow wherever you are in the world. However, not all of us are that lucky, and sadly have to settle for rain or – gasp! – ghastly sunshine instead. Fear not, though – there is a solution: playing winter-themed levels in your favourite games.
Christmas is the best time for it too, as you're probably already feeling nostalgic for the time when you first unwrapped your SNES/N64/Wii and fell in love with Nintendo. To that end, we've rounded up the very best wintery or festive levels we could find in our favourite games from the SNES all the way up to the Switch.
So wrap up warm and stay indoors as you experience winter the Nintendo way.
Metroid Prime - Phendrana Drifts (GameCube)
Phendrana Drifts is a wonderful frozen area in the first Metroid Prime, and the fourth area Samus encounters on her adventure. It's most fondly remembered by fans for his snowy features, including a frozen lake, several ice caves and a canyon. The only thing missing is Santa himself!
If you still own a copy of Metroid Prime on GameCube (or the trilogy on Wii) dig back into this to experience Phendrana Drifts in all its frozen glory.
Donkey Kong Country - Gorilla Glacier World (SNES)
We couldn't pick just one level in this wonderful, winter-themed world so settled on, well, the entire world. Nintendo seems to love heading back to the freezer for its fourth worlds, as this is also the fourth area in the SNES classic Donkey Kong Country.
This freezing world is located on top of Donkey Kong Island, and features a variety of frigid caves, ravines and a particularly festive treetop village – thanks to its many fir trees.
It's notable for featuring slippery ground, the 3D dynamic snow effects and backgrounds, and for being the location that you first meet Squawks the Parrot.
Pokémon HeartGold and SoulSilver - Mount Silver (DS)
Mount Silver first made an appearance in the original Pokémon Gold and Silver, but we opted for the HeartGold and SoulSilver variant instead for two reasons: it's our favourite Pokémon game of all time and the 3D visuals brought it to life in a way that the 2D variant could never achieve.
Just take a visit to the peak at nighttime and you'll see why – it's a hauntingly beautiful winter scene.
Earthbound - Winters (SNES)
Winters is an appropriately-titled location in EarthBound that will live long in our hearts as one of our favourite icy landscapes in Nintendo history. It's notable for a number of different reasons: you meet a bunch of awesome characters here like Bubble Monkey and Tessie, and visit notable nearby locations like Stonehenge Base and Lake Tess. Nostalgia abounds.
The Legend of Zelda: Twilight Princess - Snowpeak Ruins (GameCube)
No matter how you feel about The Legend of Zelda: Twilight Princess, there's no doubting that Snowpeak is a memorable location. It's a gorgeous place blanketed in snow that features the awesome Snowpeak Ruins dungeon. You know, the one where you have to help out the Yeti couple in a cozy mansion.
Even getting to the mansion is memorable. Remember sliding down the mountain on a frozen leaf to reach it? Of course you do!
Paper Mario - Shiver City (N64)
The Mario games have always offered good value where snowy locations are concerned, and the original Paper Mario is a particular highpoint. You visit Shiver City during Chapter 7, which plays out as a murder mystery at the beginning. That's always fun.
Shiver Snowfield is particularly wonderful though. The snowstorms, northern lights, snow-covered trees and icy enemies combine to create one of the most beautiful winter-themed locations ever in video games.
Super Mario 64 - Cool, Cool Mountain (N64)
The 3D Mario games don't rest on their laurels though, with a wealth of festive levels to dig through if you really want to get in the Christmas spirit. We could only pick one for this list though, so settled on the intensely nostalgic Cool, Cool Mountain. It's the fourth course in Super Mario 64 (what is it with the fourth world and snow?!) and is notable for its massive ice slide you can take from the top to the bottom of the mountain. It's worth it for that alone.
Animal Crossing - December (Any!)
No franchise quite does Christmas like Nintendo's Animal Crossing – so much so that we couldn't even settle on just one game to recommend. The truth is, no matter the entry you decide to play you'll encounter a wonderfully whimsical winter environment full of colourful lights, Christmas costumes and snowmen. If everything else fails to get you in the Christmas spirit, play an Animal Crossing.
Xenoblade Chronicles - Valak Mountain (Wii)
Monolith Soft has proven itself a master of creating environments while working with Nintendo. Simply play any Baten Kaitos or Xenoblade outing and you'll witness some stunning scenery.
We selected Valak Mountain from the original Xenoblade Chronicles on Wii for our favourite winter-themed level as it's just breathtakingly gorgeous – particularly at night. Xenoblade has a bunch of environments that come to life during the night, but none are quite as entrancing as Valak Mountain, where the trees made of ice fire beams of light into the freezing night sky. It'll take your breath away.
Mario Kart 8 - Sherbet Land (Wii U)
Mario Kart is also a franchise that is well-acquainted with an icy level or two, but none are quite as entrancing as Mario Kart 8's Sherbet Land. Yes, we're well aware that this course made its debut in Mario Kart: Double Dash!!, but we think 8's version really perfected the track thanks to its HD visuals.
It's got the lot: ice-skating Shy Guys, frozen blocks of ice with worried little faces on, and trademark snow-covered trees.
Pikmin 3 - Distant Tundra (Wii U)
The latest entry in the Pikmin franchise also happened to have its finest winter-themed world too in Distant Tundra. It's the third level in Pikmin 3 and is most notable for its icy enemies, large amount of water sections and for being a little more open than previous levels.
It's also absolutely beautiful and will help get you in the festive spirit.
Banjo-Kazooie - Freezeezy Peak (N64)
The N64 was in its winter-themed element back in the day, as yet another of its exclusives makes our list of best Nintendo winter levels. This time it's, of course, Freezeezy Peak from Banjo-Kazooie, which actually had a Christmas tree in it covered in flashing lights.
There's also snowmen galore, cozy little cabins that look so warm inside they give us a shiver and a frozen lake to navigate. This one in particular is very festive, while many of the others focus mostly on just being very cold.
Diddy Kong Racing - Frosty Village (N64)
Yet another N64 winter level that we love is Frosty Village in Diddy Kong Racing. Much like Freezeezy Peak, this one also feels a lot more festive than the others, thanks to its light-covered trees and log cabins. The giant moon filling the sky also helps make it all the more beautiful.
Yoshi's Island - World 5 (SNES)
And we'll wrap things up with World 5 from Yoshi's Island, a winter wonderland from the SNES era. It's got everything from snow to ice to frozen trees, and hits us really hard in the nostalgia nerve. Dig out your SNES or SNES Mini to get a taste of this gorgeous winter environment.
Did your favourite wintery Nintendo level make our list? If not, what is it? Let us know all about your Christmas Nintendo memories in the comments section below.