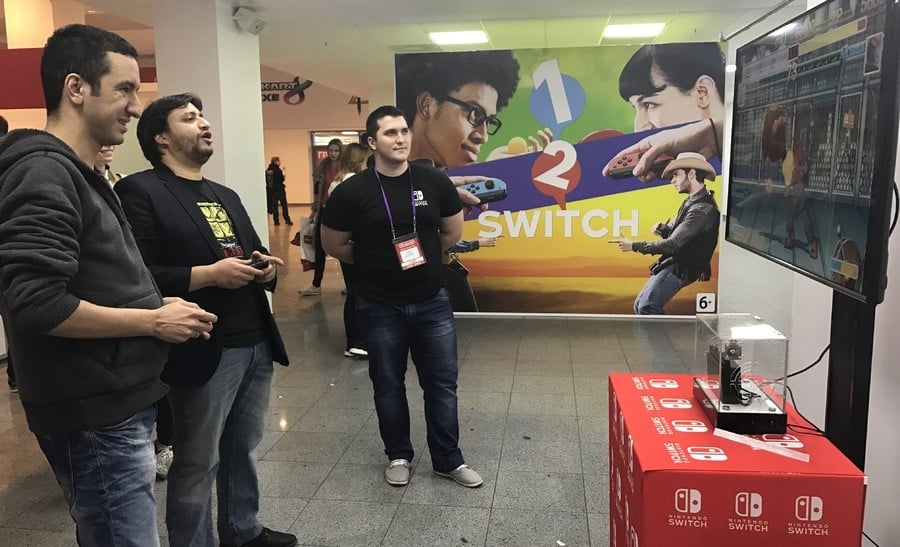 Footage of a high-ranking executive publicly cursing at workers is definitely not something we expect to see from a company as concerned with its family-friendly image as Nintendo, but while it was shocking to see Nintendo RU General Manager Yasha Haddaji meltdown in front of the camera, those who had previously worked at Nintendo's Russian office will have sighed in relief. The behaviour of Haddaji and the conditions under his rule have been privately discussed by current and former staff for years. Now, it's all out in the open.
As Thursday's video went viral, many of these people, driven by sense of justice, have finally decided to open up to the media. Nintendo Life has spoken to several former Nintendo RU employees as well as contractors responsible for the now-infamous 2017 Mario Kart 8 Deluxe stream and has checked the revelations which have been made to Russian media outlets. It's depressing and often shocking reading and sadly comes at a time when Nintendo's presence in Russia is finally amounting to something.
"When I saw the video, I teared up in happiness," said one of former Nintendo RU employee on condition of anonymity. "He has always managed to shift the blame on others, but this time, he's finally accountable for all the torture he put his employees through."
This individual, as well as every other one Nintendo Life has discussed the topic with, confirmed that what was seen on the video is by no means a one-time issue. They said that for Haddaji, seemingly minor mistakes on their part were the cause of seismic tantrums, many of which led to chaotic and violent reactions. More than one staffer recounted Haddaji throwing a keyboard against the desk, punching computers and even emptying a trash can into an employee's desk drawer.
Haddaji was also known to react with other forms of abuse as well as physical violence. More than one of the people who spoke to recall an employee leaving their PC unattended and being punished with an email sent from their address. On behalf of a person not locking the system, Haddaji sent a "party invitation with free booze for all" to the entire branch's staff.
Bad language and slurs were also used on a regular basis, we were told. Allegedly, Haddaji's most favourite term of abuse deserves special attention: a man of a French origin, he was noted calling everyone he didn't like "gypsies."
Haddaji's unpredictable behaviour has cultivated a sense of fear within Nintendo RU, with people crying in bathrooms after meetings being a common occurrence. "When I was walking around the office in heels, the colleagues asked me to change the footwear, as the sound was too similar to the sound of Yasha approaching them," remembers another person we spoke to.
The way he behaved with the staff drastically differs from the public image Haddaji tries to build amongst Russian Nintendo fans. But, on the spur of the moment, he could express the same behaviour to Nintendo RU's partners — like people organising the Level Up 2017 event, which included the stream.
"He said he will sue me, then grabbed my badge like a noose, trying to rip it off," said a person organising the stream and Mario Kart tournament. "I immediately grabbed him by his hand, and we had quite an interesting conversation afterwards. This was just by the scene, and everyone saw the conflict. He has no business being an executive — sooner or later, he'll just hit someone with something heavy."
When you consider these horrendous working conditions, what made people stay at Nintendo RU as long as they did? In most cases, it was either because of a passion for Nintendo or a higher-than-usual salary. What's worth noting is, these two points were mutually exclusive in the company, with Nintendo RU — as said by another former worker — "leeching off" Nintendo fans.
"He's paying far less to those who came working for Nintendo out of their passion for its franchises and the community," we were told. "The less you give a s**t about Nintendo, the higher your wage." Checking this statement against other ex-employees, we determined that, in some cases, the difference was up to 100 percent. "That job almost entirely deterred me from [Nintendo's] products," it was added.
In Russian media, some former workers have also anonymously accussed Haddaji of sexual harassment, with Nintendo Life sources citing the rumours as coming from within the Nintendo RU team. Russian gaming outlet Kanobu yesterday published the story of another person who has come forward.
"Clearly, he couldn't hit on his female subordinates the way everyone could see —after all, he's married, and that could jeopardise his marriage." (Recently, Haddaji has divorced, according to people familiar with his social status.) "But he personally harassed me, and I'm sure the fact he achieved nothing got him riled up. There was no physical abuse, but I did experience a psychological one," cites the Kanobu article.
Workers' statements about alleged sexual harassment, published by Russian gaming outlet GameGuru, also raise eyebrows. According to their interview with several employees, when hiring Haddaji tries to pick good-looking women, as he believes they don't tend to argue with superiors. While sources deny rumours of sexual harassment, the article says he made one of his subordinates call him "daddy Yasha", and, according to Nintendo Life sources, raunchy jokes and ambiguous touches were experienced by many Nintendo RU female staff.
"Personally, I can note he was touching me during discussions, but I've always kept my distance," says Miroslava Basnak, a former Nintendo RU employee who agreed to share her name with us as part of this investigation. "He checked every social network for my profiles, called me into his office, asked me to make them private and to delete 'photos with bitchy context' he was pointing at. After I'd suspended my profiles, he found another one of mine, called me, and said, 'What else I don't know about your social life?' I wanted to quit at once, but my relatives persuaded me to wait and see whether things will get okay," she explains.
Another person suggests her refusal to meet with Haddaji outside of work cost her a job at Nintendo. "Once he said he wanted to 'make me the best manager,' so he invited me to 'hang out somewhere like friends,' as he wanted to tell me something. The day we agreed me on, I've told I was sick. A short while after, he said I dumped him, and told me to look for another job. The moment I've asked for a compensation, he threatened to ruin my career, making it so no one would hire me."
Being afraid for their future careers in case of breaking the news is a feeling every respondent was sharing, with some sort of stigma around specifics. The user also tells about an investigation team from Nintendo of Europe who was supposed to react to some incidents but ultimately never came to Nintendo RU. Sources said to Nintendo Life they did hear of a secretly recorded audio sent to Europe in 2013 or 2014, and confirmed the story was ultimately "swept under a rug."
GameGuru reported earlier this week that when they tried to call Nintendo RU, they spoke to a man with a 'French accent', who said, "There aren't any Yashas and never were. You should call the office." The next time, a Nintendo representative told the reporter Haddaji couldn't be reached, as he was "on a workshop." On Friday, Kanobu reported that Haddaji has been ordered by his superiors not to comment on the situation.
Five people who agreed to talk with us were working at or with Nintendo RU during various periods of time from 2015 to 2017, with hearsay of disgruntled employees trying to report to the European office dating back as far as five years ago. And with new workers replacing old ones broken by the harsh environment, those who quit earlier are constantly surprised by how harsher Haddaji has become in the last few years.
In the process of putting together this investigation, we approached Nintendo of Europe for a statement, and were issued with the following:
We are aware of a video uploaded to YouTube recently in which Nintendo Russia's General Manager, Yasha Haddaji, is seen losing his temper during an altercation with an external vendor in charge of a Mario Kart livestream. Mr Haddaji's conduct and choice of words are most certainly not in line with our company values.

We are also aware of further allegations that have appeared in the wake of this video and are now running a thorough investigation. We take these matters extremely seriously and will not comment further while we are running our investigation.
We still don't quite know who uploaded a year-old live stream recording, or why. Was it a malcontent Nintendo fan, an employee crying for help, or was it the result of a cooperation between the two? Either way, the result is presumably the one they were after; the video made the world look at the beloved company with fresh eyes, and will hopefully lead to a change of leadership within Nintendo's Russian office.