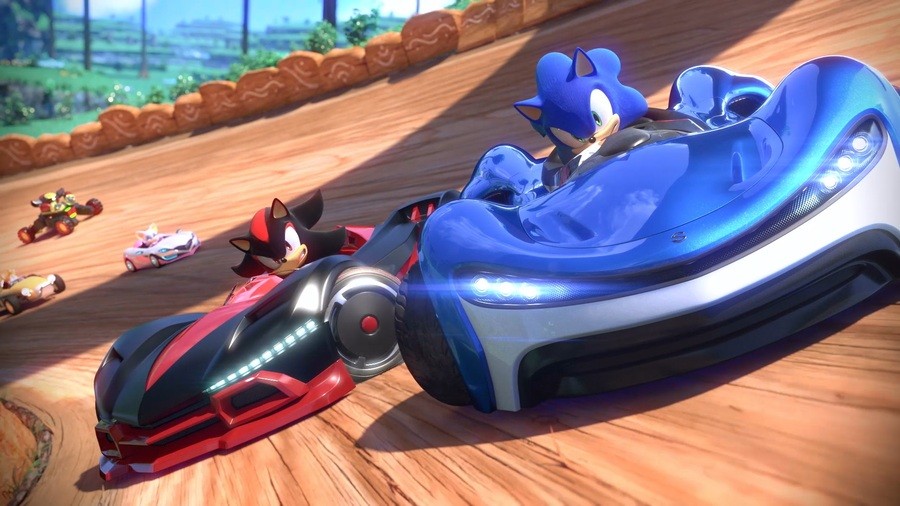 It appears that Team Sonic Racing may well have been delayed until 2019, pushing back the already loose release schedule of "winter 2018".
The rumour comes from an advertisement for the game inside a booklet from the IgroMir Expo 2018 - a Russian computer and video games consumer exhibition. You don't need to be able to read Russian to identify that a "2019" release date has been slapped on the page, with all platforms seemingly being subject to the delay.
Of course, this could simply be a printing error or miscommunication somewhere down the line in the creation of this booklet, but Sega's recent lack of commitment to a solid date for the game means that we wouldn't be surprised to see it arrive a little later than planned. Our very own video star Alex Olney spent some time with the game at EGX last month, and it certainly seems like it needs a little bit of work before zooming onto our screens.
"I managed to play it for a few races at EGX on the PS4, and frankly it ran like a dog, and not a very athletic dog. The frame rate started at 60 but dipped tremendously, averaging out closer to half that, although I don't have any exact figures as we couldn't capture. Naturally the PS4 version isn't necessarily representative of the Switch release, but if a more powerful machine couldn't run it even remotely smoothly it's not surprising to think they might delay it. Of course I've no idea how old the build I played was, so it's possible it's much further along than what they showed at the event, but if a delay does happen, I wouldn't be at all surprised."
Are you looking forward to Team Sonic Racing on Switch? Will you be picking up a copy whenever it does eventually release? Let us know below.
[source twitter.com, via nintendosoup.com]