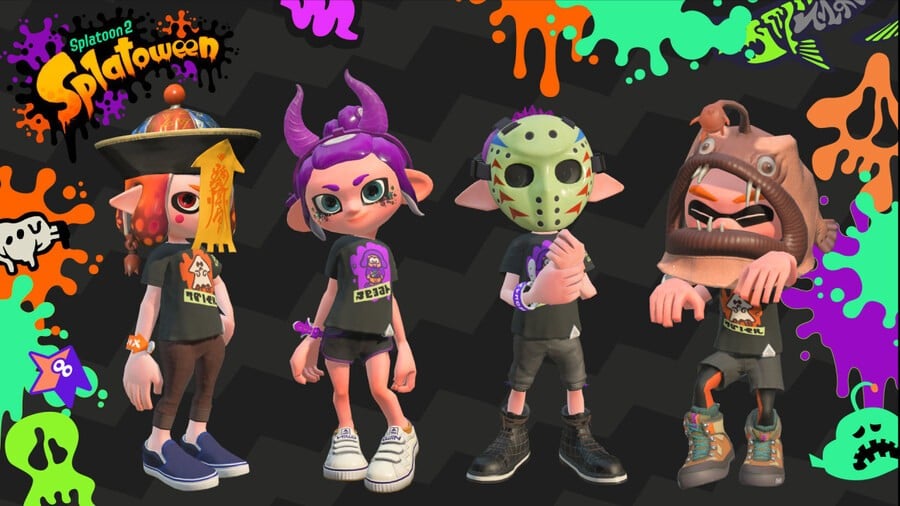 Just a couple of days ago, we shared the news that Splatoon 2 is about to play host to a worldwide, Halloween-themed Splatfest, with all sorts of amazing decorations and outfits playing their part in proceedings. Well, you can now get your hands on those lovely looking outfits, so read on and grab them for yourself.
All you have to do is head on over to the News section of your Switch (the icon on the very left at the bottom of the home screen). From here, you'll need to make sure you're following the Splatoon-centric news channel - in Europe, this channel is referred to as the 'Squid Research Lab Bulletin'; in the Americas, it's called the 'Squid Research Lab Report'. If you're not already following the channel, simply find it from the 'Find Channels' option at the top of your screen.
Once you're following the channel, an article starting with the words 'Free download!' should appear on your news feed featuring some lovely Splatoon artwork. Simply visit that article and click on the link provided near the bottom to access your gear - if you own a physical copy of the game, you'll need to have the cartridge inserted in your console for this to work.
For your troubles, you'll get access to the Kyonshi Hat, Li'l Devil Horns, Hockey Mask, and Anglerfish Mask, all to be used in-game.
Will you be getting these lovely extras for yourself? Are you planning on taking part in the worldwide 'Trick or Treat' Splatfest? Tell us below.