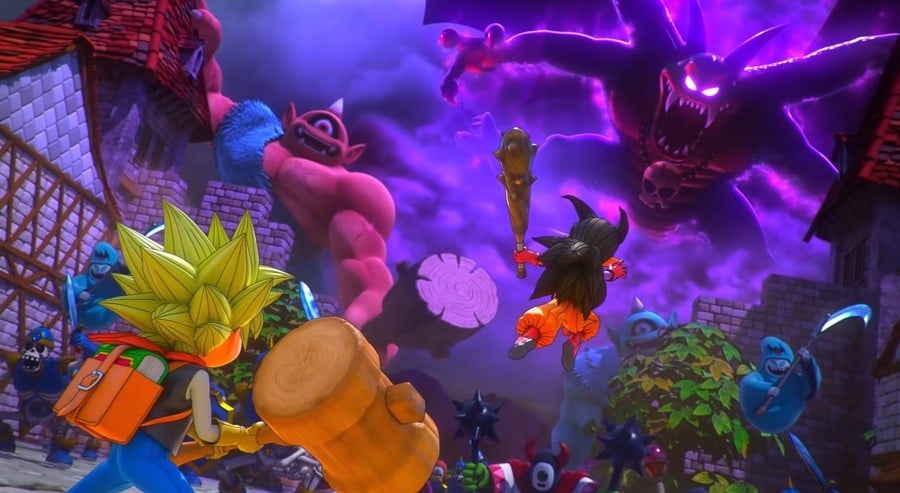 Square Enix's follow-up to Dragon Quest Builders promises to bigger and better with a handful of new features. This includes the exciting addition of multiplayer. In the latest issue of Weekly Shōnen Jump, fresh details have been shared about this new component which was absent from the first game.
According to a translation via Gematsu, a maximum of four players will be able to play and build together, while using gestures to communicate. To stand out from the crowd, each player will be able to change their character's appearance. There's also a bug-like vehicle in the game, designed by the legendary artist Akira Toriyama, that can transport everyone around.

Here's a brief description about the multiplayer feature:
By progressing through the story, you will be able to play multiplayer on the base Vacant Island. By building with everyone and showing off your island, the range of play will expand. If you just want to show off the island you created, you can also set it so that other players cannot break or place objects.
With more players involved, you'll be able to gather, craft and build much quicker - allowing gigantic structures and even statues to be created. Despite all of these details, there was no mention in the translation if this mode would be online, local or both.
Dragon Quest Builders 2 is out in Japan on 20th December and will arrive locally at some point in 2019. Have you been holding out for the multiplayer component? Tell us below.
[source gematsu.com]