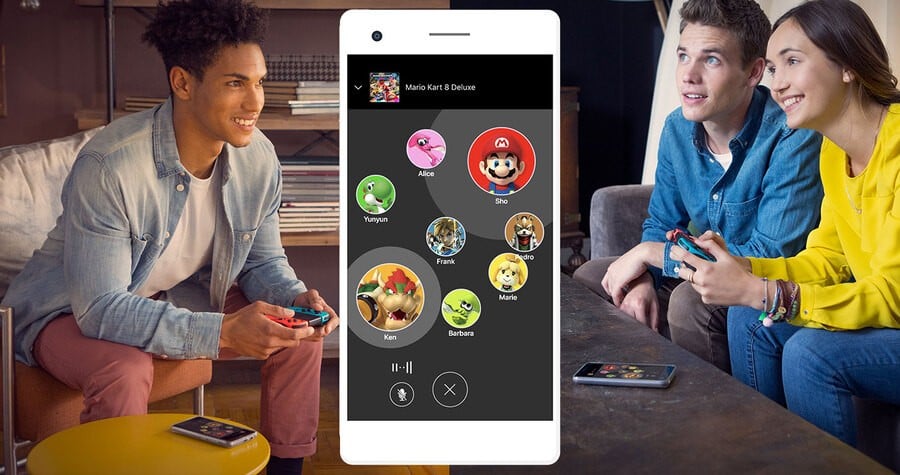 Having banged the world to rights on thorny issues of uninspiring NES games and botched cloud save implementation, our thoughts now turn to the Nintendo Switch Online smartphone app, which has proven to be quite divisive with Switch owners since its launch last year. With the paid Nintendo Switch Online service, many assumed the app might be getting scrapped in favour of native voice chat - or, at the very least, a significant update to bring it more into line with competing apps such as Discord. Let's take stock of where we are at following the recent update which coincided with the launch of the Nintendo Switch Online membership.
Up until recently, the Nintendo Switch Online app really was specific to Splatoon 2. Not only did it give players the ability to chat with others during matches, but it also went the extra mile to add value to the core Splatoon experience with the SplatNet feature. Using the smartphone app, you can order items from outside of the main game menu, which is very useful. It also tells you the map rotation and Grizzco Industries status, and is a quick and convenient way to check your ranking in the game and review the outcome of previous battles.
Since the last update, the app now supports a few more core Nintendo games with voice chat. When playing online, you can chat with a friend while playing the NES games bundled with Nintendo Switch Online. In ARMS, Mario Kart 8 Deluxe and Mario Tennis Aces, you can now chat with friends and random competitors in most of the online modes found within those games. But that's it; the app doesn't support any other games for the time being. Even the handful of games which it does support is barebones, to say the least.
We asked our readers on Twitter what they thought about the app and many of them actually quite liked it. This checks out on the iOS App Store rating, where the app currently has 3 out of 5 stars. It's a bit of a Marmite situation, where some folks just hate the app and declare it useless and others seem to accept it for what it is and give it 5 stars.
Nintendo's last home console, the Wii U, had native voice chat in games and worked quite neatly with the built-in microphone in the Wii U GamePad. I can testify to the usefulness of this myself as a parent of a 10-year-old who loves to play Minecraft on Wii U with her school-friends. None of them own smartphones yet, but on the Wii U, they are safely able to play games with voice chat which is restricted to their parent-approved friend list. You are out of luck if you want to have the same experience on Minecraft on the Switch, at least at present. Your child needs a smartphone to play, and for many parents, that's a decision they'd rather make for themselves, rather than having it forced upon them by Nintendo.
Fortnite on the Switch, however, does support native voice chat and this is a common argument for why Nintendo themselves should be offering it as standard in Switch games which have an online component. As the Switch lacks a microphone, you will need to use a wired headset with Fortnite to talk to others in your squad, but it is a welcome option to have and removes the reliance on a separate smartphone app. It would be ideal if the Switch could support wireless Bluetooth headphones, of course; one day, perhaps!
Many of our readers have become so frustrated with the limitations found in the Nintendo Switch Online app that they prefer to use other alternatives, such as WhatsApp voice chat, Skype and, of course, Discord. Some of our readers are not even able to download the app in their territory.
Discord seems to be a firm favourite with gamers as you can easily create a room and send messages to your friends or people within a pre-set lobby. Being able to communicate before you even launch the game is such a basic feature which is completely omitted by the official Nintendo Switch Online app. Should Nintendo decide to address this, it will, of course, have a massive advantage over Discord as it could show your Switch friends list so you could message pals who are online and invite them to a game. Is this functionality which is found on the PS4 and Xbox One too much to ask for in a future update?
One of the Nintendo Switch's main selling points is its portability. Yet by coupling voice chat with this smartphone app, it has made it a lot more cumbersome than perhaps it needed to be. We only have to think back to the wired nightmare that is the Hori Splatoon 2 headset to know that this was a pretty terrible idea.
Now that Nintendo is profiting from the proceeds of the Nintendo Switch Online membership, it is possible that some of the money will be reinvested into making the smartphone app completely indispensable with in-game features which we could only dream of. Still, there will always be a large proportion of users who would prefer to have native voice chat in all games, but it doesn't seem like that's going to happen any time soon. With Super Smash Bros. Ultimate on the horizon, we're sure to see some more changes coming to the Nintendo Switch Online app soon. Until then, we can only guess what is on Nintendo's mind when it comes to the roadmap for how voice chat will be implemented in its future games.
Let us know your thoughts on the Nintendo Switch Online app with a comment below. Do you love it, or hate it?
What do you think of the Nintendo Switch Online smartphone app (276 votes)
It's really good, I like it.

10%

I have mixed feelings.

35%

I really do not like this app.

55%
Please login to vote in this poll.
What method do you use for voice chat when playing online on the Switch? (256 votes)
The Nintendo Switch Online app

13%

Discord

47%

Skype

3%

WhatsApp

5%

Other

32%
Please login to vote in this poll.