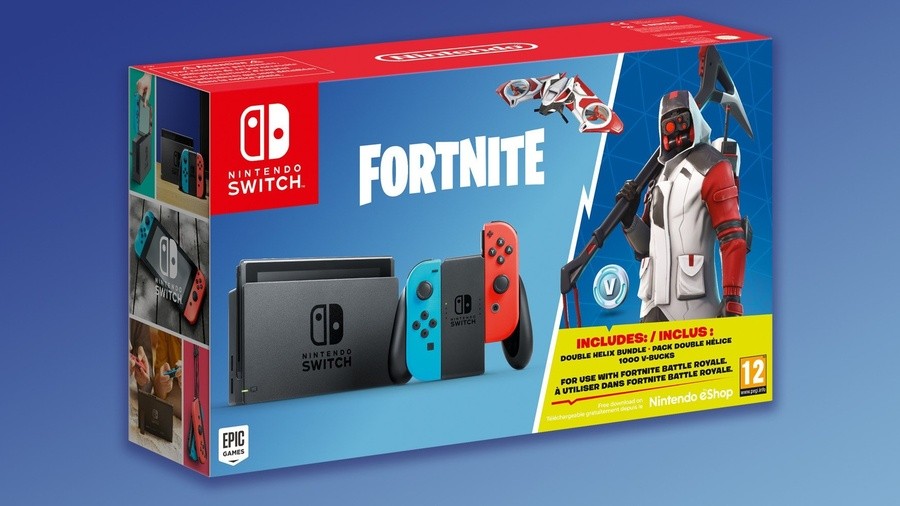 Earlier this week, Nintendo revealed a brand new Fortnite Switch bundle set to be released across Europe and North America. Wasting absolutely no time whatsoever, pre-orders for the bundle have now started to go live, starting with the Nintendo Official UK Store.
If you missed the news, this bundle includes a Nintendo Switch system, 1,000 V-bucks (in-game Fortnite currency) and the Double Helix Set - a cosmetic collection consisting of a unique Character Outfit, Back Bling, Glider, and Pickaxe. The included V-Bucks are just enough to purchase an in-game Battle Pass, which unlocks an entire season's worth of content, or they could be used on shiny cosmetic items from the game's store to spruce up your character.
The bundle is available for £279.99 - the standard retail price for a Nintendo Switch system - essentially making the additional Fortnite content free. If you or the person you're buying for loves the game, then this is sure to be an ideal option. The bundle releases on 5th October, and you can find the link to pre-order it below.
Do you know a Fortnite fan who'd love this Switch bundle? Let us know if you'll be grabbing one with a comment below.