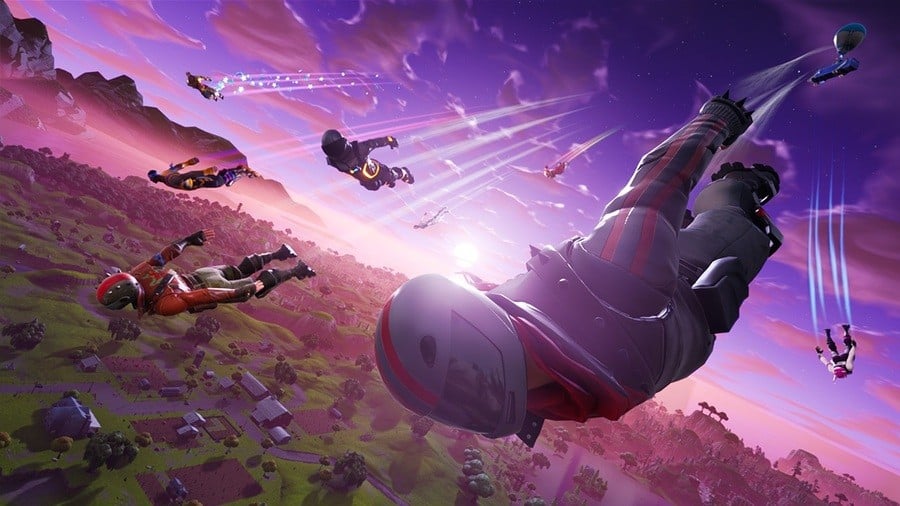 Grab yourself a Battle Pass in Fortnite and you can take on a bunch of weekly challenges that not only give you a perfect excuse to play, but provide you with the best rewards.
The Battle Pass isn't free though – it will set you back around £7.99 / $9.99 worth of V-Bucks, the in-game currency, but it's completely worth it if you play a lot of Fortnite.
In this guide, we're going to briefly explain how the Battle Pass and weekly challenges work, and detail exactly what you have to do this week to get your hands on those awesome end of season rewards.
We'll also run you through the rest of this season's challenges, which you can still complete. They won't run out until the season does in July.
Fortnite - Week 10 challenges: 50 Battle Stars, 5,000 XP
The following is a list of the current challenges in week 10 of season four of Fortnite.
Challenge
Number to Complete
Reward
Deal damage to opponents structures
5000
5 Battle Stars

Search chests in Junk Junction
7
5 Battle Stars
Search a chest, ammo box, and supply drop in a single match
3
5 Battle Stars
Skydive through floating rings
4
5 Battle Stars
Search between movie titles
1
10 Battle Stars
Eliminate opponents
10
10 Battle Stars
Eliminate opponents in Fatal Fields
3
10 Battle Stars
Fortnite - What is a battle pass?
A Battle Pass in Fortnite provides access to a season's worth of weekly challenges that you can complete in exchange for exclusive rewards. A season lasts 10 weeks, so that's quite a lot of bang for your buck.
To get your hands on a Battle Pass, you first have to buy (or earn) the appropriate number of V-Bucks, which is Fortnite's premium currency. A Battle Pass costs 950 V-Bucks right now, and 1,000 V-Bucks costs £7.99 / $9.99.
Buy a Battle Pass and it lasts for an entire season of Fortnite, so you will need to purchase another when the new season starts. The good news is that you can earn a total of 1,300 V-Bucks over the course of a season, provided you get to the max season level of 100. As long as you don't get tempted to spend them on consumable items, you can feasibly pay once and get enough V-Bucks each season to buy the next Battle Pass every single time.
Fortnite - How does a season work?
A season of Fortnite lasts 10 weeks, and you have to earn a total of 100 tiers in order to get the maximum rewards. You start at tier one, and can increase in tier by completing challenges or levelling up to earn Battle Stars.
That's where the challenges come in. Complete one and you'll earn between five and 10 Battle Stars, and if you earn enough of them you'll increase in tier. You can also earn Battle Stars by increasing your season level, and by owning a Battle Pass you'll earn more XP anyway.
Get to tier 100 and the entire set of rewards is yours. This typically includes emotes, character skins, V-Bucks, XP boosts, sprays, loading screens, and harvesting tools.
Fortnite - What are the Daily, Blockbuster, and Carbide challenges?
These are three different types of challenges that reward you with various extras. Let's take a look at how they differ.
Fortnite - Daily challenges
Daily challenges change every 24 hours and provide you with three generally quick and easy challenges. Complete them and you'll get a nice chunk of XP and Battle Stars.
Fortnite - Blockbuster challenges
Blockbuster challenges task you with beating every single challenge in each week of Fortnite, and reward you with an exclusive secret item. You only need to get all of the challenges in seven out of the 10 weeks to unlock the maximum reward.
Fortnite - Carbide challenges
Carbide challenges are similar to Blockbuster challenges, but reward you based on your total season level. 
Don't confuse your season level with your tier level – that has its own specific rewards. The season level is the number that appears on the left of your screen while in the lobby.
Beat these challenges and you'll unlock a unique outfit and harvesting tool. You need only reach level 65 during a season to get the full set.
Fortnite - When do the Daily and Weekly challenges reset?
The daily and weekly challenges reset at different times and days. Please refer to the tables below for a full rundown:
Fortnite - Daily challenges reset time and day
Daily challenges reset daily at the following times:
| Region | Time Zone | Reset Day | Reset Time |
| --- | --- | --- | --- |
| United Kingdom | BST | Daily | 10am |
| Europe | CEST | Daily | 11am |
| East Coast US | EDT | Daily | 5am |
| West Coast US | PDT | Daily | 2am |

Fortnite - Weekly challenges reset time and day
Weekly challenges reset every Thursday at the following times:
Region
Time Zone
Reset Day
Reset Time
United Kingdom
BST
Thursdays
9 AM
Europe
CEST
Thursdays
9 AM
East Coast US
EDT
Thursdays
4 AM
West Coast US
PDT
Thursdays
1 AM
Fortnite - What are the current weekly challenges?
Fortnite is currently on week nine of 10 in season four, and you can find the current challenges at the top of this page. Below that you'll find a list of all of the previous challenges.
Fortnite - Week 9 challenges: 50 Battle Stars, 5,000 XP
| Challenge | Number to Complete | Reward |
| --- | --- | --- |
| Deal damage with explosive weapons to opponents | 500 | 5 Battle Stars |
| Search chests in Moisty Mire | 7 | 5 Battle Stars |
| Use a shopping cart | 1 | 5 Battle Stars |
| Visit different named locations in a single match | 4 | 5 Battle Stars |
| Follow the treasure map found in Haunted Hills | 1 | 10 Battle Stars |
| Shotgun eliminations | 4 | 10 Battle Stars |
| Eliminate opponents in Anarchy Acres | 3 | 10 Battle Stars |
Fortnite - Week 8 Challenges: 50 Battle Stars, 5,000 XP
Challenge
Number to Complete
Reward

Deal headshot damage to opponents
250
5 Battle Stars
Search chests in Salty Springs
7
5 Battle Stars
Search 7 chests in a single match
7
5 Battle Stars
Search Hungry Gnomes
7
5 Battle Stars
Search between a bear, crater, and a refrigerator shipment
1
10 Battle Stars
Suppressed weapon eliminations
3
10 Battle Stars
Eliminate opponents in Pleasant Park
3
10 Battle Stars
Fortnite - Week 7 Challenges: 50 Battle Stars, 5,000 XP
| Challenge | Number to Complete | Reward |
| --- | --- | --- |
| Deal damage with a pickaxe to opponents | 250 | 5 Battle Stars |
| Search chests in Risky Reels | 7 | 5 Battle Stars |
| Consume Hop Rocks, Apples, or Mushrooms | 20 | 5 Battle Stars |
| Score a goal on different pitches | 5 | 5 Battle Stars |
| Follow the treasure map found in Pleasant Park | 1 | 10 Battle Stars |
| Assault rifle eliminations | 5 | 10 Battle Stars |
| Eliminate opponents in Shifty Shafts | 3 | 10 Battle Stars |
Fortnite - Week 6 Challenges: 50 Battle Stars, 5,000 XP
Fortnite - Week 5 Challenges: 50 Battle Stars, 5,000 XP
| Challenge | Number to Complete | Reward |
| --- | --- | --- |
| Deal damage with SMGs to opponents | 500 | 5 Battle Stars |
| Search chests in Dusty Divot | 7 | 5 Battle Stars |
| Use a vending machine | 3 | 5 Battle Stars |
| Dance with others to raise the disco ball near Loot Lake | 7 | 5 Battle Stars |
| Follow the treasure map found in Greasy Grove | 1 | 10 Battle Stars |
| Get minigun or light machine gun eliminations | 2 | 10 Battle Stars |
| Eliminate opponents in Lucky Landing | 3 | 10 Battle Stars |
Fortnite - Week 4 Challenges: 50 Battle Stars, 5,000 XP
Challenge
Number to Complete
Reward

Deal damage with assault rifles to opponents
1,000
5 Battle Stars
Search chests in Wailing Woods
7
5 Battle Stars
Search 7 ammo boxes in a single match
7
5 Battle Stars
Visit the center of different storm circles in a single match
3
5 Battle Stars
Search between a bench, ice cream truck, and a Helicopter
1
10 Battle Stars
Trap Eliminations
1
10 Battle Stars
Eliminate opponents in Snobby Shores
3
10 Battle Stars
Fortnite - Week 3 Challenges: 50 Battle Stars, 5,000 XP
| Challenge | Number to Complete | Reward |
| --- | --- | --- |
| Watch a match replay | 1 | 5 Battle Stars |
| Deal damage with pistols to opponents | 500 | 5 Battle Stars |
| Search chests in Lonely Lodge | 7 | 5 Battle Stars |
| Search rubber duckies | 10 | 5 Battle Stars |
| Follow the treasure map found in Salty Springs | 1 | 10 Battle Stars |
| Sniper rifle eliminations | 2 | 10 Battle Stars |
| Eliminate opponents in Tilted Towers | 3 | 10 Battle Stars |
Fortnite - Week 2 Challenges: 50 Battle Stars, 5,000 XP
Challenge
Number to Complete
Reward

Search chests in Greasy Grove
7
5 Battle Stars
Consume Hop Rocks
7
5 Battle Stars
Deal damage with suppressed weapons to opponents
500
5 Battle Stars
Dance in front of different film cameras
7
5 Battle Stars
Search between a scarecrow, pink hotrod, and a big screen
1
10 Battle Stars
Explosive weapon eliminations
3
10 Battle Stars
Eliminate opponents in Tomato Town
3
10 Battle Stars
Fortnite - Week 1 Challenges: 50 Battle Stars, 5,000 XP
| Challenge | Number to Complete | Reward |
| --- | --- | --- |
| Deal damage with sniper rifles to opponents | 500 | 5 Battle Stars |
| Search chests in Haunted Hills | 7 | 5 Battle Stars |
| Use a Port-a-Fort | 1 | 5 Battle Stars |
| Search F-O-R-T-N-I-T-E letters | 8 | 5 Battle Stars |
| Follow the treasure map found in Tomato Town | 1 | 10 Battle Stars |
| Pistol eliminations | 3 | 10 Battle Stars |
| Eliminate opponents in Flush Factory | 3 | 10 Battle Stars |