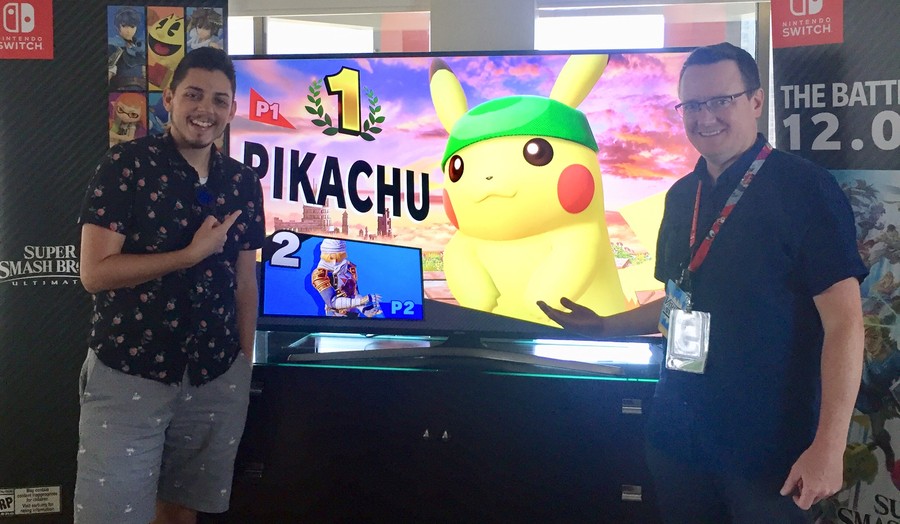 As a journalist, sometimes you're handed what I'll hesitantly describe as "unfair" deadlines. In those moments, you learn the massive value of a single hour. Ask me where all the spare outlets in the depths of the Los Angeles convention centre are. I'm a borderline cartographer for shortcuts through Comic-Con's back rooms. I've paid almost any price for WiFi.  
At the same time, if Nintendo themselves hand you a similar timeframe by telling you some approximation of, "Hey, want to come chill and play Super Smash Bros. Ultimate for an hour?", you instinctively know that isn't really work. (Heck, if this ever happens to you, you might be so relaxed you'll do your Comic-Con shopping on the same day, like me.)
Relativity aside, the lesson remains: there is always something you can take away from one entire hour. Especially if, in that time, you're playing an unreleased entry in the Super Smash Bros. series and your partner ends up being Nintendo Senior Product Marketing Manager and professional orange holder Bill Trinen.
So after being paired off in a hotel room high above Comic-Con to forge through a boat-load of Smash Bros., here are five takeaways I had from both the new Ultimate and Bill Trinen, in not too particular of an order.
Character Updates Are Subtle, But Will Be Plenty Noticeable To Veterans
Sharp-eyed super fans have gleaned a lot already from the E3 footage of Smash Bros. Ultimate that's already out in the wild. The version we played was the same build, so there isn't anything new to expound upon. But that doesn't mean your local Nintendo writer doesn't have some hot-takes all his own!
Please note that in a previous life, I was a well-travelled Smash Bros. Melee professional for about a decade's time who just so happened to main Pikachu. As such, I definitely spent the lion's share of my matches trying out Pikachu's new build. I came away pretty satisfied. Pikachu is just about as quick, but he gains some more reliability with both a stronger skull-bash for recovery, as well as with a new electrified neutral-A attack. Pikachu also has a quickened back-air animation, which I suppose in time might come to be realized as a nerf, though I still found it pretty effective for spacing and disrupting of a lot of approaching attacks.
Don't worry, I played other characters too. I found Link to have an altogether different playstyle as compared to Link from every previous Smash game. His bombs are now remotely triggered and coupled with him lacking a hookshot for the first time ever, his new technical playstyle actually mirrors that of a lighter Solid Snake much more than old Link.
Speaking of Snake, it's flat out odd playing as the Super Smash Bros. Brawl favourite (his only previous appearance) under the quickened pace of Ultimate (more on that later). The same slight disorientation can be said of the Ice Climbers, who return after a small series hiatus. To my hands, the Climbers felt a little underpowered compared to their Melee and Brawl counterparts, mostly due to far less logical options out of a grab. Shiek also doesn't currently appear to be as competitively viable as players like ZeRo and Plup made her in previous games, but I wouldn't exactly describe her as unplayable, either. The long-time familiarity of stalwarts like Fox and Shiek made them effective battlers throughout all my attended Comic-Con events.
Here are some more rapid-fire reactions: slow characters like Ganondorf and Ike seemed improved due to the quickened pace of the game, yet I'm predicting they are likely still too slow for one-on-one competitive play (still, not to brag, but I landed multiple Ganon punches). Ridley seems like a powerhouse with some sick combos, but he has a glaring weakness when it comes to vertical speed - imagine something like a giant Metaknight. Are you a Megaman player? His kit seems to have translated pretty dang positively, but being a little squishy is still an issue for him. Pokémon Trainer is very fun without fatiguing Pokémon! Mario is pretty much the same dang character. Little Mac can charge his punch seemingly forever. Finally, the Inkling Kids are a technical player's dream, but they pack enough punch that a newcomer will probably enjoy them without needing to fully understand how to use them.
There are plenty more impressions I could write, but the bottom line? I played nearly every character and had an absolute blast with every single one of them.
The Game Is Fast Enough That It's Hard To Play Smash 4 Now
If you're a casual Smasher, you probably aren't going to be too hung up on this point (or any point I'll make, for that matter). But as I've discussed and as many pros have reported, the game's physics are subtly altered to be more rapid than in Smash 4, though not in super overt ways.
Having now played Ultimate at several events for a collective several hours, the change in pace is subtle enough that it won't blow you away if you're familiar with the Wii U/3DS versions, but effective enough that if you go back and play Smash 4 afterwards (out of sheer Smash withdrawal, as in my case), the slower pace seems hard to accept any more.
How exactly is the game faster? Rather than further retread the topic on my own once again, I went to Smashboards moderator, Smash analyzer and frequent sound-bite contributor Kyle "Thinkaman" Brockman to sum up the speed changes as technically-minded as possible for any reader who might be interested in looking under the hood. Here's his analysis:
One of the most talked about aspects of fighting game speed is the delay that follows landing with an aerial attack. In this case, like Link's sword getting stuck in the ground.

Melee's aerial attacks had very low landing lag with correct inputs. Brawl and Smash 4 had higher landing lag, but with more opportunities to "auto-cancel" and skip it entirely; 54% of aerial attacks in Smash 4 can auto-cancel out of a short hop.

What we're seeing with the Ultimate data (from just the E3 demo) is landing lag is very close to Melee levels and Smash 4's abundant autocancels.

In addition, general technical discoveries of the E3 footage include grabs being slightly worse across the board and backwards rolls (just backwards!) being significantly worse.

Putting these landing lag changes alongside the other changes that have been documented—universal frame-three jumpsquat speed, the short-hop shortcut, attacks gaining staleness from hitting shields, the new powershield parry, short hop attacks dealing 0.85x damage—there seems to be a clear design focus around carefully balancing short hop aerial attacks in particular.
Got all that? If that means nothing to your brain, just take my initial word for it: the game is more aggressive, and I really like it.
Nintendo Has Heard The E3 Feedback Loud And Clear
Playing match after match, Bill kept opening the floor to me, "So, any questions…?" I eventually fed him one half-jokingly. "Yeah, sure. Why is Bayonetta so broken?" If you're not aware, the professional Smash scene is asunder over whether or not Bayonetta is too powerful, and her powerhouse showing during the Smash Bros. 2018 Invitational did little to calm their nerves.
"(Series director) Masahiro Sakurai has heard plenty of the feedback during the E3 tournament and from player feedback of the E3 build." Trinen told me. He assured me that though nothing is promised, many small changes could potentially be in store for Bayonetta, as well as any character. In addition, while Smash pros are nowhere near the only target audience for Ultimate, I was assured that Nintendo wants to make both a fun and balanced game for anyone who will pick up the eventual final release when it hits stores this December (with that in mind, virtually all my character-specific impressions anywhere in this article are subject to change).
Trinen did, however, offer an appendix to my thoughts regarding Bayonetta's sheer power: "I mean, look at her!"
Bill Trinen Is A Dang Good Smash Player
If you follow Nintendo's PR appearances even a small amount, you might be aware that Trinen's storied history at the Kyoto-based company isn't just for appearances. "We were playing (Super Smash Bros. Melee) for months ahead of its release," says Trinen of some of his earlier days with the company. "We played it during our breaks for at least a decade."
Unspokenly, we both made it a point to attempt Smash Bros. purity by avoiding all items during our matches to the best of our abilities (items were permanently turned on for the demo version of the game). I won't speak to the final tally of wins and losses. I am a lapsed professional player, after all. But the day spent playing Ultimate was one more reminder that Nintendo's PR aren't just sales people; they are by-and-large hardcore fans.
If you ever find yourself matched up against Shigeru Miyamoto's personal translator, watch out for Bill's Marth and Shiek.
And Finally, A Word On Mother 3…
At some point during our time together, a match against the psychic-boy Ness prompted some lighthearted bemusement. "I keep thinking I'm Lucas," Bill laughed. You see, Lucas is the protagonist of the Japanese-only release Mother 3, and he employs a long-distance grab, as compared to the more popular Earthbound alumni Ness and his up-close approach. Only Ness was available to play in the demo.
The non-translation of Mother 3 has become the memification of legends, so in a weak moment, I leapt at the opportunity for a comment. I asked him about Mother 3. Listen, he was the one who brought up Lucas.
Bill's response? "It's a good game."
---
Thanks to Bill Trinen and the NOA team team for our hands-on with Super Smash. Bros Ultimate. The game releases December 7th on the Nintendo Switch.