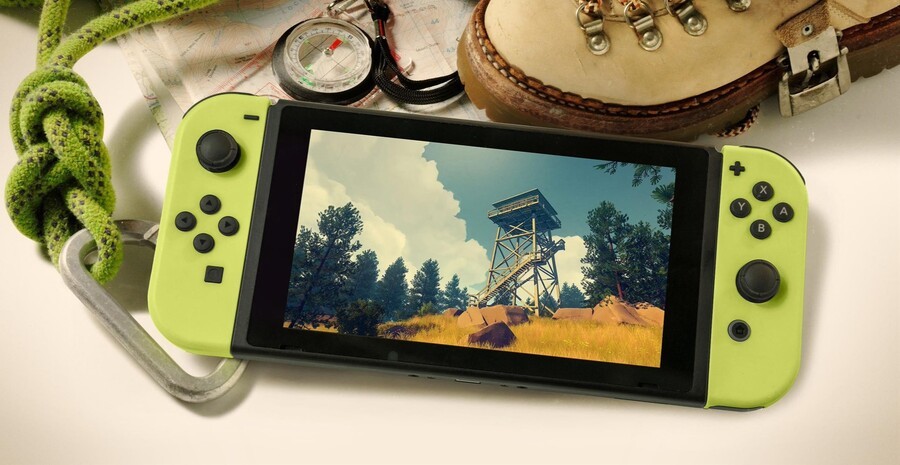 Well, here's an unexpected, and very welcome, surprise. Firewatch, the 2016 indie hit that made a big splash on other consoles and PC, is officially coming to Nintendo Switch. And in 2018, no less. Turns out developer Campo Santo has been working on the port in secret, and it's finally ready to make its big reveal.
The award-winning title mixes a traditional 'walking simulator' with a linear narrative set in the cel-shaded - but no less beautiful - Shoshone National Forest. Alone for the summer with nothing to do but spot fires, your supervisor Delilah is always just a call away on your radio - and as you're pulled out of the tower into the dense forest below, she's your only contact with the world you've left behind.
We thoroughly enjoyed it back in 2016, and as long as the Switch port doesn't chug, this could be one of the handheld's most emotional experiences to date. It's set to arrive sometime in the Spring (so the next few months, hopefully). In the absence of a Switch-specific trailer, here's a trailer from 2015 to get you in the mood for what's to come...
Well, there you have it - another indie hit making the jump to Nintendo Switch? Have you played it before, if so, will a handheld version be enough to tempt you back? If you're new to the title, does its unusual setup intrigue you? Let us know, yeah?
[source twitter.com, via firewatchgame.com]