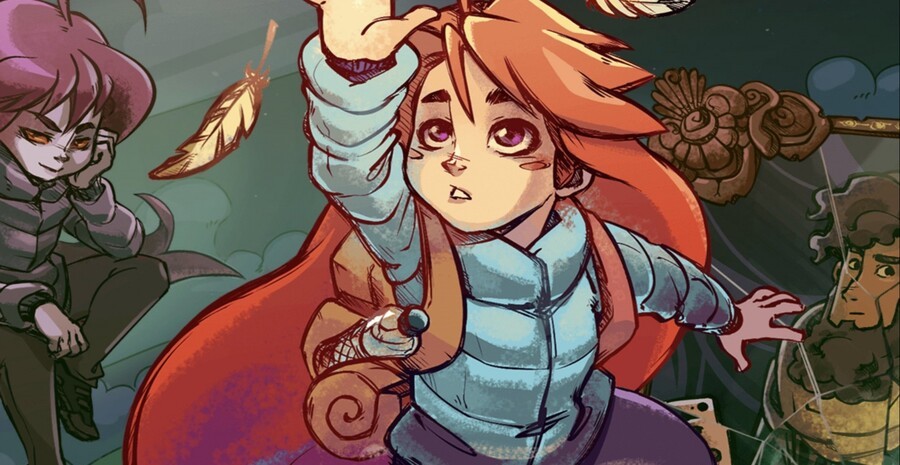 Talking Point is back (and fashionably late) so it's time for team Nintendo Life to share the games they're playing here in the warm embrace of the weekend. This week, we've got Darren heading back to a neon-tinted co-op shmup, Glen strapping on his golden boots, Dom continuing his Dark Brotherhood adoration and many more.
As always, don't forget to choose an entry from the poll below or add your own choice in the comments below. Let's get the conversation going and share in the Nintendo Switch, 3DS and Wii U love. Have a great weekend, everyone!
Darren Calvert, operations director
"This weekend I am going to play some multiplayer Aperion Cyberstorm with friends and family. UK based aPriori Digital's twin-stick shmup has been great fun to play in single player mode, but having played the local multiplayer at EGX Rezzed with Alex way back in 2015 I know this is where most fun (and arguments) will be had. If I get any more spare time I hope to also check out The Darkside Detective which looks like a real treat with its pixelated art-style and referential humour. Again this week we are spoilt for choice with compelling games to check out on the Switch eShop!"
Glen Fox, guides editor
"I've recently got hideously addicted to FIFA 18 again - most likely because I'm winning. So no doubt I'll lose a ton of hours to that. Also working my way through Xenoblade Chronicles on 3DS so I can play the sequel. I'm one of those that can't dream of playing a later entry without having played all the others. Goodbye social life! I'll miss you buddy."
Dom Reseigh-Lincoln, editor
"This weekend I've fallen back into an old habit. A habit involving the Dark Brotherhood, lots of high-level sneaking and a trail of spilled claret. Yes, I'm back in flippin' Skyrim again. I know, I've clocked far too many hours across many a platform and here I am, back again, bothering the poor folk of Tamriel's wintry north as I continue to become its most revered assassin.
I'm also returning to Dragon Quest Builders. As you'll read in my review, it's both a smooth port and a fine addition to Switch's growing library of diverse titles. It also gives those of us who've played Minecraft a little too much for one lifetime a chance to flex those building muscles on a new canvas."
Gonçalo Lopes, contributing writer
"Although I am far from done with Alrest, this weekend is actually a first time double booking for Nintendo events; I will be spreading my free time between the ARMS Party Crash and the Splatoon 2 European Splatfest. Life is made of hard choices and this weekend is filled with them; Both Springtron and Kid Cobra are part of my main ARMS choices and despite liking the taste of Gherkins I usually set them aside since my stomach can't easily digest them. Truly a pickle...
Will need to find some time to continue the climb of Celeste Mountain, become proficient at Disc Jam and somehow get "Highway to the danger zone" out of my head. I will just pretend Dragon Quest Builders didn't come out yesterday."
Ryan Craddock, news reporter
"Most of this weekend will be spent with Owlboy, a game that I'm currently playing for review. There seems to be quite a lot of buzz online surrounding its imminent release on Switch and so, while I can't really say too much about it at the moment, rest assured that our verdict will be available right here very soon.
We're also spoiled for choice when it comes to online events right now, with ARMS hosting its latest Party Crash and Splatoon 2's gherkin-themed Splatfest well under way in Europe. If I have any extra time I'll be sure to jump in and join the fun in whichever takes my fancy."
Tony Stephenson, social media manager
"I have started this weekend by playing in the ARMS party crash. For quite a while this game has sort of passed me by, just thinking it was just a fancy Wii Boxing but for some reason this week it clicked and I have fallen in love with it. I am not normally one for fighting games, I majorly suck at Smash, but ARMS has gripped me (no pun intended).
It is also Splatfest weekend here in Europe so I'll be partaking in a little Splatoon 2. I cannot make my mind up which team to be on though as I don't like gherkins but I don't mind them on a burger. I'll probably side with Marina, as she needs the support."
Morgan Sleeper, contributing writer
"I'm not sure how it happened, but the shmup bug has bit me again, so this weekend I'm planning to spend some more time with a few of my favourite Switch shooters: Gunbird and Blazing Star. As someone who once did lasting damage to a TV trying to play Ikaruga on the GameCube in TATE mode, there's nothing quite as satisfying as just propping the Switch up on its side for some vertical Gunbird action!
Aside from holding down the rapid-fire button, I'm also super excited to spend some time with the new plug-and-play console that showed up at my door yesterday: Densha de Go! Plug & Play! I'm a huge fan of this train sim series, and when I heard there was a new entry coming in 2018 — an HD update of PS2's Densha de Go! Final wrapped in a stand-alone train controller — I smashed the import button as fast as I could. My maiden voyage along the Yamanote line last night felt great, and I can't wait to hit the rest of the tracks this weekend!"
Which games are you playing this weekend? (350 votes)
Xenoblade Chronicles 3D
3%
The Elder Scrolls V: Skyrim
6%
Something else! (Comment below)
41%
Please login to vote in this poll.
So that's our picks for the weekend, but what's got your attention on the handful of days between one week and another. Give us a shout below...