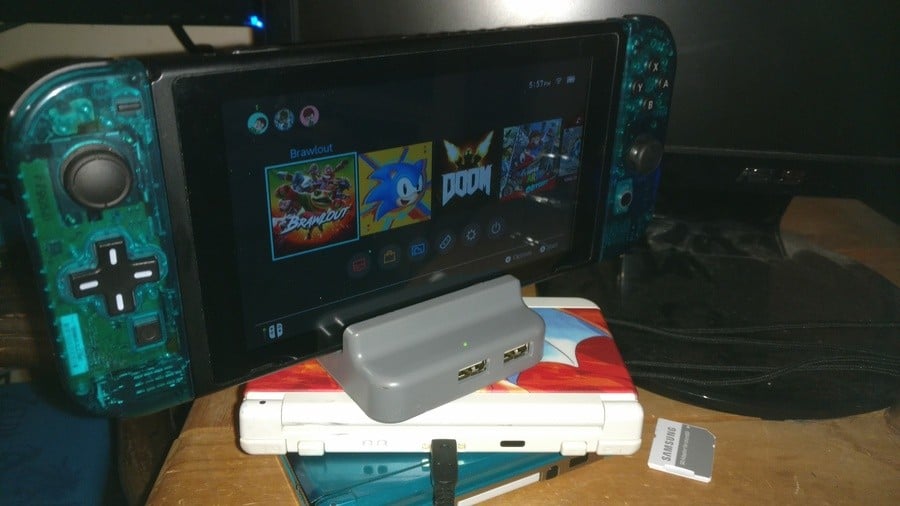 Remember SFANS? Billed as the Switch dock that's small enough to fit in your pocket, it was crowdfunded last year to the tune of $130,000. We were lucky enough to get our hands on a pre-release version and came away sufficiently impressed to give it a hearty recommendation.
The trouble is, since then SFANS has had something of a torrid time. First up were the accusations that the device - like other Switch docks which appeared at the time - was made by repurposing Samsung products. Then, in October, it was announced that the SFANS would be subject to a delay due to a redesign.
This redesign didn't sit well with some fans, while others were willing to give the team behind SFANS the benefit of the doubt. Now the unit is finally arriving in the hands of backers and it's fair to say they're not all that impressed.
Nintendo Life reader KeithTheGeek sent us this message:
My dock appears to be a dud, unfortunately. As you can see in the image [shown above], there's a green light that comes on when it receives power, but the Switch never entered docked mode. I used my official Nintendo AC Adapter to test this.
The comments section on the SFANS Indiegogo page is something of a horror show, too:
I got mine a few days ago in Charlotte North Carolina. The number one complaint that I have is that is not two toned. its functionality works just about the same as if you would have bought the non brand adapters off Amazon, which I bought two but the time SFANS was released. The SFANS build quality is worst. I'm going to buy some plastic paint and just paint it myself.
I just received mine. I was super excited after using it once it won't work anymore. It worked perfectly initially for maybe an hour. I took the thing downstairs and plugged it in to another TV and it wouldn't want to transfer the picture. I tried everything including changing power cables (I'm using the Nintendo power adapter) and HDMI's. Also doesn't work on the upstairs Tv anymore. it just won't output to any tv but it will charge the system. Any suggestions???
Signed up for a refund forever ago. Got my cheap looking dock yesterday. Not at all what I wanted. Already grabbed a cheaper adapter off Amazon months ago. I don't even want to look at this thing. Just makes me mad.
Anyone who says this campaign is anything other than a con job is being disingenuous. I was promised a refund in "about 7-10 days" at the end of October when the prototype was completely changed without backer approval and this was a straight up lie. My several follow-up emails were ignored. This is the first and last indiegogo campaign that will have my support.
While I could rant about this being horrible quality, or the fact that they breached Indiegogo rules by changing the product post-funding, I want to focus on the worst part about this for me: They offered me a refund, sent me a form to fill out my details for the refund, then ignored my emails for two months, and proceed to send me the damn product! Not cool at all. And yeah, I'm not letting this thing interact with my Switch. If similar products are messing them up, this most definitely will.
We've reached out to the team behind SFANS and will update this post when (or indeed if) we hear back, but this appears to be quite a sad end to what was initially a very promising campaign. 
Let us know if you backed SFANS - and what you think of the final unit - by posting a comment below.