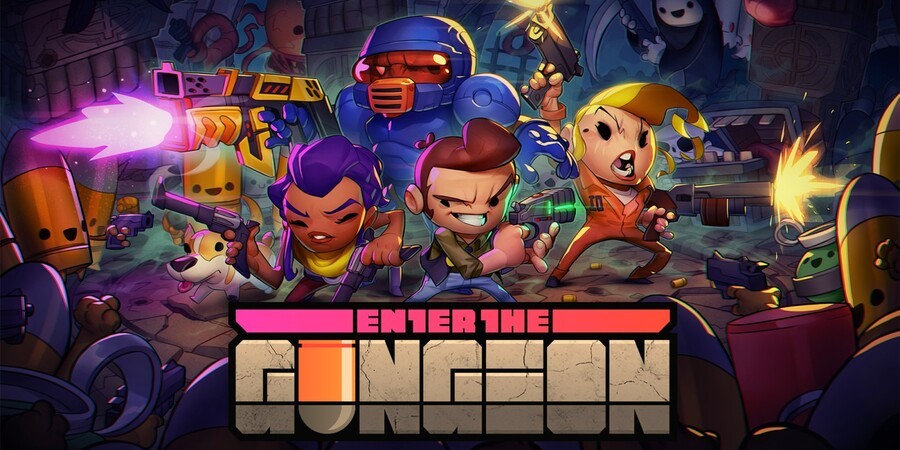 One of the better co-op games to launch on the Switch eShop late last year was that of Enter the Gungeon, a roguelike shooter in the vein of The Binding of Isaac that's quite obsessed with guns and bullets. Though it's been a popular release, it's been well documented that the Switch version hasn't been the most stable, with crashes and bugs showing up a little more often than most would like. Fortunately, Dodge Roll has been good with their support, and a new update is live for the game.
Version 1.0.2 doesn't add anything major—although we will have a substantial content update to look forward to sometime later this year—but it does fix several bugs and glitches. Here's the full list of patch notes:
Fixed a serious crash caused by a memory leak, particularly on later floors or while entering a fateful hallway.
Fixed a bug where some item names would not appear in non-English languages.
Fixed a bug where Payday items could not be unlocked by "going loud".
Fixed a bug where the Payday follower who shoots didn't shoot.
Fixed a bug where a secret character's past could not be completed.
Fixed a bug where glass guon stones could be picked up over and over and over and over.
Fixed a bug where interacting with notes in co-op play could crash the game.
Fixed a bug where picking up two specific guns could cause both to vanish mysteriously.
What do you think? Have you been noticing performance issues with Enter the Gungeon? What have you thought of the Switch version thus far? Share your thoughts in the comments below.
[source reddit.com]