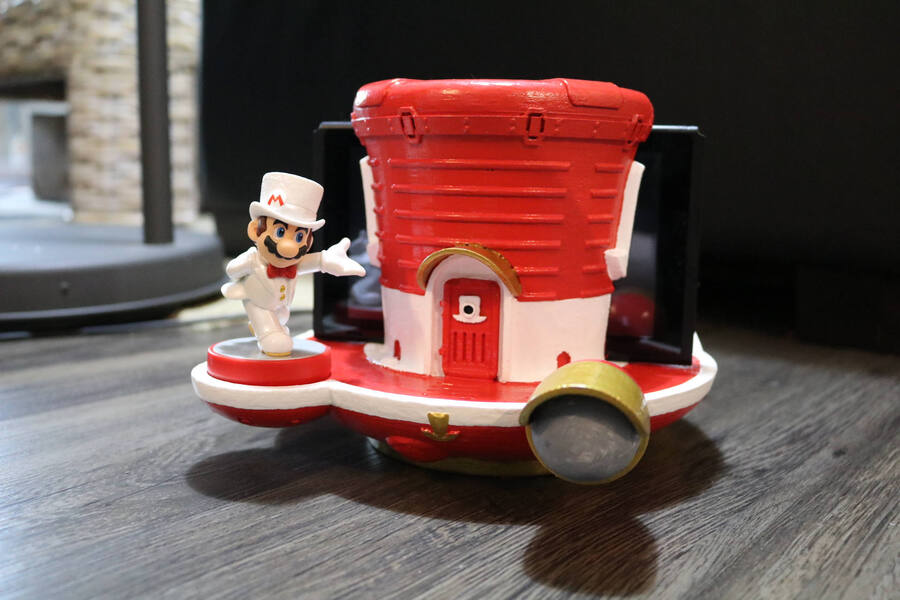 We've already seen a number of Switch dock accessories over the last few months, usually in the form of covers that protect your console from scratches and make everything look all colourful and pretty. Whilst several of these fan-made goodies have been truly inspiring, not many can stand out from the crowd quite as well as this one.
Introducing this 3D-printed, hand-painted model of the Odyssey that actually works as a dock to hook up your Switch to the TV. It has felt protection to prevent any streaks or scratches, it is made from ABS plastic (a very durable material that is used to create LEGO bricks), and the stand where the globe usually sits in the game actually doubles up as an amiibo holder. Amazing!
It actually works by using an extension cable; you'll need to plug this cable into the port on the bottom of your Switch console whilst it sits in the dock, and then hook that up to the official dock somewhere near your TV. Luckily, this cable is actually thrown in with the product when you make a purchase so you are all set and ready to go.
If you want to buy one of these for yourself you can find the product on Etsy; US residents can purchase directly from the store, and international shipping is also available by contacting the seller directly. Would you like to get your hands on this Super Mario Odyssey themed dock for your Switch? Let us know your thoughts in the comments.
[source etsy.com]