Nintendo has lifted the lid on some of the offers it will be making available for this year's Black Friday event.
The first bundle includes a "Link Green" 2DS system with orange buttons that comes with The Legend of Zelda: Ocarina of Time 3D pre-installed. This will retail for $79.99.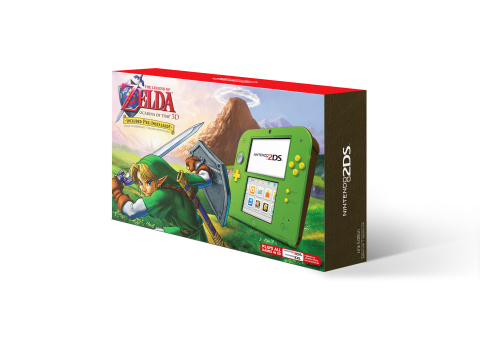 Keeping with the Zelda theme, Nintendo is also releasing The Legend of Zelda: Breath of the Wild "Explorer's Edition", which includes the game itself, a 100-page explorer's guide and a two-sided map. This bundle will cost $59.99.
Nintendo also takes the time to highlight the other bundles currently available in stores, including the Super Mario Odyssey Switch bundle ($379.99), a New Super Mario Bros. 2 2DS bundle ($79.99), the white-and-orange New 2DS XL ($149.99), the Poké Ball Edition New Nintendo 2DS XL ($159.99, launches Nov. 3rd) and Xenoblade Chronicles 2, which is being offered alongside a music CD, metal game case and 220-page art book for $99.99 from December 1st.
Here's what Doug Bowser, Nintendo of America's Senior Vice President of Sales and Marketing, had to say about these offerings:
Between Nintendo Switch, Super NES Classic Edition, all the systems in the Nintendo 3DS family and all of the fun games available for these systems, shoppers will have multiple options for their wish lists this year. Our Black Friday deals are a great value for people looking to pick up gifts for the Nintendo fans in their lives.
Will you be picking up any of these deals?