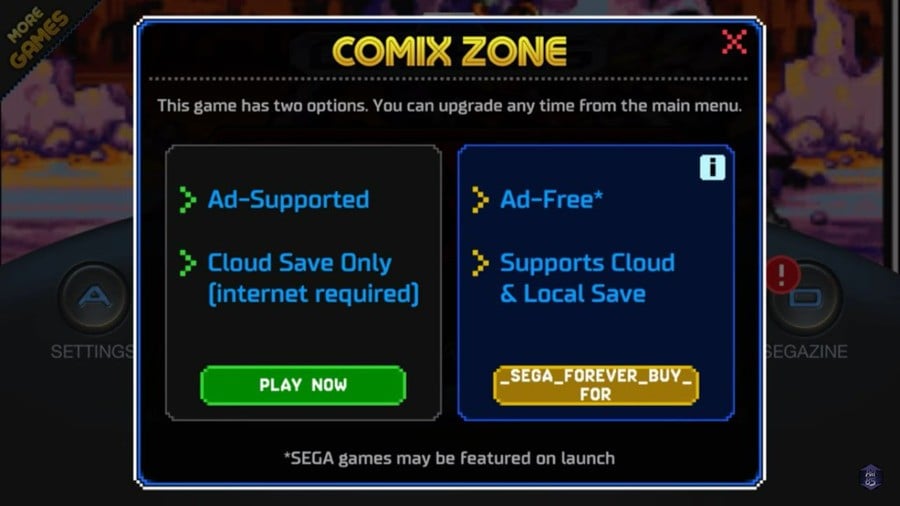 Games companies face ongoing challenges in promoting and monetising their retro content, especially in this age of emulators that are readily available across various devices. Nintendo has the Virtual Console - though the details of its Switch equivalent are still largely a mystery - and we see various companies produce remasters and ports of their most famous creations. Now there's speculation - with some evidence - that SEGA is preparing a service called 'SEGA Forever'.
SEGA Forever, as a brand, is absolutely real; there are - currently dormant - official social media accounts with that name on the likes of Twitter, with that account sitting there since last November. SEGA fans have been speculating about it since.
Now, courtesy of a survey and some menus in an iOS release of Comix Zone in the Philippines, there are suggestions that the Forever initiative could be a subscription-style service for retro SEGA games, likely on mobile devices. YouTube channel RGT 85 shared screens that had been passed to them, showing that the game seems to include references to SEGA Forever; the user in question highlighted a screen regarding a SEGA Forever newsletter, and fans are excited because of a survey for the 'product' listing Saturn games among many others.
Do these conclusions stack up? To a degree, though it's never wise to take customer surveys as statements of intent from companies - after all, they may simply be casting a wide net to gather broad consumer data. The logic around a mobile-based subscription service makes some sense, though there's no indication that consoles - like the Switch - could also benefit from such a product.
It'll be interesting to see whether these theories come true - if SEGA did produce a subscription-led service for playing its extensive back-catalogue it'd give an interesting insight into whether gamers are interested in paying for that kind of access.
We'll keep an eye out for further details as the year progresses.
[source youtube.com, via seganerds.com, neogaf.com]