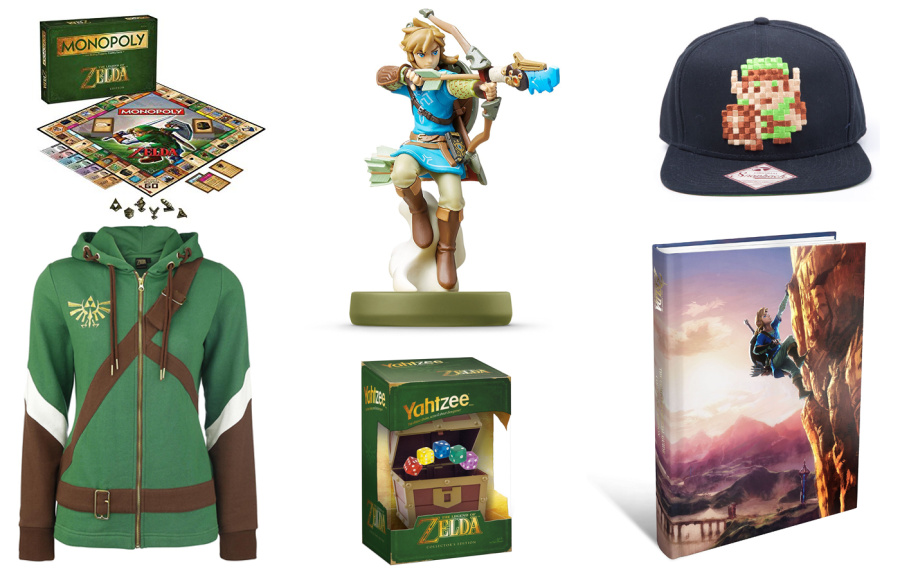 Hopefully you're enjoying the amazing The Legend of Zelda: Breath of the Wild on your shiny Nintendo Switch (or well-loved battered Wii U). Such is the effect that this open-world adventure has had on you, now you want to showcase your Zelda passion to the world. With this in mind here's some of the best Zelda merchandise we've seen online, the perfect accompaniment to your open-world questing.
Legend Of Zelda Clothing
There are no shortage of clothing items to enable you to show off your love for all things Zelda. Whether you go for the full-on Zelda cosplay hoodie, or a classic Link style beanie or even just a simple Zelda themed t-shirt, there are lots of options to choose from here. Remember: the world needs to know you're a fan and what better way is there than a fetching Zelda hoodie?
Legend Of Zelda Books
You can show off your Zelda love on your bookcase, too. The Hyrule Historia is a must-have resource for Zelda fans, and the The Legend of Zelda: Art and Artifacts is well worth immersing yourself into. If you are struggling to make your way through Link's latest adventure then The Legend of Zelda: Breath of the Wild The Complete Official Guide will definetely come in handy.
Legend Of Zelda Board Games
Sometimes even the most die-hard Zelda fan needs a break from staring at a screen, and that where these Zelda-themed board games come in. Even if your Switch runs out of battery, you can enjoy a rousing game of Zelda Monopoly, Yahtzee or even a good old jigsaw.
Legend Of Zelda amiibo
If you want to get a head start in Breath of the Wild then the Zelda range of amiibo will come in handy. Aside from looking great on your shelf, they also grant you special abilities within the game, as detailed here.
Even More Cool Legend Of Zelda Stuff
To wrap this guide up, here's a whole smorgasbord of Zelda goodies which you might not have considered. The pendants are a firm favourite of ours and the Tri-Force light would look good in any living room or bedroom. Why not splash out on a Hyrule Mug to drink your morning cup of coffee from?
---
We're sure you'll agree these are lovely Zelda related items, have we missed anything? Link (Ha ha! Ahem) below!