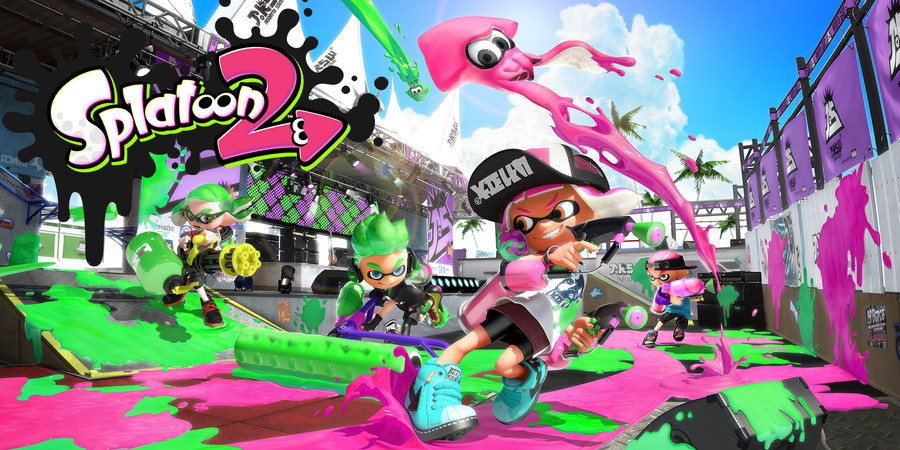 When Splatoon was unveiled at E3 2014, this writer was initially unsure of its appeal. Then the reaction of the community on these pages began to take shape, and fans tweeted, and the fan-art began - it was evident that Nintendo had produced a new IP with huge potential.
By the time we got closer to its launch the following year, Nintendo tested out its online servers in a 'Global Testfire' which, to be fair, had a sticky start before improving; as a result it gave Nintendo the tests and data it needed. The hype around the online demo was huge, and then the full game arrived - in late May 2015 - and became the go-to Summer title on the Wii U. Its solo campaign was pretty decent, but the action was really online. The blend of clever controls - using motion to give enhanced accuracy over the standard dual-stick approach - its gameplay twist of territory mattering more than kills, and its irresistible charm all combined to make it a hit.
In terms of raw sales Splatoon is the 6th best-selling title on Wii U to date, with an impressive 4.76 million units from a userbase of just 13.56 million Wii U system sales - figures valid for 31st December 2016. While it may not have matched the sales of the likes of Mario Kart 8 and a few others, it's hard to think of any Wii U title that's had such an extraordinary impact in terms of pop culture. In Japan, especially, there's lots of Splatoon merchandise and there have been sell-out concerts for the game's music. Some of this has also been prevalent in the West, and among eager Nintendo gamers it's a title that's become integral to the recent culture around the company. Even its quirky marketing, in particular the "You're a kid now, you're a squid now" song, earns affectionate references from some that are otherwise typically uninterested in Nintendo.
Splatoon was a highlight of the Wii U era and showed that Nintendo's young creators can produce impressive results when let loose. It was no surprise, in light of both the sales and broader impact of that first game, that Splatoon 2 was confirmed as a Summer release on Switch. We wouldn't bet against Nintendo shooting for the late May window again, though that's more 'late Spring' in reality. Perhaps the only surprise was that Nintendo is producing a full sequel so early, and didn't simply churn out Splatoon Deluxe.
What's interesting about Splatoon 2 is how vital it clearly is to the early strategy Nintendo has for luring fans to the Switch. It doesn't even have a release date, yet it's been the subject of some notable recent reveals. For starters, the format and flexibility of the Switch and its dock are being utilised to support LAN Play and a new 'Spectator View'. What that ultimately means is that those interested in hosting or running tournaments will have the modes and options to do just that; as was shown in the original Switch concept video in October last year, players can also use their own systems should they choose. The Spectator View, meanwhile, will let someone that's not playing work as a footage director, of sorts. Whether for private events or competitions streamed online, these are key features.
Nintendo has now also confirmed that a few weeks after Switch launches there'll be online sessions with a Splatoon 2 Global Testfire demo, just like its Wii U equivalent back in 2015. It'll basically be the same content as the demo build that's been used at events, giving players four weapons to try out in multiple one-hour sessions. The timing in late March is ideal, as it'll help add excitement in a gap between launch day releases and late April's Mario Kart 8 Deluxe - a number of 'Spring' games are still awaiting firm release dates for the Switch, let's not forget.
Beyond these big reveals, Nintendo is gradually using social media and its Tumblr blog to show off weapons, arenas and areas in the game. It's evident that here is a title with a chance to be a major early hit for the system, and can perhaps target a second wave of early adopters that aren't there for launch day but find the sequel tough to ignore. For those with pre-orders or March purchase plans, meanwhile, the Testfire Demo will be a reward to enjoy.
Aside from Mario Kart 8 Deluxe, Splatoon 2 is likely to be integral in the early days of Nintendo's Online Service, which will be free until Autumn / Fall. The shooter could essentially be a trial run and shop window for the service and its divisive - in concept, as it's unrevealed as yet - dedicated app. The smart device app will offer online lobby and voice chat services, and at present it still seems like an odd idea to deliver those features via an external device. Unsurprisingly a "free, limited version of this app will be available for download in summer 2017" - that's always seemed likely to tie-in to the launch of Splatoon 2. Arranging lobbies and communicating with others was always fiddly and/or impossible in the Wii U original, so it'll be interesting to see how the eager community from that title takes to these app-driven additions in the sequel.
Splatoon 2, then, looks set to serve a few key roles for Nintendo Switch in its early months.
The Global Testfire Demo will help generate excitement and word of mouth among Splatoon fans in mid-late March.
It's a title with the potential to tempt in eager fans of the original that would otherwise be unsure of buying a Switch.
It'll be a test-bed for the Nintendo Online Service in its free trial stage, likely tying in with the lobbies / voice chat app.
It'll likely be the surest-fire hit for the system through the Summer months.
At the moment it's tempting to focus solely on the launch day picture for Switch, but looking further - through the 'launch window' - it's clear that Splatoon 2 is an important release for the system. It'll be intriguing to see the timing of its launch and how substantial its day one content is - the original had minimal stages and modes on day one, but was consistently updated with new content over a number of months. If Splatoon 2 can take the building blocks of that original and deliver a complete experience from the start, with more updates through the year, then it could capture the imaginations of early Switch gamers.
Kicking off with the Global Testfire in late March, Splatoon 2 could be an important 'event' release for the Nintendo Switch, through to the Summer and beyond.