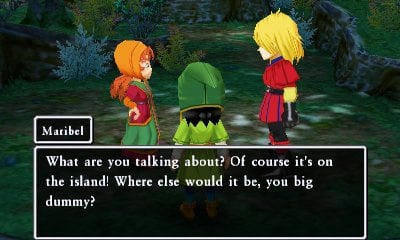 Dragon Quest VII: Fragments of the Forgotten Past is one of the most substantial releases of the year on 3DS, and it's a long-awaited remaster for fans of the series. Compared to the original it delivers a major visual overhaul, along with improvements to make it more suitable for portable gaming.
What cannot be changed in any remaster is the fact that it's an enormous game, dauntingly so, and behind that release there'll have been a huge amount of work from various teams. One of the teams involved was UK-based Shloc Ltd., which handled the English localisation.
Nintendo UK has spoken to Oli Chance from the company to learn more about the challenges they faced. It's a team that's worked on multiple Dragon Quest titles, but even with that in mind Fragments of the Forgotten Past is arguably a standout in terms of its sheer scale.
Chance explains that a small team was working flat-out on the project for over a year:
All in all, from start to finish, including familiarisation (playing the game to get to know it – no small task in this case), glossary creation (naming all the characters, places, monsters, items etc. etc.), translation/editing and QA, we were working pretty much flat out for just over a year.
One of the hardest things was to put enough time in the schedule for the editor of each language to see all the text, which in our experience is the only way to ensure consistency and quality throughout. You can throw a lot of translators at a job, but if there's no one making sure they're all working to spec and that quality is as high as it can be across the board, then things can easily go awry.

Nothing quite compares to DQVII. It's one thing to contemplate taking on a job this size, and quite another to be four months in, knowing there are months left to go, and that if your pace falters, you could send the entire project off-schedule in five languages.
Chance also considered the scale of the project, and the requirement to maintain the carefully woven world and plot from the original Japanese language script.
With this specific DRAGON QUEST—the biggest and most famously complex of them all—the key concern for us was to make such a massive, involved, multi-threaded story work as a coherent whole, and to keep things alive over such a long timeframe, as the Japanese does so skilfully.
There's a grandeur to the original, and a sense of what you might call the golden age of JRPGs, where creators were really revelling in the possibilities of being able to tell stories on a hitherto unheard-of scale. We felt pretty keenly that the key to doing this right would lie in capturing that excitement and sense of endless possibility.

Whether we did or not is up to the player to judge, but hopefully at least some of the 'There's No Such Thing As Too Big' feel that the original revelled in back when it was first released will come across.
The interview's an interesting read, as it gives an insight into the challenges of such a significant localisation project. You can check out the full thing on Nintendo's website.
[source nintendo.co.uk]