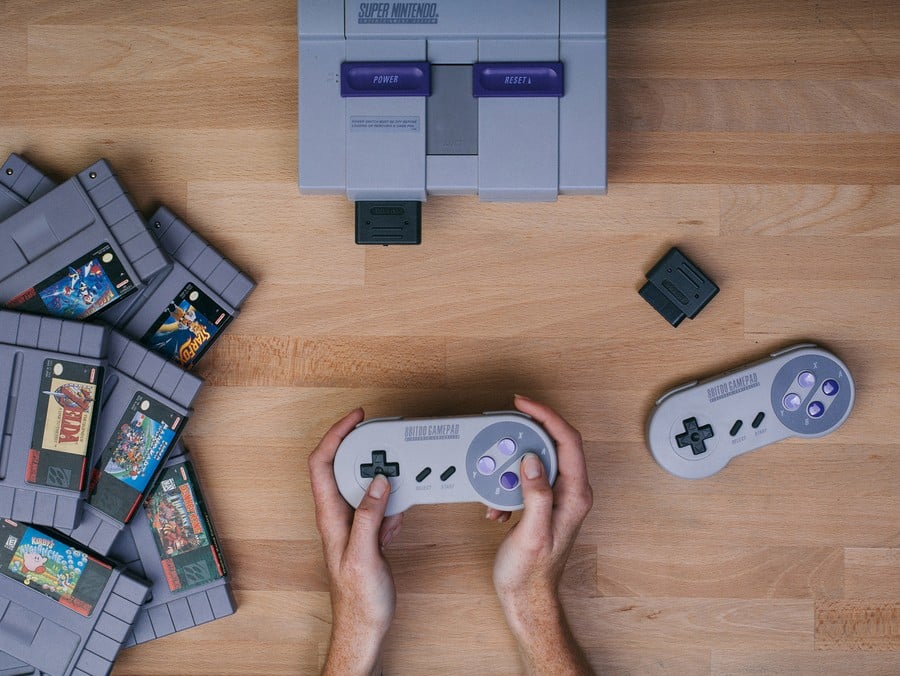 Peripheral maker 8bitdo and retro revivalist Analogue Interactive recently joined forces to create a wireless adapter for the NES which allows players to use Bluetooth controllers on their vintage hardware. The pair have combined their efforts once again, but this time it's Nintendo's 16-bit console which is getting the cable-free treatment.
The SNES Retro Receiver works with pretty much any Bluetooth controller you could mention - including 8bitdo's own NES30, SNES30 and FC30 Pro pads - and is compatible with the Super Famicom and Super SNES (both PAL and US).
You can pre-order the adapter from Play-Asia.
Tech Specs:

System Compatibility
- Original Super Nintendo (all models)
- Original Super Famicom (all models)
- All systems with an SNES/SFC-style controller port

Controller Compatibility
- All 8Bitdo controllers and arcade sticks
- PS3, PS4
- Wii Mote, Wii U Pro

Special Features
- Additional buttons mapped to turbo on all controllers
- Compatible with two-four Retro Receivers for multiplayer player games
- All 8Bitdo controllers are compatible with Mac/PC, iOS, Android and many next gen systems
- Output support: use the Retro Receiver as a bluetooth dongle(X-INPUT - Mac OSX / Windows)
Connectivity
- Bluetooth 2.1+EDR, Class 2
- 2.402Ghz~2.48Ghz

Power
- DC Power supply 5V, 100mA(powers directly from the NES controller port)
[source play-asia.com]