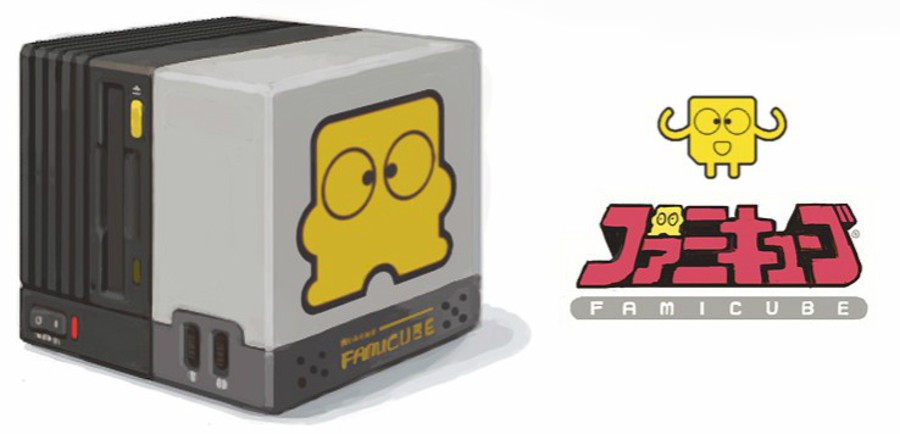 Given that Sony and Microsoft are chewing up the column inches with rumours of "updated" versions of their current consoles, it seems fitting that we should take a look at an amazing project by Swedish artist and programmer Arne Niklas Jansson for what he dubs "the NES 1.5" - a console which would have bridged the gap between the NES and SNES while adopting some of the features of the Japan-only Famicom Disk System.
Called the Famicube, the system was released in 1988, boasted a fast processor, up to a Megabyte of memory and a built-in floppy drive. It's not real, of course - it exists only in Jansson's fertile imagination - but he has created an entire backstory for the machine, as well as mocking up case designs and technical specifications:
Several factors pressured Nintendo into updating the popular NES in the mid-late 80's. Initially they were going to release a simple "New NES" with a slight memory buff and a new shoulder button joystick, but the project took several unexpected twists and turns as it developed.
The success of the Commodore 64 in Europe (and the MSX in Japan) eventually made Nintendo eager to branch out and capture some of the home computer market. Also, the graphically superior Sega Master System had gained much popularity in Europe and South America and rumours circulated that SEGA were already working on an even more powerful system, perhaps using a fast Motorola processor and 3.5-inch floppy drive technology.

Nintendo's new system actually started out as a joint project between Nintendo and Commodore. However, management problems at Commodore caused the partnership to collapse and Nintendo were left to their own devices. In the summer of 1988 they finally released the Famicube. No images of the Commodore co-designed case has ever surfaced, but sources suggest it was beige and dark brown.
Jansson hasn't just cooked up a scenario, he's also given a lot of thought to how the tech would have worked, how many colours the console would have been able to display and has even mocked up some screenshots which illustrate the kind of visuals the Famicube could produce.
The really cool thing about this whole project? Jansson is actually keen to make the Famicube in real life:
I do feel that the entire point of the project is to create, at least in imagination, a thing with presence. A compromise feels like... to take a RPi2, throw it in a card board box, hook up a SNES clone joypad and say, look, a retro console! That said, writing an emulator will be useful and I might share the sauce. FPGA might be fun to look into, but ultimately it feels fake. I don't mind if a released version appears to be a later revision (sort of like a Micro GBA or PS2 slim) that still uses the original Famicube case (now with more air).

Chips: I'd really like to have a custom PPU chip made (unsure about sound chip), rather than having software running in a generic powerful chip, or using an FPGA. Of course, it would be silly to blow a fortune (for me) on such an obscure retro-PPU ASIC, so I feel stuck. On the bright side, making custom boards has gotten very cheap, and surface mount pick and place isn't so bad either. A megabyte or two of RAM is just 1-6 dollars, and an EEPROM seems to be about a dollar. A CPU in my range generally seems to be about 4-15 dollars (I'm just using digikey here). Couple of candidates: A 680x0 because I like the Amiga and some versions have a Famicom'y brass plate on top. The Zilog eZ80 also has a larger addressing space, as does the simpler Z80180 which I'm currently considering.
PSU: With low power modern chips, I suppose one could get away with using a little neat switching power supply. It's on a separate board so it can be swapped for different regions, or if it breaks.

Floppy drive: While I like the MF2DD/HD floppy as it is, for this project I'd like them to be more substantial, cartridgey and proprietary. This creates problems because the drive needs to accommodate the fatter disks, and the drive head must be able to slide in and get close to the disk surface. Fortunately it's mostly a modification of dimensions and not technology. Who knows... perhaps floppy drive factory stuff is sold off cheap because it's an obsolete technology? If I can't have fatter floppies, I'd at least go for some relief on the casing. Maybe it would be neat to have the rear side in black, front in maroon, and metal in brass/gold, label in cream. I could also imagine them being a bit smaller (3" HD), which would make them feel thicker, relatively.

Plastics: Tooling for the plastic (case, joypads) is quite expensive, but I think it has come down in price quite a bit over the decades, and the mould for this is pretty low on detail.
IP: Another problem is that I'm using a lot of IP that's not mine as basis for the mockups.

Actual hardware design and BIOS+Driver programming is quite beyond my skills.
We'd love to see this system become a reality - how about you? Let us know by posting a comment below, and but sure to check out Jansson's other work.
Thanks to Aurelien Regard for the tip!
[source androidarts.com, via twitter.com]