Super Mario Maker has a lot of Mystery Mushroom costumes, many of which have come through a combination of amiibo scans and Event Courses (in some cases both). With new additions we have an excuse to boot up the game and enjoy its delights again, and Nintendo has been so keen on the idea that it's included some rather quirky characters.
One amiibo figure, though, isn't supported. The Shovel Knight amiibo is the only third-party figure to date - bear in mind that Ryu and similar characters are part of Nintendo's own Smash Bros. range. - and as a result can't be used in the game. It would require, of course, Nintendo and Yacht Club Games to produce a workable sprite for the 8-bit Super Mario Bros. template. Redditor Haykira has gone ahead and made one of their own.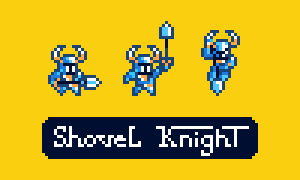 It looks rather neat, effectively shrinking the character to a 16x16 pixel form. Could it happen in real life, though? Shovel Knight is finally approaching its release in Japan, so it's certainly conceivable that if it's well received Nintendo and Yacht Club Games could collaborate - after all, the Nindie has succeeded in releasing its own amiibo.
Time will tell, and for now we can only hope to see it become a reality.
[source reddit.com]