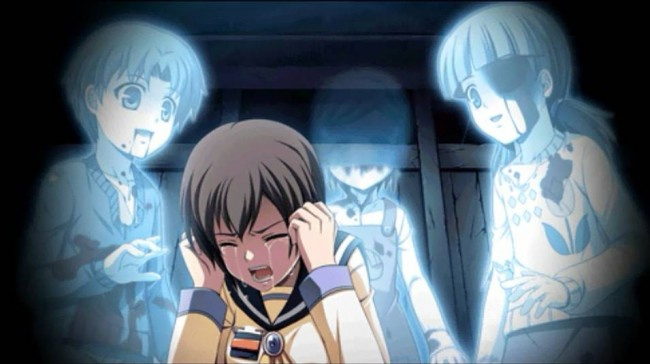 Occasionally we receive messages asking whether certain genres are going to be catered to on Nintendo hardware, and a recent example was a query about mature horror games. The system in question was the Wii U, yes, but it's actually the 3DS that's going to deliver on that score.
An ESRB rating has popped up for Corpse Party; for those that don't know this is a series of linear story-driven games that employ pixel-based top-down visuals. They have a keen following, and there have been manga series and animations that have developed its lore further.
The rating for Corpse Party is clearly an effort by XSEED to introduce the brand to the West; this is actually a sequel, Corpse Party: Blood Covered ...Repeated Fear, as it was released in Japan last year, itself an expanded and enhanced port of a PSP title. The rating description itself also shows that this is most definitely a mature game:
This is a survival-horror adventure game, in which players help high-school students escape from a haunted elementary school. From an over-head perspective, players explore the school and interact with various objects and characters. Some interactions can lead to sequences that depict acts of violence: a character repeatedly stabbed with a pair of scissors; a character stabbed with a knife. Violence is also described in the text (e.g., "The third victim was stabbed in the left eye an indeterminate number of times"; "Buckets of blood spilled out from my head. I'm sure it was hell to clean up later..."). Blood is frequently depicted near corpses and when characters are injured. The game includes some suggestive references in the dialogue (e.g., "Big t*ts does it for you, eh"; "If you don't, I'll email you a beautiful crotch shot—so watch out; "He grabbed me and forced me down, then began unbuttoning my blouse..."). In one scene, bathing characters are depicted with soap bubbles covering their chests and genitals. The words "f**k" and "a*shole" appear in dialogue.
This is certainly good news for fans - no doubt Western enthusiasts of the series will have been hoping for this following its Summer 2015 arrival in Japan. There are no release dates or details for its Western arrival as yet, so all we know is that the North American market is on the cards.
Is this a franchise you're interested in for 3DS? Let us know.
With thanks to Ryan Millar for the heads up.
[source esrb.org, via gonintendo.com]