On 2nd February PlatinumGames will celebrate its 10th Anniversary, a fact it's reminded us of as part of its New Year post to fans. The studio that evolved from key members of Clover Studio (which was funded by Capcom and produced brilliant games such as Okami) has rapidly earned a reputation for high quality and exciting games. With the enigmatic Hideki Kamiya at the forefront it's a much talked about studio that's often in demand for the biggest platforms and IPs.
From a Nintendo perspective there have been various titles to enjoy, including exclusives such as Madworld, The Wonderful 101 and most recently Bayonetta 2. Let's not forget, of course, that PlatinumGames is the developer behind Star Fox Zero, too.
You can see a rather handsome card and the studio's message below.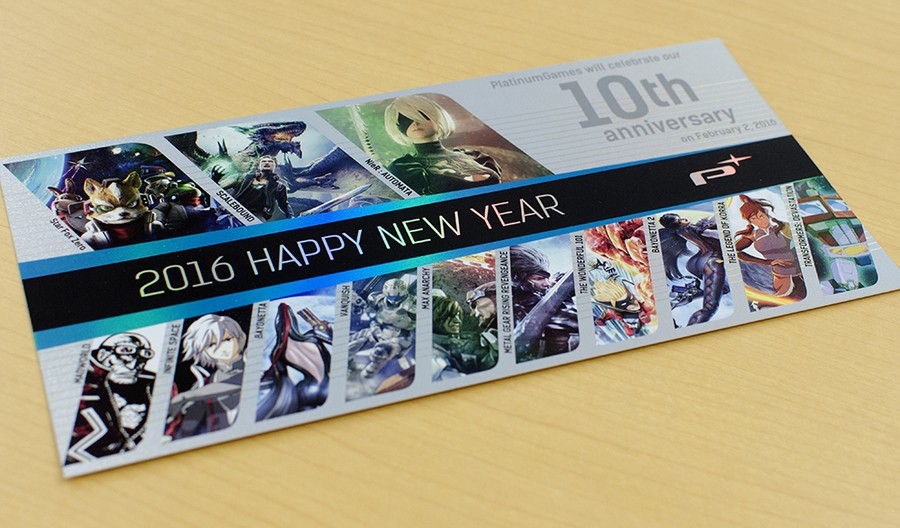 2016 will mark 10 years since we established our company.
As always, our resolution is to continue our strongest efforts toward game development.

We hope that this will be an incredible year for everyone.
Look forward to what we have in store!
As you can see the studio's work is diverse and includes a range of IPs and exclusives on various systems. We hope, however, that the recent strong relations with Nintendo will continue for years to come.
[source platinumgames.com, via neogaf.com]