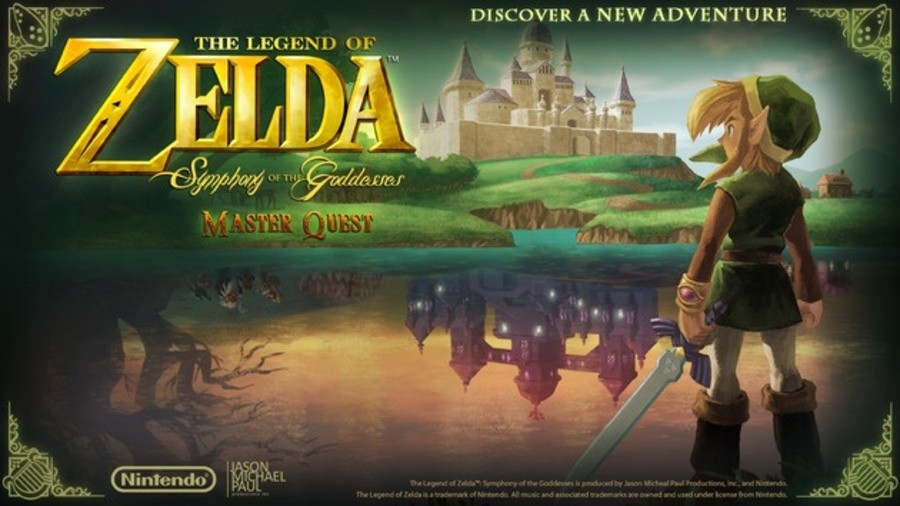 It's no secret that we're fans of Symphony of the Goddesses - a concert series in which a full orchestra plays everyone's favorite songs from the Legend of Zelda series - here at Nintendo Life, and we're always ready to bring you the latest updates. The good news for fans of the show, or those who haven't been able to attend previously, is that new dates have just opened up for 2016.

While most of the shows are happening in the US, some dates have been added in Canada, Mexico, and parts of Europe. Visit the official website to pick up tickets, or find show near you in the 2016 tour schedule listed below:
January 21, 2016, Nashville, TN
January 22, 2016, Nashville, TN
February 23, 2016, Boston, MA
March 8, 2016, Costa Mesa, CA
March 19, 2016, Toronto, ON
March 24, 2016, Jacksonville, FL
March 26, 2016, Kansas City, MO
March 31, 2016, Memphis, TN
April 1, 2016, New Orleans, LA
April 3, 2016, Columbus, OH
April 8, 2016, Charlottesville, VA
April 23, 2016, London, UK
May 11, 2016, Guadalajarra, JA
May 13, 2016, Monterrey, NL
May 15, 2016, Mexico City, DF
May 21, 2016, San Antonio, TX
June 13, 2016, Los Angeles, CA
June 23, 2016, Austin, TX
June 25, 2016, Montreal, QB
August 21, 2016, San Francisco, CA
September 10, 2016, Atlanta, GA
September 21, 2016, Edmonton, AB
September 23, 2016, Vancouver, BC
October 8, 2016, Paris, France
October 14, 2016, Lisbon, Portugal
October 15, 2016, Essen, Germany
November 12, 2016, Chicago, IL
If you're interested in a little taste of the show, check out the following video of a live orchestra playing some of the Symphony in a subway station in Madrid, Spain.
Have you been to Symphony of the Goddesses in the past? Do you plan on attending one of the new dates? Are you curious about how they managed to cram an entire orchestra into a subway station? Let us know in the comments below.