One RPG that some 3DS fans will hope to keep in the limelight is Final Fantasy Explorers, a twist on the franchise that prioritises co-op adventuring. It's heading to North America on 26th January and is sure to be on plenty of wishlists.
It featured in the North American Nintendo Direct, and Square Enix has now issued finalised details of the Collector's Edition that will be available. First of all you can see an image of it below.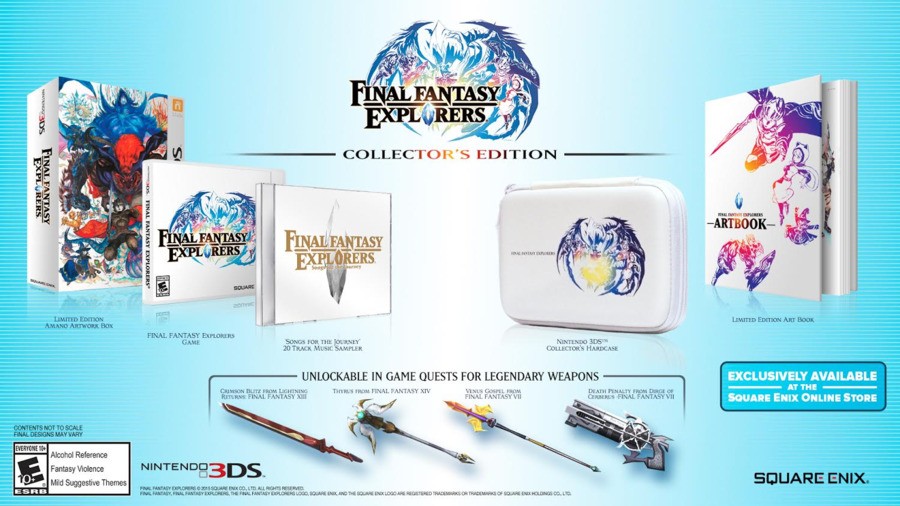 The breakdown of its contents is as follows:
32-page artbook featuring illustrations by renowned artists Yoshitaka Amano, Gen Kobayashi and Toshiyuki Itahana
"Songs for the Journey," a 20-track music soundtrack sampler comprised of tracks by celebrated Composer Tsuyoshi Sekito
Themed FINAL FANTASY EXPLORERS Nintendo 3DS hard case
Exclusive box packaging, featuring the artwork of series concept artist Amano
Codes for exclusive weapons, these include Venus Gospel from FINAL FANTASY VII, Death Penalty from DIRGE of CERBERUS®: FINAL FANTASY VII, Crimson Blitz from LIGHTNING RETURNS: FINAL FANTASY XIII, and Thyrus from FINAL FANTASY XIV.
This edition is only available to pre-order on the official Square Enix store and costs $69.99; the standard game is $39.99.
It's also been confirmed that all of the DLC released for the game in Japan will come out for free in North America.
Are you in North America and planning to pick this up early next year?