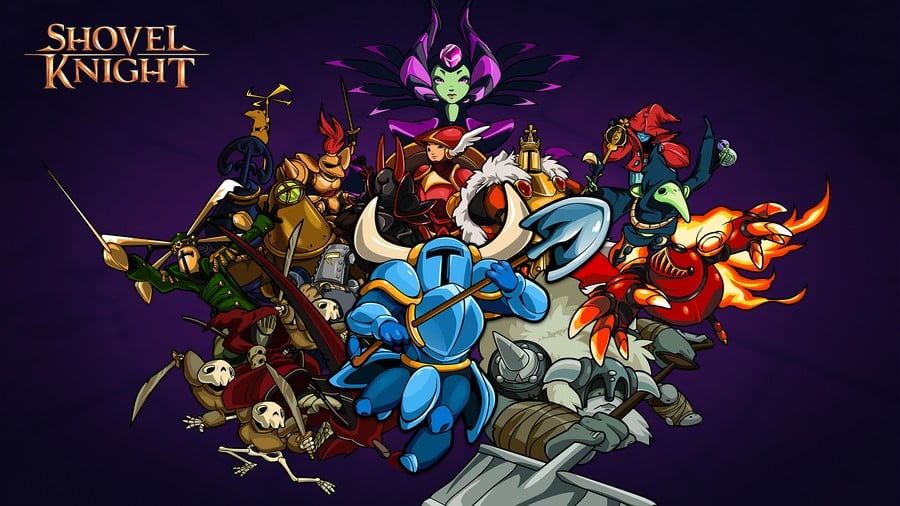 Shovel Knight is one of those games that continues to improve and evolve as time goes on. With the excellent Plague of Shadows expansion adding significant value to the original campaign and with two more similar expansions on the way, it seems that the final version of the game will contain quite a meaty amount of content. Perhaps in anticipation of this, Yacht Club Games announced a few months back its intention to release a boxed edition of the game, but it seems now that the physical release will be slightly delayed.
The developer recently updated its blog with some new information about the impending release and had this to say:
The final few steps of the Plague of Shadows content took a little longer than expected, but it was important to us that this update to be on the disc/cart right out of the box! Unfortunately that meant we had to push back the date just a little a bit. Luckily, all of the teams throughout the various console manufacturing steps have been really helpful in reducing this knock-on delay as much as possible.
Not a huge deal then, but perhaps some particularly eager fans will be slightly miffed that they will be required to wait a little bit longer. That's not all the news, though; Yacht Club then went on to admit that they had to raise the price by a few bucks in order to keep the game out of the infamous "bargain bin". Here's the explanation:
In an unexpected turn of events, we've had to raise the price of our game to $24.99. Although everyone initially agreed to a $19.99 price point, some retailers ran into trouble with limited space to show off their wares, and the rules in place about where games with certain prices are displayed. We didn't want our 'bargain priced' game to go straight to the bargain bin of obscurity, so we had to raise the price.

However, we didn't want anyone to feel as if they were getting hoodwinked just because of our retail situation! If you have already pre-ordered Shovel Knight, your retailer should honor the original price!
While it is a bit disappointing to see the price get raised a bit, there's at least a rational explanation, and it's good to see that those who preordered aren't going to be ripped off. This isn't all bad news, though, as the studio has opted to toss in a free soundtrack download.
All versions of the physical release will now come with a free soundtrack download. We know this is a bit redundant, as the soundtrack is 'pay what you want' online, but this provides a guilt free way to formally obtain the full, high-quality version of the soundtrack for free! Hopefully, it also gets Jake Kaufman's beautiful soundtrack into more people's hands for those people who are unaware of Bandcamp!
Lastly, the developer addressed some questions around the launch of the Shovel Knight amiibo figure. Unfortunately, there still isn't a release date, but the studio is now considering preorders. Watch this space, as there could be some sort of announcement around the launch of the physical version.
For all those wondering about all things Shovel Knight amiibo, we hope to have more updates soon. We're still pinning down a final release date. As soon as we know, you'll know! Many have asked for us to open up preorders in North America — and so do know that we are considering it. Hopefully when we announce the release date we'll have more info on that front!
What do you think? Will you be picking up a physical version? What do you think of the amiibo? Share your thoughts in the comments below.
[source yachtclubgames.com]