A little earlier today we shared a teaser from Atlus around a new announcement that would be shared if social media targets were hit. The fans responded with 15,000 tweets and Shin Megami Tensei IV: Final has been revealed.
Like its predecessor this one is coming to 3DS, and is described by Famitsu as an entirely new game - hat tip to Siliconera - which is due to arrive in Japan in February 2016. You can see some handsome artwork below.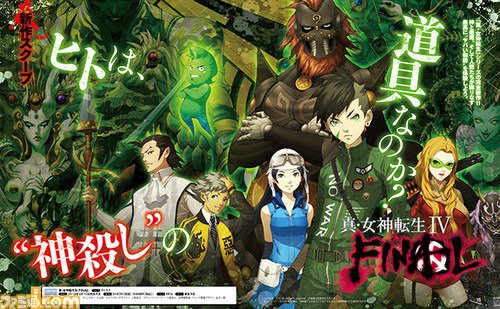 Satoshi Oyama, chief programmer on Shin Megami Tensei IV and other titles, is stepping up as Director and the core theme is "Deicide", which is a term that refers to a killer of a god. That sounds like typically grand fare for the franchise.
Considering the popularity of the series and Atlus' commitment to the West - particularly North America - we can reasonably hope to see this at some point, albeit later in 2016 if we're fortunate. It's early days in this one's marketing cycle, but hopefully localisation news will be forthcoming soon.
Are you excited about this new title?
As a bonus for you Shin Megami Tensei fans, below is a nice trailer for the 'best collection' budget re-release of Shin Megami Tensei IV in Japan.
[source siliconera.com]