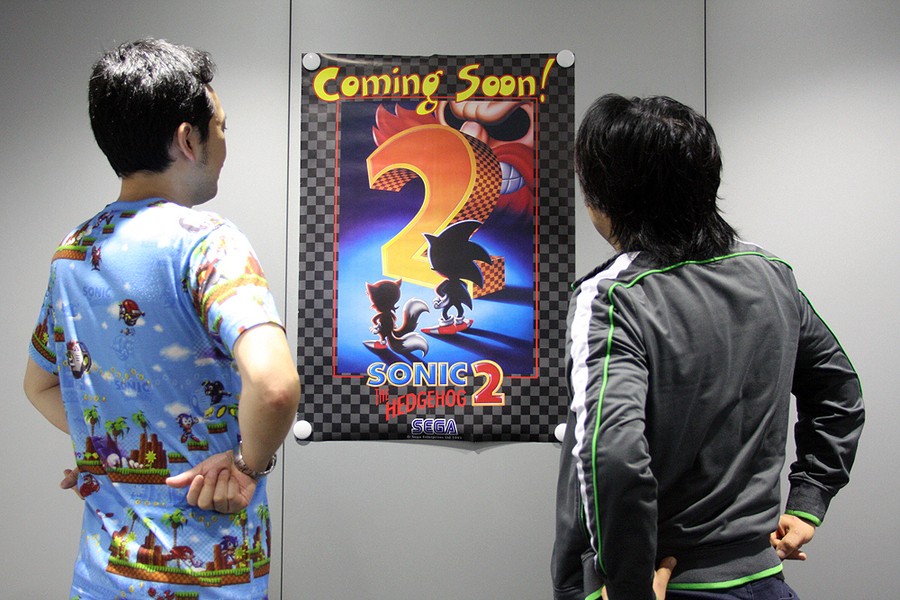 The 3D SEGA Classics series, produced by the brilliant developers at M2, has been a highlight on the 3DS eShop. A broad range of games have been remastered, ranging from Arcades, to Master System and Mega Drive / Genesis games, with some being among the finest titles of the '80s and '90s.
3D Sonic the Hedgehog 2 arrives this week and is the final game of this current batch. To celebrate SEGA Games Producer Yosuke Okunari, and M2 President Naoki Horii, have produced another detailed interview translated over on the SEGA blog, reflecting on the Sonic 2 project and the broader series.
The latest Sonic project certainly proved a challenge, particularly due to the meticulous standards of those involved; the process for producing the special stages in 3D is rather extraordinary. In the drive for authenticity the developer in charge shunned the approach taken by mobile ports for the following painstaking process.
NH: Sonic 2's Special Stages were actually created out of pre-rendered polygons, and then video of that was compressed and halved both vertically and horizontally, then dropped into the game cartridge. We took that pre-rendered video, reverted it back to its original polygon state, remade our own version of it, then when back and assigned depth on a pixel-by-pixel basis. Therefore, we had to analyze and pull out the data needed to create the bonus stage for Sonic 2. Although these are pre-rendered images, SEGA's development team would fix some of them up to enhance the looks. However, those sections would look unnatural with the polygons we created, so then we had to tweak the polygon render and create a course that matched the original images, and that's how we got it running without issue on 3DS.
I can say this only because I didn't work on it, but if the one in charge of it was here right now, I'm sure there'd be many comments like, "I wonder why we even thought of doing that method?" or, "How could you give me such an annoying task!"
At the time of the original interview (in Japanese) in the Summer the talk was of the series ending - though in September it emerged that it's not quite done yet - and both men agreed that Sonic 2 was a worthy project to end the second wave, especially in light of its importance to the Mega Drive.
YO: I'd say Sonic 2 was the most popular game sold worldwide on the Mega Drive, so it's a chance for people to play the Mega Drive game that had the biggest worldwide impact, on the 3DS. I personally think Sonic 2 is THE Mega Drive game. An "I am Mega Drive, hear me roar!" sort of thing. I'm happy we could end the SEGA 3D Remaster Project with this one, as the 16th title of the project (this is because the Mega Drive focused heavily on "16-BIT"). The three titles we brought back this time are what we believe are most memorable when you look back at the Mega Drive hardware, so we hope that you enjoy what we have to offer.
NH: I agree with him that having Sonic 2 as our 16th title is significant. Sonic 2 has various stage pieces that the stereoscopic 3D enhances visually, so please enjoy.

Also, it would be great if you could even slightly appreciate the staff who worked on the Special Stage as you play this. I'm more than positive there will be no more instances where someone copies a pre-rendering by eye!

YO: You'll be able to see the stereoscopic 3D trailer on the Nintendo eShop, so please feel free to check it out if you're interested after watching this interview.
The two men also discussed what project they wish they could still produce, with a surprising answer.
YO: That would have to be the arcade version of Virtual Racing for me. It hasn't ever been faithfully ported. There're four ports to date: Mega Drive, 32X, SEGA Saturn, and Playstation, but none of them stayed true to the original.

The Mega Drive and 32X versions were amazing at the time, but I wish more attention went to Virtual Racing rather than Virtual Fighter. I wasn't too impressed with Winning Run (racing game developed by Namco at the time), which was released earlier, but Virtual Racing really caught my attention. The 30 FPS framerate gave it a smoother effect compared to other games like Hard Driving and Winning Run.
There was also a Grand Prix mode, where people could play 15 rounds for 200 yen when popularity started to die. I remember having so much fun playing with three other people and figuring out when to replace the worn out tires at the pits. I do feel that I want to re-experience that some day. Many have told me that there's no reason to bring it back when there's so many amazing racing games out there, but I've got a lot of great memories associated with that game, so I'd love to bring it back if I had the chance.

NH: I got to say, I agree. I'd say Virtual Racing since I like to work on those primitive era games.
Finally, there's some nice sentiment here around the goals of the series in bringing much loved retro games to life on a new platform, making the 3DS a "SEGA Console".
YO: I'm sure many from my generation will consider the 1980's as the era of video games, with numerous SEGA games released for arcades and Mega Drives. This project was the perfect chance for us to convert the games from that era, one by one putting our full effort behind it, so I'm very thankful for the experience and it will honestly be a happy memory I take forward with me for a long time.
The line-up consisted of the top titles in terms of popularity… I was a bit skeptical if Thunder Blade really belonged in the top 16, but I'm happy that we got to re-release all of those titles in the 2010s, and I hope they go on to be one of the most beloved series on the 3DS.

NH: I've been involved on projects where we bring back really old games for people to play again for quite some time, but these classics for the 3DS have been the easiest to work on because you really get to wow the players with the 3D on these. I usually have a difficult time coming up with ideas so people would want to replay these old games, but the stereoscopic 3D aspect of 3DS was impactful enough to get the crowd going. I'm deeply moved by the fact that my 3DS has become, you could say, a SEGA Console in its own way. I mean, it's got Thunder Blade running on it! It's a SEGA Console!
Since this interview was originally published another retail collection was announced for Japan; though this likely won't make it to the West, we're at least hopeful that 3D Power Drift will come to the eShop.
Here's hoping for more of these games in the future. Which would you like to see?
[source blogs.sega.com]