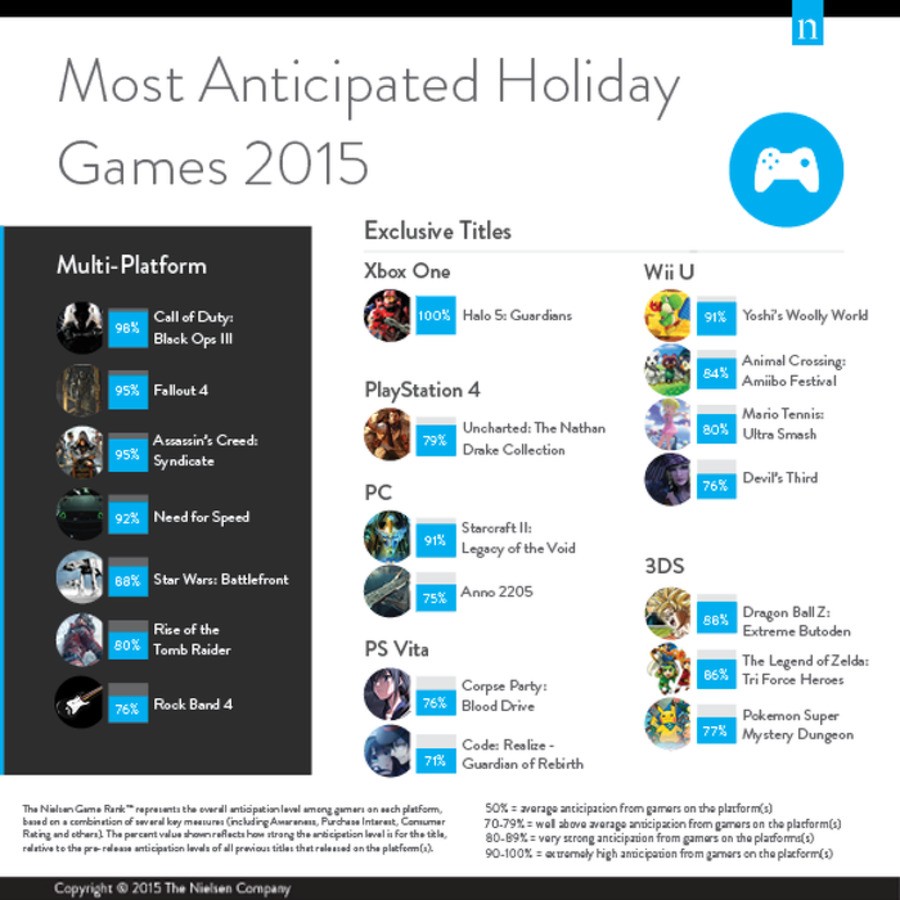 It's hard to believe, but we're already fast approaching the Holiday season for 2015. This is a critical time for game companies everywhere, as this is when a significant chunk of yearly profits is made. While it is a pretty safe bet that no Nintendo games will be leading the charts this season, there's still plenty to look forward to for fans of the big N. Nielsen Game Rank recently conducted a poll on upcoming releases to determine which games are most hotly anticipated for the season.
The goal of this project was to represent the "overall anticipation level among gamers on each platform, based on a combination of several key measures (including awareness, purchase interest, consumer rating and others)." Percentage values represent "how strong the overall anticipation level is for the title, relative to the pre-release anticipation levels of all previous titles that released on the platform(s)." Data was collected from over 4,800 gamers between the ages of seven and fifty four between 24th August and 19th September.
In terms of the leaders on Wii U, Yoshi's Woolly World came in at 91 percent, followed by Animal Crossing: amiibo Festival at 84 percent, followed by Mario Tennis: Ultra Smash at 74 percent, and rounded out by Devil's Third at 76 percent. In terms of surprises here, it is rather shocking that Animal Crossing and Devil's Third are so high on the list given the negative reception at E3 and poor critical reception, respectively. Additionally, Nintendo's upcoming RPG, Xenoblade Chronicles X, is nowhere to be seen.
For leaders on the 3DS, Dragon Ball Z: Extreme Butoden came in at 88 percent, followed by The Legend of Zelda: Tri Force Heroes at 86 percent, and finished with Pokémon Super Mystery Dungeon at 77 percent. It's a bit eyebrow raising that Zelda isn't leading the charge here, but perhaps that has to do with the rather indifferent perception that seems to surround the co-op adventure.
What are you most looking forward to this Holiday season? What games do you think deserved to be at the top of the list? Share your thoughts in the comments below.
[source nielsen.com, via gamesindustry.biz]