It's an exciting time to be a game developer, as modern technology and a more accessible industry allow people of all walks of life to try their hand at pursuing their passion. This is a win for gamers, too, as it allows us the opportunity to try all sorts of new experiences and clever riffs on old ones. Enter Untold Story, a new 8-bit JRPG from Candlelight Studios.
Built using many of limitations of the NES and clearly inspired by the many RPGs that populated it, Untold Story aims to deliver that same retro experience, but with modern game design philosophies. It's a tough line to walk, but studio lead Josh Temblett seems sure that he can strike the right balance.
We took some time to catch up with Josh and to talk with him about the development process, inspiration for his upcoming game and his hopes for its release.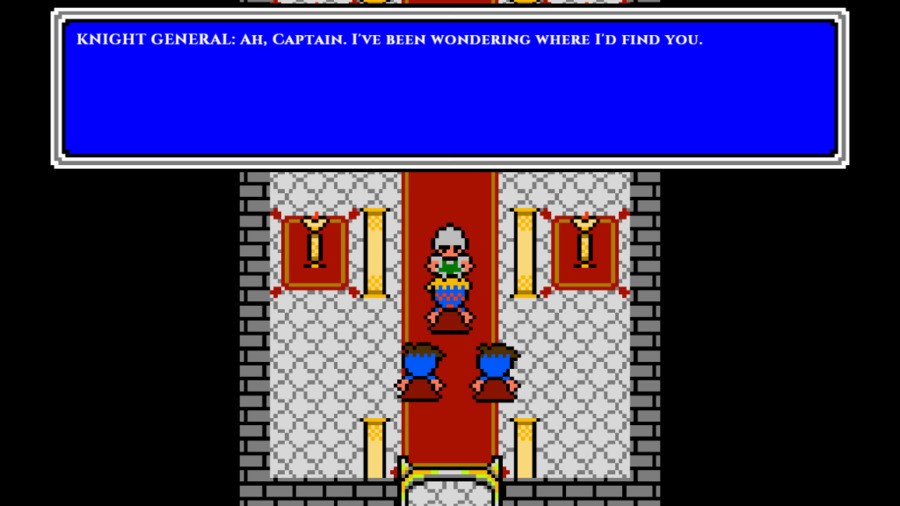 Thanks for taking the time to speak with us. Can you please introduce yourself to our readers and tell us a bit about yourself?
My name is Joshua Temblett and I love making video games!
I'm a solo game developer from England. I've created two games, Flying Home and The Empty Inn, which was recently released on Steam.
I am currently working on my third game, a NES-style RPG called Untold Story. Unlike my other games, which are fairly short and sweet, Untold Story aims to be the full package, providing tons of gameplay and story.
I've played Nintendo games for much of my life, and I have a real passion for the franchises they've created. I personally believe that playing Nintendo games is one of the best things a developer can do, as their games are some of the finest around and one can learn so much from playing them.
Let's start from square one, what inspired you to begin developing Untold Story?
Ever since I played Final Fantasy IX, I've wanted to make video games ... more specifically games which tell a story. Final Fantasy IX made a connection with me on a very personal level and taught me that video games could create characters and worlds which the player could fully immerse themselves into. It was here where my love of RPGs grew.
After playing Final Fantasy IX many, many years ago, I've wanted to make a game in the same vein as my favourite RPG whilst also creating a game which is my own personal take on the genre. After much learning, and gaining plenty of experience, I am now in a position to create my dream game, Untold Story.
Using NES style graphics, as well as adopting some of the console's limitations, has made Untold Story's development manageable, enabling me to build the game I've always wanted to.
Using NES style graphics, as well as adopting some of the console's limitations, has made Untold Story's development manageable.

Using the art style of a NES RPG also enables me to pay tribute to the beginnings of the genre.
What made you choose to pursue development alone and what kind of perks and challenges has that brought?
I wanted to get into game development any way possible and being a solo game developer was the easiest way of doing that, especially considering I did not have the financial means to create a team which isn't overburdened by stress due to financial insecurity.
I wanted to start with small games so that I could learn the ropes and how everything that makes up a game comes together. Now that I've completed The Empty Inn, I'm ready for something bigger … Untold Story.
Untold Story's code, art and design is being done completely by myself, however due to the sheer scale of the game I've teamed up with a fantastic chip-tune composer, Ben Burnes, whose work I have long admired. Some of his music for Untold Story is in the gameplay teaser at the end of this interview; it's truly amazing work. If you're a fan of chip-tune music you're going to love this game's soundtrack.
Overall being a solo developer is a challenge, but it's a fun one. It gives you complete control over every aspect of your game. However it can also be very tiring as it's all down to you; you don't have a team who can have your back.
Retro-inspired Indie games are all the rage these days. What do you believe sets Untold Story apart from the rest?
Untold Story is incredibly different to a lot of retro-inspired indie games, especially RPGs.
Untold Story is about events, and about how the characters deal with the world as it evolves. A lot of games nowadays feature quite static worlds, especially in the game's genre, however Untold Story puts its focus on creating an incredible, dynamic story.
Creating a cohesive and interesting story in a game is hard; however I'm not one to shy away from a challenge, which is why Untold Story is tackling it head on.
That's not to say that gameplay is being put to the wayside. The battle system is fast paced, but also retains the style of the genre. There's a large focus on strategy, before battle and during, and I think a lot of players will thoroughly enjoy participating in fights. It's a quite unique system, and it's something which I'm very proud of.
Whilst Untold Story has the looks of a retro game it's anything but, as it harnesses the innovation that fuels the indie scene. To sum it up: If you want a grand adventure, and to grow with the characters and the world, then Untold Story is your game.
You recently rededicated yourself to finishing Untold Story after taking a brief break to pursue development of what was a side project, The Empty Inn. What have you learned from that and how do you think it will contribute to the development of Untold Story?
The Empty Inn is a small, experimental, art game, which originally spawned from an idea around exploring a place which is supposed to be full of life, but has been recently made desolate; capturing the fleeting feeling of time and human movement.
I originally wanted to use The Empty Inn as a game where I could test specific elements in Untold Story, such as the art style and level design, however it eventually morphed into its own thing.
I've learnt a lot about what to do, and what not to do, and I'm very thankful for the feedback I've gotten from the game, all of which will go into making Untold Story a better game.
Game developers get experience in different ways, depending on the environment they find themselves in. Some developers are lucky enough to get taken under another's wing, others learn as part of an experienced team or by releasing games to the public. Either way, a lot of developers will say that a developer's first commercial project is always a bit of an outlier. In The Empty Inn's case my learning and experience is very much out in the open.
I'm incredibly proud of The Empty Inn. It proves that I have the tenacity to stick to a vision and follow it through to the end, even if the final product isn't exactly as I would have liked.
Now I'm ready for something bigger and to take all of the experience I gained, which is incalculable, and put it into a dream project. I just need the space and time to make it.
So, what's next for Candlelight Studios after Untold Story? Have you thought about any other genres or ideas you'd be interested in tackling next?
Right now I'm fully focused on Untold Story and building the best game I can.
Having said that, I do have a few ideas for what's next, and I've got a plan for how I would like Candlelight Studios to evolve and develop over the years. It's important to be flexible when it comes to making games though, so I have no doubt that these plans will change as opportunities present themselves.
All I know is, I'm in video games to make actual video games … that I want to make video games I want to play. I also want to help push the industry forward artistically and creatively, whilst building a sustainable business which respects the artists working for it.
You've previously stated that you'd be interested in releasing Untold Story for the Wii U, is this still being considered? Additionally, would you consider bringing The Empty Inn to Nintendo platforms?
I would love nothing more than to bring Untold Story to the Wii U. Whilst I can't commit to anything right now; it is at the forefront of my mind. If I can get the funding I need, then I have every intention of releasing Untold Story on a Nintendo platform.
With regards to The Empty Inn, right now, I have no plans to release it on Nintendo platforms. It's quite experimental and I would rather spend time on Untold Story and getting that on Nintendo platforms.
Finally, what is your favorite JRPG (on Nintendo consoles) and why?
The Wii exclusive, The Last Story is by far one of my favourite games (yet alone JRPGs).
The Last Story has it all, great characters, a wonderfully paced adventure and innovative and entertaining gameplay. Hironobu Sakaguchi (the game's Director) really knows how to dig his hooks into gamers and I was personally semi-addicted to the game until I managed to complete it. Not a lot of games really grab me, but oh boy, did I fall in love with The Last Story.
The Last Story was a throwback to the type's games I love and I enjoyed every single second of it. My hope is that Untold Story will be able to capture the same feeling.
Any closing thoughts you'd like to share with our readers?
Right now I'm currently looking for funding for Untold Story so that I can finally have the time and space I need to make the game. I wanted to take the opportunity and use this interview to show potential investors that there is a market for the type of game I'm making.
Thus, the Untold Story playable teaser was born.
The Untold Story Teaser is only a couple of minutes, and doesn't feature any battle gameplay, but I know that if I show your readers what I'm trying to achieve then they'll get excited.
If you like the teaser and want to see the game get made then post comments on this thread, share it on social media and make a noise! Stamp your feet, make it known that you want to play this game! Every comment or social media share counts, and it will really help me in getting this game made and getting it onto Nintendo platforms!
I know there are a lot of indie games available and Nintendo fans wish there were more larger games coming to their platform of choice, however I hope to deliver a very big game, in a very small package, and I know that with the support of Nintendo's fans this will more than possible.
---
Please note the Untold Story Teaser does feature some flashing lights.
If you wish to play the Untold Story Teaser in a separate browser, please click here!
---
We'd like to thank Joshua Temblett for his time.