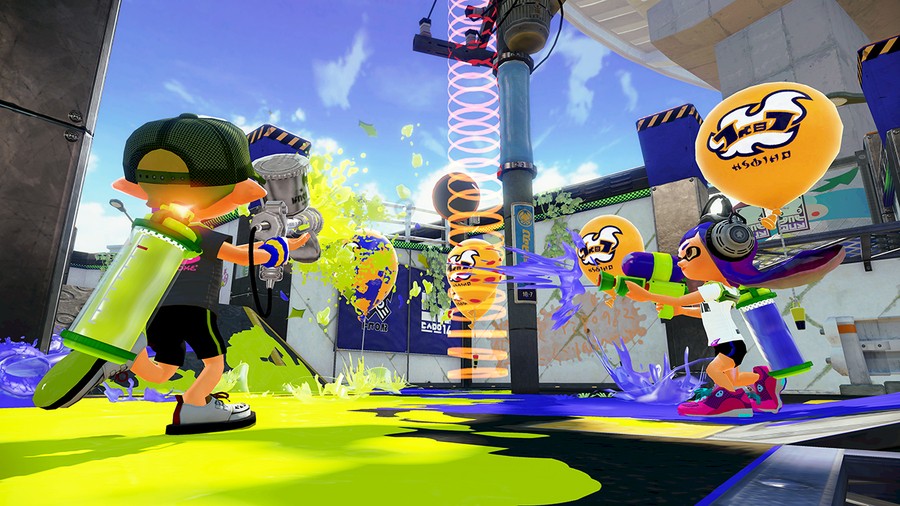 Japanese gaming publication Famitsu has published sales figures for the month of June, and Nintendo's online shooter Splatoon has come out on top.
The Wii U release sold 368,538 copies between May 25th and June 21st - almost 20,000 of which were digital - making it one of the most impressive débuts for a new Nintendo IP in ages.
The good news for Nintendo didn't stop there, either. Out of the top ten best-selling Japanese games of June, seven were for Nintendo systems, while 16 of the top 30 games were for the 3DS.
Rhythm Heaven: The Best Plus was in second place with 232,459 copies sold during the month, while several other 3DS releases packed out the chart. Mario Kart 8 was the only other Wii U game in the top 30, with 44,470 copies sold.
1. [WIU] Splatoon – 368,538 (348,557 physical, 19,981 digital)
2. [3DS] Rhythm Heaven: The Best Plus – 232,459 (225,296 physical, 7,163 digital)
3. [3DS] Tobidasu! Nyanko Daisensou – 97,189 (N/A physical, 97,189 digital)
4. [3DS] Dragon Ball Z: Extreme Butoden – 88,707 (86,338 physical, 2,369 digital)
5. [3DS] Hatsune Miku: Project Mirai DX – 54,544 (51,574 physical, 2,970 digital)
6. [PS4] The Witcher 3: Wild Hunt – 52,890 (45,912 physical, 6,978 digital)
7. [3DS] Return to PopoloCrois: A Story of Seasons Fairytale – 47,146 (44,902 physical, 2,274 digital)
8. [PSV] Minecraft: PlayStation Vita Edition – 45,077 (38,146 physical, 6,931 digital)
9. [WIU] Mario Kart 8 – 44,470 (42,762 physical, 1,708 digital)
10. [PS4] Devil May Cry 4 Special Edition – 37,804 (30,757 physical, 7,047 digital)
11. [PSV] Shiren the Wanderer 5 Plus – 30,887 (22,088 physical, 8,799 digital)
12. [3DS] Puzzle & Dragons: Super Mario Bros. Edition – 27,164 (25,272 physical, 1,892 digital)
13. [PSV] The Legend of Heroes: Trails in the Sky FC Evolution – 27,034 (24,984 physical, 2,050 digital)
14. [3DS] Stella Glow – 23,857 (22,294 physical, 1,563 digital)
15. [3DS] Girls Mode 3 – 19,125 (17,611 physical, 1,514 digital)
16. [PS4] Natsuiro High School: Seishun Hakusho – 17,840 (14,294 physical, 3,546 digital)
17. [3DS] Assassination Classroom: Grand Siege on Kurosensei – 16,912 (15,556 physical, 1,356 digital)
18. [3DS] Pokemon Omega Ruby/Alpha Sapphire – 15,406 (14,690 physical, 716 digital)
19. [3DS] Downtown Nekketsu Jidaigeki – 15,064 (13,403 physical, 1,661 digital)
20. [3DS] Super Smash Bros. for 3DS – 13,955 (12,127 physical, 1,828 digital)
21. [PSV] Cross Ange: Tenshi to Ryuu no Rondo tr. – 13,691 (12,904 physical, 787 digital)
22. [PS3] Natsuiro High School: Seishun Hakusho – 13,475 (10,515 physical, 2,960 digital)
23. [3DS] Yo-Kai Watch 2: Shinuchi – 11,645 (11,205, 440 digital)
24. [PSV] Possession Magenta – 11,571 (11,007 physical, 564 digital)
25. [3DS] Animal Crossing: New Leaf – 10,919 (9,715 physical, 1,204 digital)
26. [3DS] Atelier Rorona Plus: The Alchemist of Arland – 10,773 (9,908 physical, 865 digital)
27. [PSV] Nobunaga no Yabou: Souzou with Power-Up Kit – 10,458 (9,360 physical, 1,098 digital)
28. [PS3] Minecraft: PlayStation 3 Edition – 9,362 (N/A physical, 9,362 digital)
29. [PS4] Final Fantasy X/X-2 HD Remaster – 8,991 (7,642 physical, 1,349 digital)
30. [3DS] BoxBoy! – 8,879 (715 physical, 8,164 digital)
[source nintendoeverything.com]