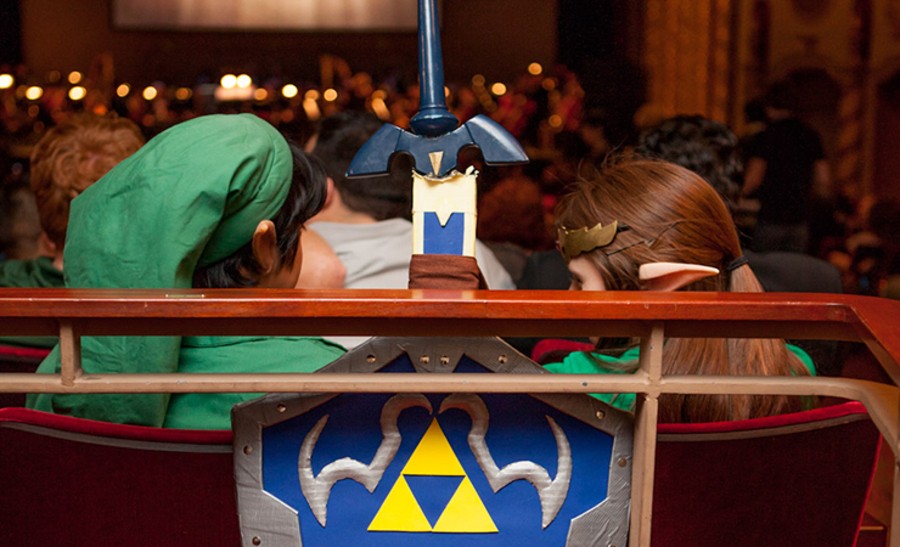 Earlier this year, we had the opportunity to be part of the audience for the Seattle, WA performance of Symphony of the Goddesses: Master Quest. Since then, the concert has toured across parts of America, Europe, and Canada, now continuing its journey across the United States and back to Europe to finish out the year.

Between stops on her whirlwind tour, symphony conductor Amy Andersson was kind enough to sit down and answer a few questions from us about her legendary adventure so far.

Thanks so much for taking the time to speak with us! Could you please introduce yourself to our readers and let us know a little about who you are and what you do?
My name is Amy Andersson and I am the Music Director and Conductor for the current world tour of the Legend of Zelda Symphony of the Goddesses. I rehearse and train each orchestra and chorus in every city that we perform in. My job is to make sure all the musicians are perfectly prepared so we can give a fantastic performance to our devoted fans.
How familiar were you with the music from the Legend of Zelda series before conducting the symphony?
I was certainly not as familiar with the music as I am now, having done 20 shows thus far!
Are you yourself a gamer?
I do not consider myself a gamer, but a musician who is very engaged in video game music.
Were you involved in the transcription of the original music to fit the symphony?
I was not involved in the transcription of the original music. That must have been a fantastic experience to witness. If only I could have been a fly on the wall....
When preparing the symphony, did you spend any time working with Koji Kondo, the composer of the original music?
I have not yet had the pleasure of working with Koji Kondo. Perhaps one day I could have the honor of meeting him. I would very much like to know if he has any suggestions or comments as to my interpretation.
Can you describe the complexity of the Symphony of the Goddesses score compared to other pop culture music? How does the score compare to other classical pieces that you've conducted?
Pop culture music ranges from simplistic to very complex so I cannot find a comparison that makes much sense. What I can say is that the Symphony of the Goddesses score is very dense, highly imaginative and evokes many musical genres. It has musical moments that are reminiscent of Orff, Mahler and Strauss, and at the same time reflects world music styles, including pop. I think it is this interesting combination that makes it so memorable and tantalizing.
How does conducting iconic music from pop culture compare to conducting more classical pieces?
I feel good music is good music, regardless of the style and time period it was composed in. All music requires an understanding of its structure, subtleties, its spirit and the message of what the music is trying to convey. When you have a grasp of those elements, beautiful things can happen and the conductor becomes the vehicle through which the composer speaks. That is the conductor's job really, to transmit the composer's intentions and energy to the listener. I aim to do that regardless of whether a piece is a pop number or classical symphony.
Does a music project like this create a different vibe between you and the orchestra itself, due to the nature of the melodies and their origins?
The music of the Legend of Zelda creates a warm and beautiful vibe between me and the musicians simply because the music is so lovable, nostalgic and so much fun!
Symphony of the Goddesses obviously draws a different crowd than a more conventional classical performance would. Who would you say makes up the majority of the audience?
I would guess that the majority of audience members are devoted Zelda gamers.
What has audience reaction been like compared to usual symphony goers?
Audience reaction has been phenomenal! The Zelda audiences are completely different from today's usual symphony goers. Zelda fans express their enthusiasm spontaneously with applause and screams during the musical numbers. That would not be tolerated in serious classical music concerts today and that is the huge difference. But I might add that symphony and operagoers of the past used to eat, drink, and talk loudly during concerts. The concert going public would boo, shout and get into fistfights if they did not like the music. That actually happened at the premiere of Stravinsky's Rite of Spring ballet in 1913 in Paris! A chaotic riot ensued and people threw vegetables.
Granted that is an extreme reaction, but somewhere throughout history, it became socially expected that audience members would display refinement, great restraint and hardly dare to clear their throats. It has unfortunately resulted in a very uptight atmosphere, which is why many young people do not enjoy classical music concerts today. It is very stressful to sit perfectly still for 2 hours! After having conducted more traditional concerts in the past years, I feel personally liberated by the music of Zelda, and the resulting atmosphere this audience of gamers create. They are non-traditional audience members who scream, shout, whoop and show their enthusiasm. I feel gamers have brought the gift of spontaneous emotional reactions back to the concert halls. It is incredibly exciting to witness this evolution and I want to thank all of our devoted fans for being the catalyst of change!
Can you describe the experience playing for the crowd at Comic-Con International this year?
We just played a show in San Diego where Comic-Con was taking place. When I look out into the audience, I can't exactly tell you who the Zelda gamers are (except for those in costume) and who are there from Comic-Con, but certainly the audience was fantastic. I roamed around the lobby before the show to watch people and pick up on the vibe. The whole town was buzzing with Comic-Con energy and I am certain it contributed to the audience's overall response.
A few new arrangements have been added to this latest leg of the tour, including more music from The Legend of Zelda: Majora's Mask. Are there any plans for further expansion? What other Zelda games might we see featured in the future?
That is a wonderful question for our Executive Producer Jason Michael Paul. He keeps things pretty much under wraps, and at this point I do not have any information. But I suspect that there are always projects in the works!
Are there any other video game projects that you would like to bring to life?
Right now my conducting life revolves around Zelda and travelling the world on tour in 2015 and 2016. My focus and devotion are entirely on this at the moment!
Is there anything else you would like to add about your experience conducting the Symphony of the Goddesses?
The Symphony of the Goddesses brings incredible joy to me, the orchestra members, chorus members and to audience members. I feel there is a deeper energy that we are transmitting; that of good will, and love to the world.
---
Thanks again to Amy Andersson for taking the time out of her busy touring schedule to speak with us. For more information about the tour, or to purchase tickets for a performance near you, please visit the official website.

You can follow Amy on her adventures via Twitter and Instagram at @amymaestra.