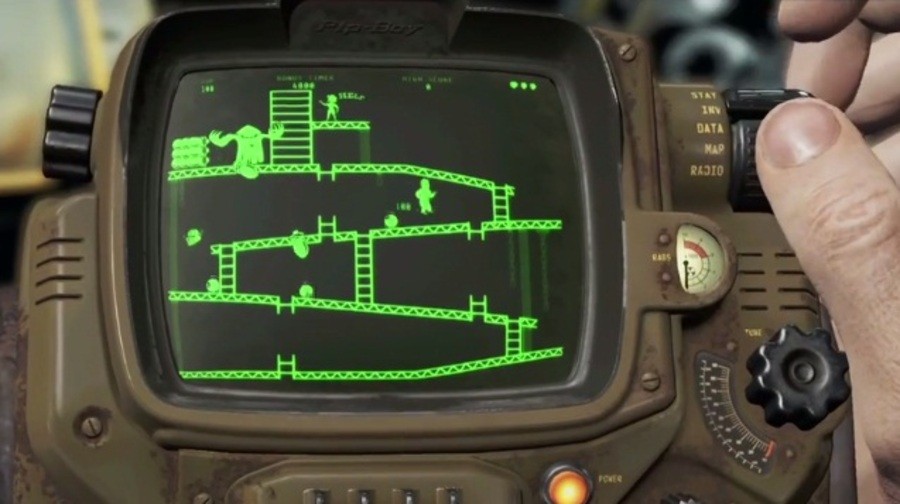 In case you missed it, this year Bethesda Softworks hosted its very own E3 press conference for the first time ever. As expected, the company teased the new DOOM, Dishonored 2 and their most cherished creation, Fallout 4.
During one of the many Fallout 4 segments, the company revealed the latest iteration of the in-game smart watch known as the Pip-Boy, which is discovered when the player leaves the vault for the first time. This device allows the player to view their items, stats, listen to audio recordings and even play mini-games with the assistance of special tapes.
This is where it gets interesting with the two playable mini-games revealed linked to classics of the past. The first is Red Menace, which is clearly inspired by Nintendo's 1981 arcade game, Donkey Kong, and requires the player to jump over rolling obstacles whilst climbing ladders and beams to rescue an individual held captive at the top of the level. The second mini-game, Atomic Command, pays respect to Atari's 1980 arcade title, Missile Command, which was eventually ported across to Nintendo's Game Boy in the 90s.
Take a look at both of these mini-games in action at the E3 conference below and let us know in the comments what you think about Bethesda channeling the classics in the latest Fallout game.
[source youtu.be]