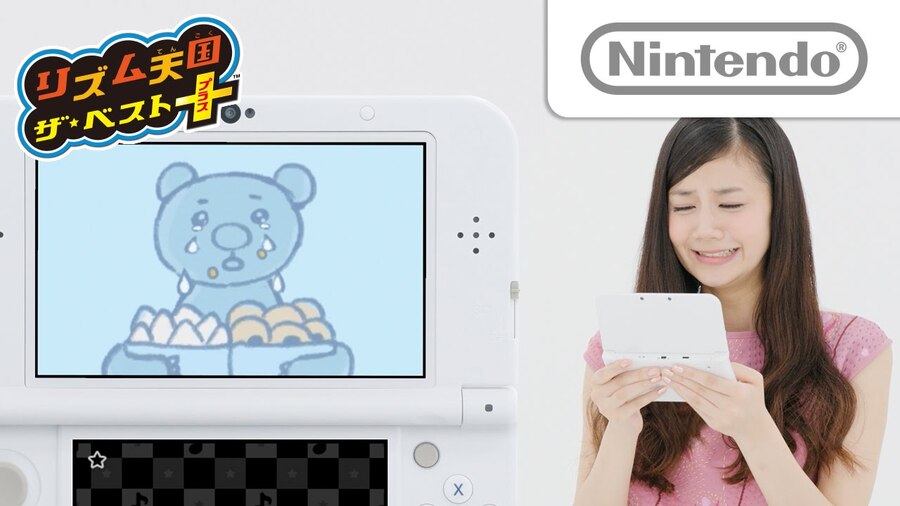 The latest Media Create Japanese sales charts are in, and it's good news for Nintendo as its games and hardware have risen to the top of the pile.
Rhythm Heaven: The Best+ made its debut at number one with 157,591 copies sold between the 8th and 14th of June. This robust performance presumably had an impact on sales of the New Nintendo 3DS XL - or LL as it is known in Japan - which climbed to the summit of the hardware chart with 19,620 units retailed. That's almost twice the number sold in the previous week.
3DS title Dragon Ball Z: Extreme Butoden was the second best-selling game in Japan last week, with 74,660 copies changing hands and no doubt helping hardware sales at the same time.
Elsewhere, Wii U exclusive Splatoon continues to keep the tills ticking over with 53,198 copies sold, bringing its lifetime Japanese sales to 266,929 - not bad for an entirely new franchise. Mario Kart 8 slots into number five on the grid, selling 9,661 copies for a lifetime total of 1,029,263.
The Wii U was the best-selling home console in Japan during last week, with 16,413 more units now safely located below TV sets up and down the country. That's a drop from last week's total of 21,169, but still enough to beat the PlayStation 4 (10,822) and Xbox One (100).
Here are the complete charts:
Software Sales (followed by lifetime sales)
[3DS] Rhythm Heaven: The Best+ (Nintendo, 06/11/15) – 157,591 (New)
[3DS] Dragon Ball Z: Extreme Butoden (Bandai Namco, 06/11/15) – 74,660 (New)
[Wii U] Splatoon (Nintendo, 05/28/15) – 53,198 (266,929)
[PSV] The Legend of Heroes: Trails in the Sky Evolution (Falcom, 06/11/15) – 20,484 (New)
[Wii U] Mario Kart 8 (Nintendo, 05/29/14) – 9,661 (1,029,263)
[PSV] Minecraft: PlayStation Vita Edition (SCE, 03/19/15) – 9,657 (199,989)
[PS4] The Witcher 3: Wild Hunt (Spike Chunsoft, 05/21/15) – 8,723 (111,834)
[PS4] Alien: Isolation (Sega, 06/11/15) – 6,227 (New)
[PSV] Shiren the Wanderer 5 Plus (Spike Chunsoft, 06/04/15) – 6,070 (22,295)
[3DS] Girls Mode 3: Kira Kira Code (Nintendo, 04/16/15) – 4,891 (151,194)
[3DS] Puzzle & Dragons: Super Mario Bros. Edition (GungHo Online Entertainment, 04/30/15) – 4,698 (263,127)
[PSV] Beast Master and Prince: Flower & Snow (Idea Factory, 06/11/15) – 4,054 (New)
[3DS] Pokemon Omega Ruby / Alpha Sapphire (Pokemon, 11/21/14) – 3,914 (2,639,104)
[3DS] Stella Glow (Sega, 06/04/15) – 3,306 (16,638)
[3DS] Assassination Classroom: Grand Siege on Kurosensei (Bandai Namco, 03/12/15) – 3,277 (83,774)
[3DS] Hatsune Miku: Project Mirai DX (Sega, 05/28/15) – 3,175 (51,484)
[3DS] Super Smash Bros. for Nintendo 3DS (Nintendo, 09/13/14) – 2,999 (2,243,532)
[3DS] Animal Crossing: New Leaf (Nintendo, 11/08/12) – 2,517 (3,982,813)
[PS3] Natsuiro High School: Seishun Hakusho (D3 Publisher, 06/04/15) – 2,148 (8,920)
[3DS] Yo-Kai Watch 2: Shinuchi (Level-5, 12/14/14) – 2,122 (2,615,158)
Hardware Sales (followed by last week's sales)
New 3DS LL – 19,620 (10,677)
Wii U – 16,413 (21,169)
PlayStation 4 – 10,822 (11,763)
PlayStation Vita – 10,797 (10,829)
New 3DS – 4,329 (4,086)
PlayStation 3 – 2,633 (2,716)
3DS – 943 (2,089)
3DS LL – 880 (1,039)
PlayStation Vita TV – 566 (610)
Xbox One – 100 (219)
[source gematsu.com]