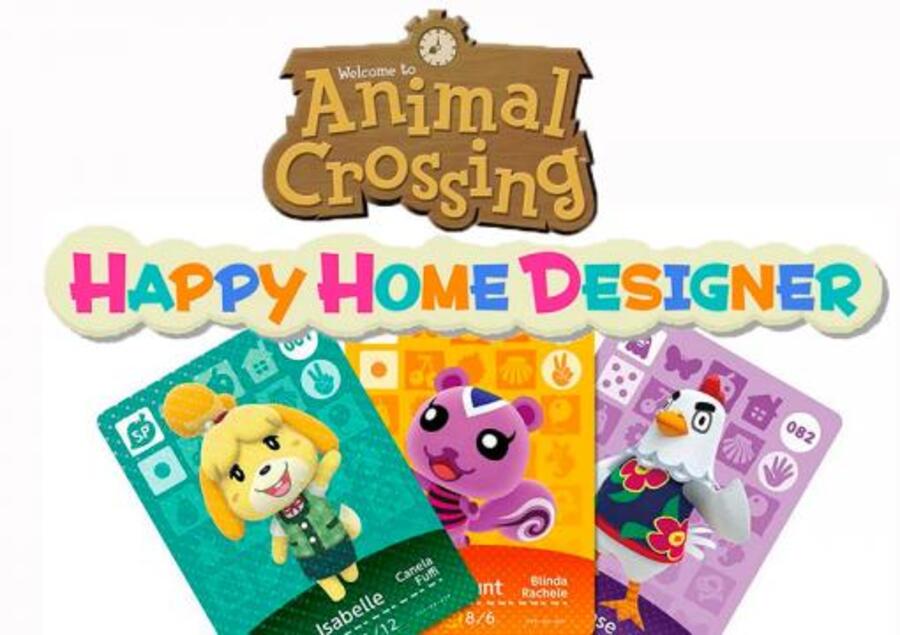 It's safe to say that fan reaction has been rather mixed towards the amiibo-centric focus of the two upcoming Animal Crossing games for Wii U and 3DS. While it's far too early to definitively judge the quality of these upcoming games, it's very apparent that these new games will be rather different than their predecessors. In an effort to get a better idea of what these games will play like, VentureBeat caught up with Aya Kyogoku - the series' director - at E3 last week.
To start, Kyogoku went on to explain the inspiration behind Animal Crossing: Happy Home Designer. She says that in a typical Animal Crossing game, the designers must decide what kind of furniture and decorations will go into each animal's house. This is an enjoyable part of the development cycle and they wanted to share that experience with the fans of the series.
In Animal Crossing, home creation and home decoration was an aspect of the game that a lot of people enjoyed. But that's only one part of living out your life in Animal Crossing. When we were developing Animal Crossing, we had to come up with ideas for houses that the animals have when they first move in to your town. They have a set of furniture and decorations they use. That was very fun for us as developers. We had to think about, what kind of things would this animal like? What kind of life do they lead? Trying to figure out what they'd want was very fun, and we tried to think of a way we could get this kind of experience to players as well. That's where the origins of this home-designing concept came from.
In an effort to dispel concerns that Happy Home Designer will be a more linear game, Kyogoku said that the freeform and open-ended nature is still very much preserved here. While it may be that animals give you an idea of what they want in their home and what it should be themed like, this is really just a guideline and there's plenty of room for players to use their imagination and expand more on that theme.
This is more of a simulation that's focused on house design or house creation. When you get a request — it might seem initially that you get a request from an animal, they give you a certain theme, you create a home based on that theme, you get a good evaluation, and that's the goal. But actually, the theme is just a guideline. The fun starts when you can expand on that theme using your own originality and creativity. In that sense I think the sense of freedom that you experience in Animal Crossing is still very present in Happy Home Designer.
On the topic of furniture and how much will be available to the players, Kyogoku said that there will be a broad selection available from the start and more will be unlocked as you continue.
Yes, that's correct. It's all available to you … Not every single furniture will be available in the beginning. Obviously, as you know, Animal Crossing has lots and lots of furniture. Having it all available might be too overwhelming at first. As you take on different requests, furniture that fits that request or theme will become available. We've designed it so that they become progressively available at a good pace. It won't overwhelm you, but it'll give you enough choices.
On the subject of whether or not there'll be a budget for each house, Kyogoku confirmed that there will not be one. The development team spent a long time deciding whether or not to include a budget, but ultimately decided that they want the game to be centered around the player's creativity and a budget would put some restraints on that.
No, we got rid of the idea of a budget. Whether to include one or not was something that we thought hard about and discussed amongst the development team. What we wanted to get out of this game was for the player to reflect their creativity in the game. We didn't want any constraints from budgeting to be an issue. In real life, depending on the budget you had, you might have to give up on some things you wanted to see. We didn't want that to happen in the game world as well.
Player customization will still be featured, though the main character will always be in the Nook's Homes uniform. That being said, you'll still have the chance to visit houses that you've designed and to peek in on the lives of the animals that live there. This is one aspect where amiibo cards will come in, players will be able to scan cards to "invite" animals over to houses for parties.
You can definitely customize the player character, as you were able to in New Leaf. You can change the face, the hair. You can make him look exactly like your character in New Leaf. You'll work for Nook's Homes. Because Nook's Homes has a dress code, you're always in uniform while you're working. However, in Happy Home Designer, you don't just make the houses. You can go visit any of the houses you've made and take a peek into the animals' lives. Not only can you just visit, but you can use Amiibo cards to invite other animals. For example, an animal might say, I want a room that's like a concert hall. I want to hold concerts there. Or they'd want a room that's really made for birthday parties, because they want to have birthday parties there. So you create the room and you can decide whose birthday party it's going to be. Who should they invite to the party? Once you have all the animals there, you can join in. Maybe you'll dress your character up and put a party hat on and enjoy the scenery.
Though the game will be fully playable without amiibo, players will be able to scan them to "call" certain animals and ask to develop a home for them. Even characters who don't necessarily live in your town, such as K.K. slider or Tom Nook, will be available to build houses for.
That's one of the functions of Amiibo, to be able to invite animals and create this scene where you can take a picture of a birthday party or a concert that's going on. That's one big aspect of the Amiibo function. To be sure, Happy Home Designer can be played without any Amiibo cards. The animals will hang around in front of Nook's Homes thinking, oh, I want a house like this. You'll talk to them and take on their requests and build their houses. But with the cards, you can reach out to animals in particular. You'll be making a call and saying, hey, would you be interested in building a house with us? For a lot of Animal Crossing fans, it'll be great to be able to reach out to their favorite animal at will and come to build a house for them. That's one feature. The second feature is, in the Animal Crossing series, there are two general types of animals. The ones that move into your town, they become residents, they become your neighbor, you develop a relationship with them. Then there are characters like Tom Nook or K.K. Slider who serve a special role in the game, but don't necessarily live in your town. Using Amiibo cards you're able to build a house for them as well, which is something new.
On the topic of the amiibo focus of the upcoming games, Kyogoku said that the team really liked the idea of amiibo and tried to think of fun ways to include them into Animal Crossing games. The result was Animal Crossing Happy Home Designer and Animal Crossing amiibo Festival.
This time around, there's obviously this new thing called Amiibo. The development team for Animal Crossing, we just really wanted Animal Crossing Amiibos. We thought it would be cute. We thought fans would be happy. In the past, Animal Crossing has only been Animal Crossing, but we thought that with the addition of Amiibo — how could we make an Animal Crossing game that would be fun by adding Amiibo features? What resulted was Happy Home Designer on 3DS and Amiibo Festival on the Wii U. This was a way to try different ways of playing Animal Crossing. We kept thinking, this idea might be fun, that idea might be fun. Eventually we ended up with these two different games. Amiibos are really cool figures, but beyond that, the biggest difference is the way they're linked with gameplay. It's important that there's a game to go along with Amiibo. We felt like Amiibo could benefit from an Animal Crossing twist and Animal Crossing could really benefit from Amiibo as well.
On the subject of the next traditional Animal Crossing, Kyogoku said a whole lot of words that really said nothing at all. Basically, it sounds like they're still spitballing ideas at this stage and there's nothing to announce, but it does seem like they're planning where to take the series next.
Obviously, as you said, we're in full development for Happy Home Designer and Amiibo Festival. We've been focusing on that. When we think about Animal Crossing, including the main Animal Crossing series, as a development team we're always thinking about what to do for the next installment. Whether that'll be a cutout and an expansion of a certain feature or a full-blown Animal Crossing game, that hasn't been decided yet, but as a team we're constantly thinking about what we can do for the series in the future.
What do you think? Are you looking forward to these upcoming Animal Crossing games? What would you like to see out of the next traditional Animal Crossing? Share your thoughts in the comments below.
[source venturebeat.com]