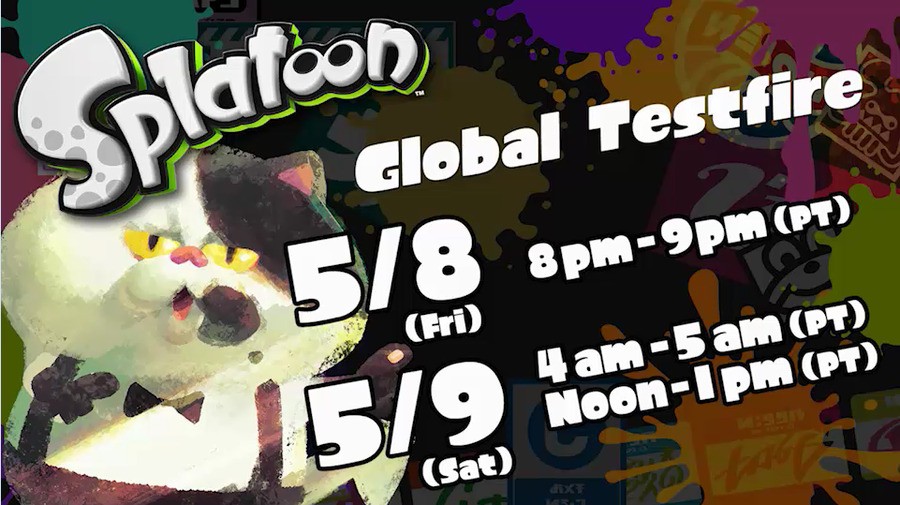 Nintendo isn't quite as old-fashioned as some like to pretend; it is, after all, a multi-billion dollar entertainment company that manufactures and sells consoles. In recent times it's signalled a serious intent to tackle the smart device market, shake up its customer loyalty program by replacing Club Nintendo, while in terms of its games it's experimented with free-to-play and DLC, in particular. It sells systems, its own NFC toy range and does much more besides.
In other words, the fairly popular perception that it's out of touch is rather unfair, but nevertheless we were still somewhat taken aback today. During its Splatoon Direct broadcasts Nintendo announced the Splatoon Global Testfire Demo. In the heat of the moment when live blogging and multi-tasking your reader assumed it was a simple demo, then clocked it had online play and some kind of time limits. After taking a breath it dawned that Nintendo was effectively running a time limited online test, and exciting its fans in the process.
Hallelujah, break open the bubbly, this is a whole new level of modernity for Nintendo; we mean that sincerely. It's a thoroughly current-day solution for multiple challenges - a familiar practice for some developers, yes, but positively New World for the Kyoto company.
As a reminder, if you don't know what we're talking about, this 'demo' is available now to download from the eShop. When you load it up it tries to connect online and returns an error message; thankfully it then offers to load the official web page, which informs you of the limited times in which online matches are available. The US pacific and UK / EU times - as some examples - are below.
May 8th 8PM-9PM (PT) & 4AM-5AM / 5AM-6AM (BST / CET- 9th May)
May 9th 4AM-5AM (PT) & 12PM-1PM / 1PM-2PM (BST / CET) and then Noon-1PM (PT) & 8PM-9PM / 9PM-10PM (BST / CET)
We don't recall another occasion when Nintendo's set up a limited time online demo quite like this, and in the unique case of Splatoon - a title where online play is ultimately the main selling point - it's a clever move.
To start on practical terms, it gives Nintendo a useful real-world stress test for its servers. No doubt thousands of Wii U owners will jump on, from all around the world and at the same time, in order to sample this month's hottest Nintendo release. This allows the big N to put its net code through its paces and make sure that its technology is up to scratch.
From our - admittedly sketchy - understanding a game like Splatoon is tougher to run online than, say, Mario Kart 8. In MK8 a lot of the online action is calculated and predicted; ever seen a shell hover alongside a foe before actually connecting? It's a game that can afford to calculate a little off real time, which is less bothersome than running, for example, a shooter. A game with relatively equivalent demands - in code terms - to Splatoon is probably Super Smash Bros., as it's a fighting game reliant on real time and instant calculations and communications on hit boxes, grabs etc. That might explain why Nintendo's had such a devilish time getting decent online performance in Smash - it's still a bit wonky on 3DS, for example - but has delivered solid Mario Kart online action for two generations. Sure, older MK online would have karts hopping around, but it worked.
Yet Nintendo is getting stronger in these areas, giving us some faith that it wouldn't be releasing a game like Splatoon without confidence in the code and back-end to deliver a smooth online experience. Yet all that ink splatting and shooting stresses online code, so this demo gives Nintendo an opportunity to put it fully through its paces. There are three one hour sessions where it can monitor, test and tweak.
The genius is that it does this while delighting fans. A common plea ahead of the broadcasts - whether in our editorials or pre-broadcast live chat - was for a demo. Sure, this is a limited access demo, but it's better than a poke in the eye. By picking times at the weekend it also gives gamers a chance to actually give it a try, too.
Timing the access also allows Nintendo to turn it into an 'event'. The Treehouse team in North America will be live streaming, and it's a chance for gamers to hook up online and share the experience - we'll be exploring options for coverage here on Nintendo Life, certainly. It'll create buzz among Wii U owners, while also - Nintendo hopes - turning some onto the charms of Splatoon that were potentially on the fence. Let's not forget, too, that the narrow windows of access should leave many wanting more, without giving them unfettered access up to launch in which the buzz could quite easily turn into over-familiarity.
Nintendo announced a number of neat Splatoon details in its latest Direct, which we'll summarise in the usual manner soon, but for now we want to tip our hat to Nintendo; it's trying something new that also happens to be useful.
It's splatting two birds with one ink gun.