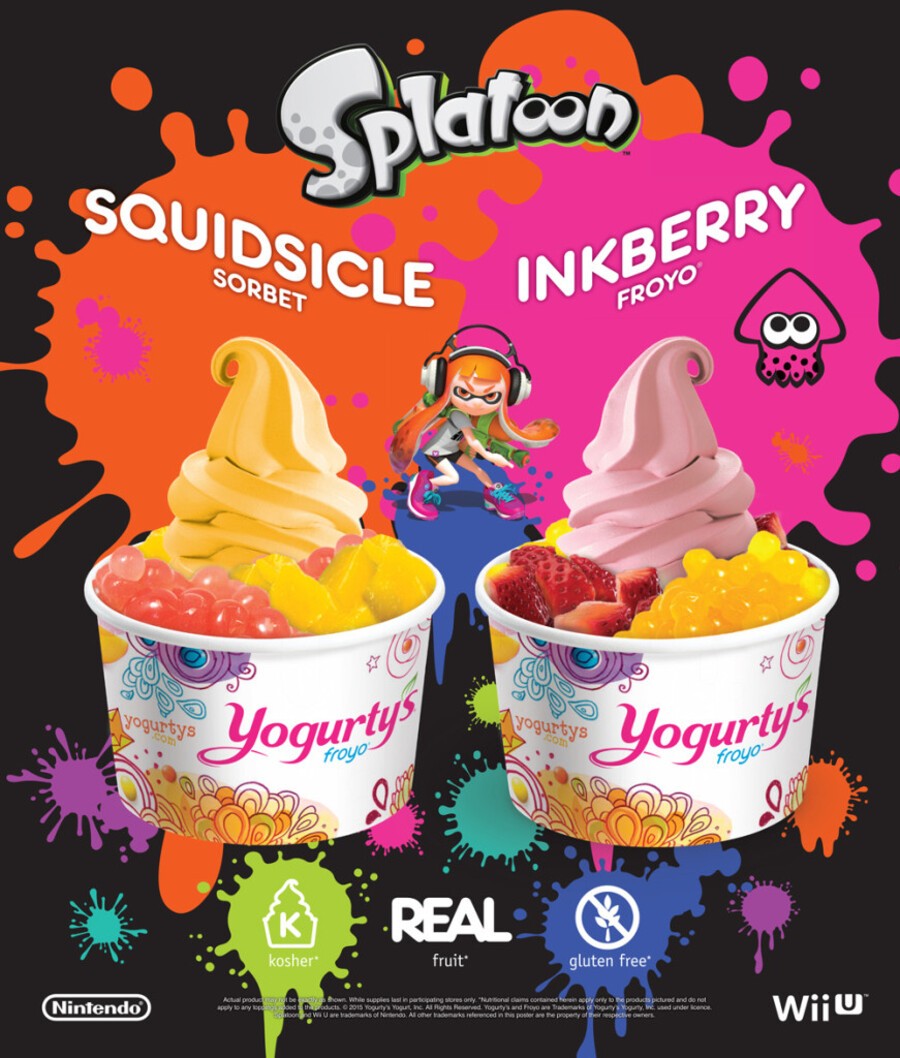 No doubt you'll be joining us in playing the excellent Splatoon throughout the Summer, and if you are lucky enough to live in Canada you'll even be able to cool off with Splatoon-inspired frozen yoghurt and sorbets - courtesy of a team-up with Nintendo Canada and Yogurty's and Yogen Fruz.
Starting on the 1st of June until the 8th of September, Canadian Yogurty's and Yogen Fruz stores will be offering special Splatoon flavours and toppings. How cool is that?
You'll be able to sample the delights of Splatoon-inspired froyo flavours including, the Squidsicle - a dairy-free mango popsicle sorbet - and Inkberry, a probiotic low-fat strawberry frozen yogurt. If you are feeling particularly adventurous you can even use the self-serve froyo machines and twist the 2 Splatoon flavours together to create Squid Ink, or so the press details say. You can top off your masterpiece with your choice of mango or strawberry popping bubbles.
And there's more, from the 15th of June you can even head to one of the Yogurty's locations listed below for a chance to play Splatoon while enjoying your Splatoon-ified froyo:
Quebec:
Yogurty's Montreal - 3454 Avenue Du Parc
Ontario:
Yogurty's Thornhill – 80207 Bathurst Street, Unit 4B
Yogurty's Toronto - 1703 Avenue Road
Yogurty's Toronto - 527 Bloor Street West
Yogurty's Grimsby - 70 Livingston Avenue, Unit 1
Yogurty's Milton - 147 Main Street East
Yogurty's Vaughan - 9001 Dufferin Street, Unit A10
Yogurty's Hamilton - 1807 Stone Church Road
Yogurty's Niagara Falls - 4025 Dorchester Street
Yogurty's Oakville - 321 Cornwall Road
Yogurty's Burlington - 5010 Pinedale Avenue, Unit 1001 A
Saskatchewan:
Yogurty's Melville - 210 South Service Road
Alberta:
Yogurty's Calgary - 26 McKenzie Towne Gate SE,Unit 630
Yogurty's Edmonton - 3803 Calgary Trail, Unit 650
---
Splatoon is launching on Friday 29th May. If you are a Canadian kid (or squid) will you be playing with a froyo at your side to cool down with?
[source yogurtys.com]