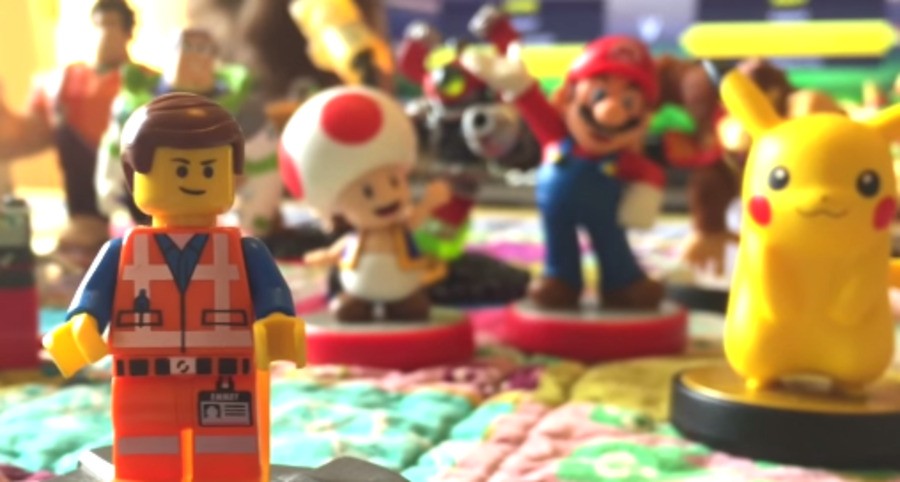 Recent rumours of a new Toys to Life product from Lego has the internet buzzing and has made my kids put on their inventor hats. If you missed it, this is the news that Warner will team up with Lego for a new title called Lego Dimensions to compete with Skylanders, Disney Infinity and amiibo.
While details are scant it seems this will likely follow up on previous good work by developer TT Games. The common conjecture is that this will add in a Toys to Life element alongside the wider Lego video game experience which has been honed over the past few years.
I noticed my kids had been playing their own made-up version of the game (as they imagine it). Once they'd moved on to play some FIFA I jumped in and filmed their two creations.
It wasn't until seeing what the reality of a smart Lego mini figure might look like - and have it alongside the other Toys to Life counterparts - that I started to take the rumours seriously. If nothing else, the idea of having a Lego character that could be upgraded and save progress like an amiibo was something my kids found really exciting.
Taking that figure and then placing him in other Lego sets added to the sense that this would not only extend the experience in the game but also on the carpet. This is something Lego have always wanted to avoid as Soren Laursen, President of Lego Americas, explained to me at this year's Toy Fair:
We believe the digital gaming space is a huge amplifier of the physical play experience, but we don't want the digital play experience to cannibalise the physical play. We continue to explore many different digital opportunities as we are doing right now.
Whether this continued exploration of digital angles has brought Lego to the point of entering the Toys to Life race remains to be seen. One potential challenge will be around franchises. Many of the Lego cross-overs are with a Disney licence. It's hard to imagine the house of mouse signing off on a Lego Dimensions competitor to Disney Infinity.
This led my son to wonder whether "we could have a Lego amiibo" which actually isn't as far-fetched as it sounds. With Nintendo's history of publishing the Wii U and 3DS exclusive of Lego City Undercover it's not a big jump to imagine updating this offering with special Lego amiibos.
As Laursen stated when asked about the wider plans for Lego's future:
Our biggest challenge is to continue to stay close to our core audience and understand where they are moving. For us to constantly to be almost paranoid to be sharp enough to our key stakeholders, children.
Toys to Life - whether that is amiibo, Skylanders or Infinity - is certainly one trend too big (and too profitable) to ignore if you are in the toy business to make money.