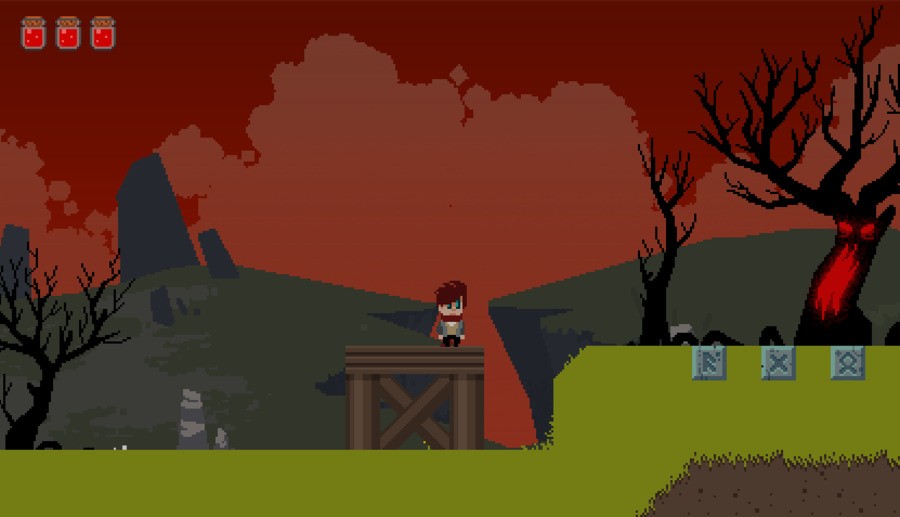 Wii U eShop release psyscrolr is a recent puzzle platformer title from Actos Games, a new start-up based in North Carolina, USA. The game revolves around the exploits of a traveler with psychic powers called the Scrolr as he's guided along by The Narrator. While we're still working on our review, early reception has been rather mixed. Perhaps in response to this Actos Games has already announced the first major update: Reign of the Twig King.
Reign of the Twig King will be centered around the story of the Badgreens - the main overworld - being taken over by the titular villain. The Psyscrolr will embark on a quest to discover what the Twig King actually is and how it can be defeated. Along the way, a mute magi named Milla will join up with the Scrolr. This expansion is heavily influenced by the Metroidvania genre and will feature references to games such as Super Metroid and the upcoming Indie game, Ghost Song. Jonathan Meyer - CEO of Actos Games - had this to say:
We really love the Metroid series of games, and the genre that came out of it called 'metroidvania'. In REIGN OF THE TWIG KING, we can have fans who enjoy that style of gameplay experience it in psyscrolr as well." Additionally, the update will bring new control options, tweak some of the puzzles that have been the source of criticism, and add achievements and a new mini-game.
No release date is available yet, but we'll update you when it is. What do you think of Psyscrolr? Are you looking forward to this new update? Share your thoughts in the comments below.