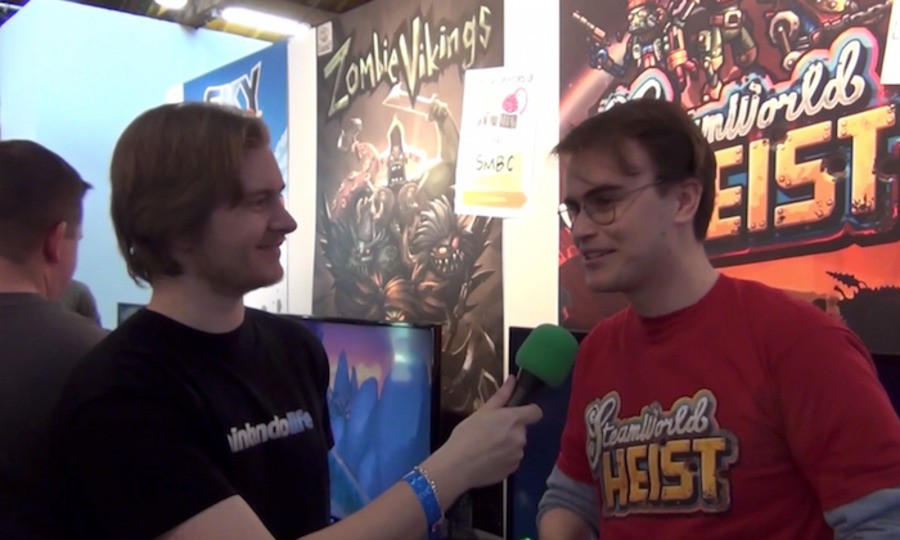 Last week we headed down to a lovely gaming event by the name of EGX Rezzed, which was held in London's charming Tobacco Dock venue. The event, hosted by our friends at Gamer Network, is a PC and developer-focused show, unlike the more mainstream and larger EGX which takes place in September.
While games for Nintendo systems were a bit thin on the ground we battled through the crowds to bring you four video interviews with indie developers who are bringing their upcoming games to the Wii U. Let's get this party started!
The hotly anticipated follow-up to Steamworld Dig - you recruit a team of rag-tag robots to explore and scavenge the remains of a destroyed world, board enemy ships and command your crew in a unique variety of turn-based combat. We chatted to Julius Guldbog from Image & Form Games to find out more.
Aperion Cyberstorm is a 2D twin-stick shooter for up to five players, where combining your tools can save you or scrap you. The game is set to feature a Metroidvania style single player mode, but at Rezzed we got to experience a few frantic five-player games which quickly got very competitive. If you are a fan of local multiplayer games to play with a group of friends we would recommend that you keep an eye out for this when it hits the Wii U eShop in May. We interviewed Jack Davis from UK-based aPriori Digital to find out more.
Dex is described as a Cyberpunk Action RPG where you explore the dark alleys of Harbor Prime and a host of diverse locations in both physical reality and the wild reaches of cyberspace. Funded by Kickstarter the project smashed its goal of £14,000 to raise over £30,000 at the time of closing, so that might give you an indication of how excited the gaming community is about this style of game. We chatted to Axel Droxler from Prague-based developer Dreadlocks to learn more.
Following the success story of Dex's Kickstarter campaign, unfortunately Poncho's Kickstarter didn't go quite as well, which is a shame as it looks fantastic. Thankfully Rising Star Games saw the potential in this open-world puzzler/platformer where you traverse multiple dimensions on a journey to find your Maker, and will be doing the honours as publisher. When we played the game indie smash-hit Fez immediately sprung to mind, with a side order of Cave Story and Braid for good measure. We chatted to Dan Hayes from UK-based Delve Interactive to find out more about this intriguing looking game.
We hope you enjoyed these video interviews, do let us know if you are excited about these upcoming Wii U games by leaving us a comment below. For more awesome video features, be sure to subscribe to the Nintendo Life YouTube channel.