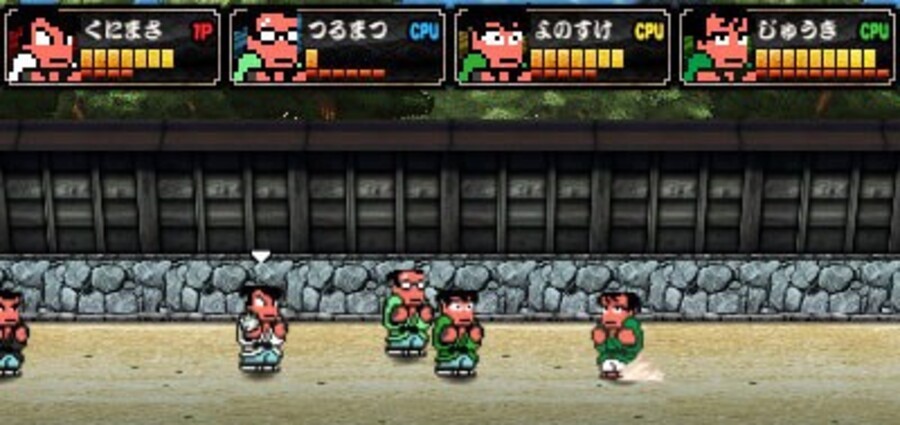 If you were as excited as we were about yesterday's announcement of Downtown Nekketsu Jidaigeki then the first published images below may be too much for you to handle. Japanese publication Famitsu has now released its first online preview of Arc System Works' new game and from what we can see the images are clearly reminiscent of the good old NES days.
Downtown Nekketsu Jidaigeki's story is set a few years after the NES game - Downtown Special: Kunio-kun no Jidaigeki da yo Zenin Shugo, or River City Ransom as it was better known in the west – and follows the fan-favourite character, Kunimasa.
Kunimasa is heavily reliant on various criminal families throughout Japan, and will find living his day to day life as an outlaw "gambler" a necessity to get by in the Edo period of Japan. You can now play with up to four characters within your party, including Tsurumatsu and two henchmen.
Fans will be happy to know that you can now battle against your enemies with a brand new sword action element, which will allow you to fight with a Katana. Unlike most weapons within the game, the Katana will still be reserved, even after being knocked down in battle. Whilst the Katana is an awesome weapon, it does consume energy each time it's used within battle, and because you can't restore your energy when you lose HP, limited use is preferable. Special moves will also be offered within the game, as well as traditional weapons and other fun stuff like buckets and wagons.
Seeing the brand new images from Downtown Nekketsu Jidaigeki has made its release ever more real, but has seeing the images increased your excitement? Let us know your thoughts in the comment box below. The game launches in Japan on May 28th.
[source gematsu.com]